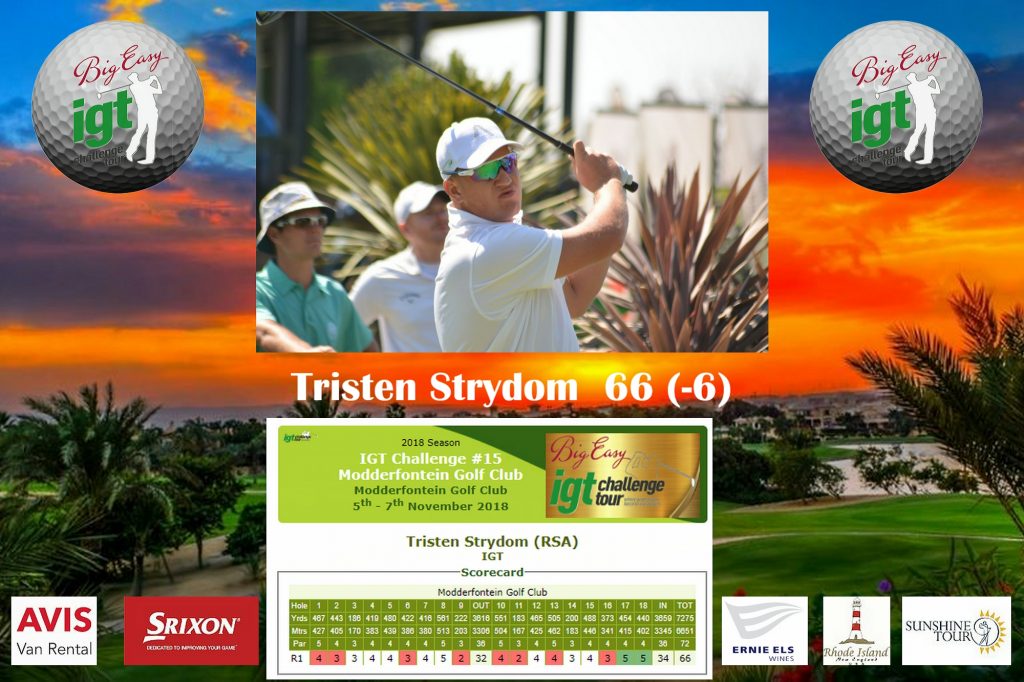 5th November 2018 | IGT Challenge Tour
Strydom sets early pace at IGT Modderfontein
Strydom sets early pace at IGT Modderfontein
(PHOTO – Tristen Strydom; credit CJ du Plooy)
MODDERFONTEIN, 5 November 2018 – Pretoria golfer Tristen Strydom took advantage of good scoring conditions at Modderfontein Golf Club to take pole position on day one of the IGT Challenge Tour #15.
The Pretoria golfer burst from the blocks with back-to-back birdies on Monday and fired six more to dip to eight under, but he let the field back in with a bogey-bogey finish.
A multiple winner on the country's premier golf development circuit, Strydom spent the last few months on the bench battling ligament sprains in his ankles. He made his return to competitive golf last week with a top 10 finish in the Big Easy IGT Challenge Tour #13 at Eagle Canyon and was thrilled to be in the hunt again.
"I made a great start and just played solid golf," said Strydom. "I rolled in a couple of birdie putts you don't usually make at Modderfontein and that kept me going. Just a pity about the finish, but you just have to take it on the chin. I'm really happy with the start and it feels great to be playing again."
Strydom leads by two on six-under from early starters Bryce Myburgh and Lejan Lewthwaite.
Lewthwaite, who won the IGT Challenge Tour #12 at Maccauvlei in September, was also pleased with a solid start as she prepares for Ladies European Tour Qualifying School in December.
"It was so great to see Nobuhle (Dlamini) win the A-Qualifier on the weekend to make it to final stage," said Lewthwaite. "That's why we play the IGT; it's a great platform to prepare, because it's really competitive. I had a hectic week with a golf day almost every day last week, so I took the weekend off to re-energise and it paid off.
"I've got three weeks left to prepare for Q-School and I'm really pleased with the way it went. I didn't do much wrong. I played with Dwayne (Basson) and Bryce, who also played really well and that's always nice when we can drive each other. I'm really pleased with the day's result."
Basson wasn't the only Gary Player Class of 2018 member who had a good day on the course.
No doubt fellow member and IGT Challenge Tour regular Derek Peterson inspired the rest of the class with his runner-up in the Vodacom Origins Final at Pinnacle Point.
The Kuils River golfer led the way with a three-under 69 to tie for fifth with alongside Johannesburg rookie Keaton Slatter.
Big-hitting Free State golfer Makhetha Mazibuko carded 71 to finish in 10th spot behind Ruan Groenewald, DK Kim from Korea, Herman Loubser and Sunshine Ladies Tour campaigner Francesca Cuturi, also heading to LET Q-School in Morocco next month.
Musiwalo Nethunzwi finished level for the day, which earned the former Big Easy winner a seat on the bus alongside fellow Gary Player School members Jason Diab and Thabang Simon, as well as Pretoria rookie Catherine Lau, Jabulane Mabilane, Christof Appel and Thabiso Ngcobo.
Three more members of the development initiative – Gerhard du Plooy Irvin Mazibuko and Allister de Kock – grabbed a share of 18th with Ruan Korb, amateur Dean du Plessis, Andrew Carlsson and Deon Bredenkamp
First Round Scores
All competitors RSA unless otherwise specified; amateurs indicated as AMA
66 – Tristen Strydom
68 – Bryce Myburgh, Lejan Lewthwaite
69 – Dwayne Basson, Keaton Slatter
70 – Ruan Groenewald, Francesca Cuturi, Dongkwan Kim (KOR), Herman Loubser
71 – Makhetha Mazibuko
72 – Jabulane Mabilane, Christof Appel, Catherine Lau, Musiwalo Nethunzwi, Thabiso Ngcobo, Jason Diab, Thabang Simon
73 – Ruan Korb, Dean du Plessis (AM), Gerard du Plooy, Andrew Carlsson, Irvin Mazibuko, Allister de Kock, Deon Bredenkamp
74 – Christopher van der Merwe AMA, Michael Kok, Blain Sansom, Derick Petersen, Tristan Topka AMA
75 – Ricki Dembo, Liam Clinton AMA, Harry Konig (ENG), Ivanna Samu, Gareth Sargent AMA, Michiel Bothma
76 – Leon Vorster, Michael Pfeifer, Patric Dowling AMA, Dylan Mostert, Mitchell Lightfoot, Dennis Williams AMA
77 – Marcel Steyn Scholtz AMA, Henning du Plooy AMA, Tiaan Diederiks, Ryan Clarke
78 – Aneurin Gounden AMA, Myburgh Viljoen AMA, Altaaf Bux, Ray Janse van Rensburg AMA, Warric Dyers
79 – Liam Cloete AMA, Jonathan George AMA
80 – Lincon Cele, Cody White (CAN), Sipho Bujela, Kyle Murphy AMA, Fritz Orren
82 – Jordan Parsons AMA, Divan de Villiers
83 – Kaylin Pillay AMA, Heinrich Prinsloo AMA
84 – Martin van Vuuren, Michael van Rooyen, Adam Baker
87 – CJ Brits AMA
88 – Jared Hall AMA
93 – Gerhard Henning AMA
95 – Hanro Booysen
100 – Phillip de Waal
Ends
Written and released by Lali Stander on behalf of the IGT Challenge Tour.
Latest IGT Challenge Tour News