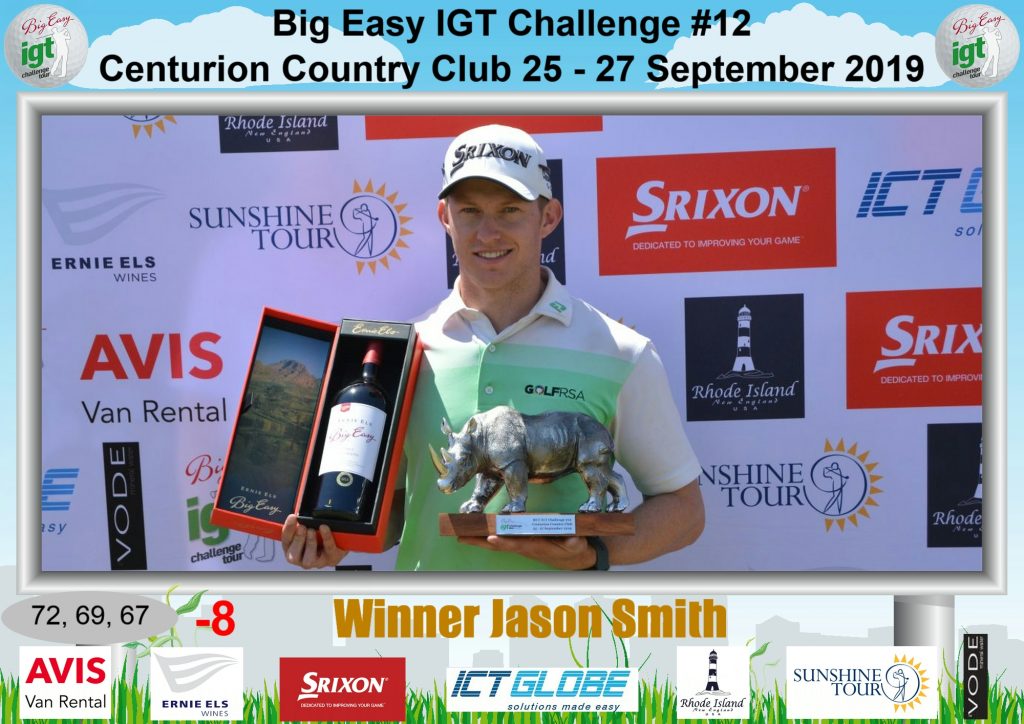 28th September 2019 | IGT Challenge Tour
Stylish Smith seals second Big Easy IGT win at Centurion
Stylish Smith seals second Big Easy IGT win at Centurion
(PHOTO – Jason Smith; credit CJ du Plooy)
PRETORIA, 27 September 2019 – Pretoria golfer Jason Smith produced a grandstand finish to seal his second victory on the Big Easy IGT Challenge Tour in style at Centurion Country Club on Friday.
The 25-year-old birdied the last two holes for a five-under-par 67 to win the 12th event of the series by one shot on eight-under 208.
The former GolfRSA National Squad member and SA Stroke Play champion dominated the amateur circuit until he gained playing privileges for the Sunshine Tour in 2017.
"I lost my card at the end of my rookie season, but I punched my way back at Q-School," Smith said.
"I was fighting too many demons – mental and with the swing – and lost my card again. On my third trip to Q-School I missed the top 30 by one shot, but got one of the 15 extra cards the Sunshine Tour issued and that gave me a new lease on life.
"The card allows me to play the pre-qualifiers and I gets some starts on the winter tour, but the Big Easy IGT Challenge Tour offers the top six ranked players at the end season a straight shot onto the Sunshine Tour with a much better ranking.
"That's a huge lifeline and I want to make the most of it. I've got the two wins now, but there is still a lot of golf to be played before the wraps up. You can't get complacent, but I'm pleased to be in a in a strong position after this win."
Smith picked up his first title at State Mines in June and a series of good results propelled him to second in the Road to Sunshine Tour rankings. The R10 500 pay-day at Centurion moved the Irene golfer within striking distance of Order of Merit leader Malcolm Mitchell.
"I'm so happy to get it done today. It feels good to get across the finish line again," Smith said.
"I thank the Lord for blessing me with more than I deserve and giving me the ability to compete in this game. And I am so grateful for my family, who have been so supportive. My dad, especially, who has been helping me work on a couple of things in the last few weeks.
"I felt comfortable over the clubs this week, although I must admit, I didn't think I had a chance to win until the last two holes."
Smith was four shots behind Albert Venter at the start of the final round, but the 36-hole leader fell out of contention early with a trio of bogeys on the outward loop.
Akasia golfer Marthin Scheepers swept into the lead with an eagle start and four birdies to lead the field through the turn on seven-under. Smith was still four back going down the last nine holes.
"I bogeyed the second hole because I tried to get fancy with my second shot," Smith said. "That's not ideal at Centurion when you are chasing a guy with a four-shot lead, but I was quite solid after that. I hit a lot of good shots, just missed the putts. Nothing bad or spectacular."
Smith birdied the par five seventh and a great shot on the par three eighth produces another gain.
"I hit it from 140 metres with the wind into us and it pitched two feet from the hole and I tapped it in for birdie," he said. "It was nice to gain some momentum going into the back nine and I made a long putt on the 10th for birdie to keep it going. It was refreshing to hole a long oen since I didn't make any putts of substantial length all week.
"I made a solid two-putt on the 12th for birdie and after that just played solid golf. I could have made two more birdies after that, but I just didn't hit good enough putts. The final stretch was pretty cool, especially with a title on the line. I saw Martin hit it in the water on 18 as I was waiting on the 17th tee box, and I knew we had a chance."
Scheepers bogeyed the 18th for a 67 and Smith drew level on seven-under when he drained a 15-footer for birdie at 17.
"Now I was pumped because I knew it was mine to win," Smith said. "I smashed a drive and really hit it nicely. It pitched on the back of the green and I nailed it with probably the best two-putt I've made in really long time."
Smith said a very simple game plan for the final round did the trick.
"My only thought for the final round was to focus on what I was doing out there and not to focus on anyone else," he said. "I just kept my head down and tried to stay focused on what I was doing; I just wanted to make my number and get out of there, but after holing that putt on 17 it hit me that I had a chance to win."
Overnight leader Venter closed with a 74 to tie for third on five-under with Jason Froneman.
Final Result
All competitors RSA unless otherwise specified and amateurs indicated at AMA
208 – Jason Smith 72 69 67
209 – Marthin Scheepers 73 69 67
211 – Jason Froneman 73 72 66, Albert Venter 71 66 74
214 – Morne Buys 70 73 71
215 – Bryce Myburgh 78 68 69, Gary Daoust (BEL) 72 70 73
216 – Malcolm Mitchell 76 71 69
217 – Leon Vorster 78 69 70, Dylan Kok 73 75 69, Neil Cheetham (ENG) 74 70 73, Jeff Inglis (ENG) 76 68 73
218 – Matthew Spacey 77 72 69
219 – Hennie O'Kennedy 77 71 71, Aubrey Beckley 74 68 77
220 – Luan Boshoff 76 72 72, Jaco van der Merwe 75 71 74, Dwayne Basson 71 71 78
221 – Thabang Simon 77 70 74, Stephan Erasmus 73 72 76, Clayton Mansfield 74 70 77
222 – Coert Groenewald 76 70 76, Gerard du Plooy 78 72 72, Nico du Buisson 75 75 72
223 – Eric Nel 74 73 76, Jason Roets 75 72 76, Keaton Slatter 77 67 79
224 – Mike Maile 77 69 78, Jack Duthie 75 75 74
227 – Desne van den Bergh 71 78 78
229 – Michael Schutz 76 70 83
Written and released by Lali Stander on behalf of the Big Easy IGT Challenge Tour.
Latest IGT Challenge Tour News