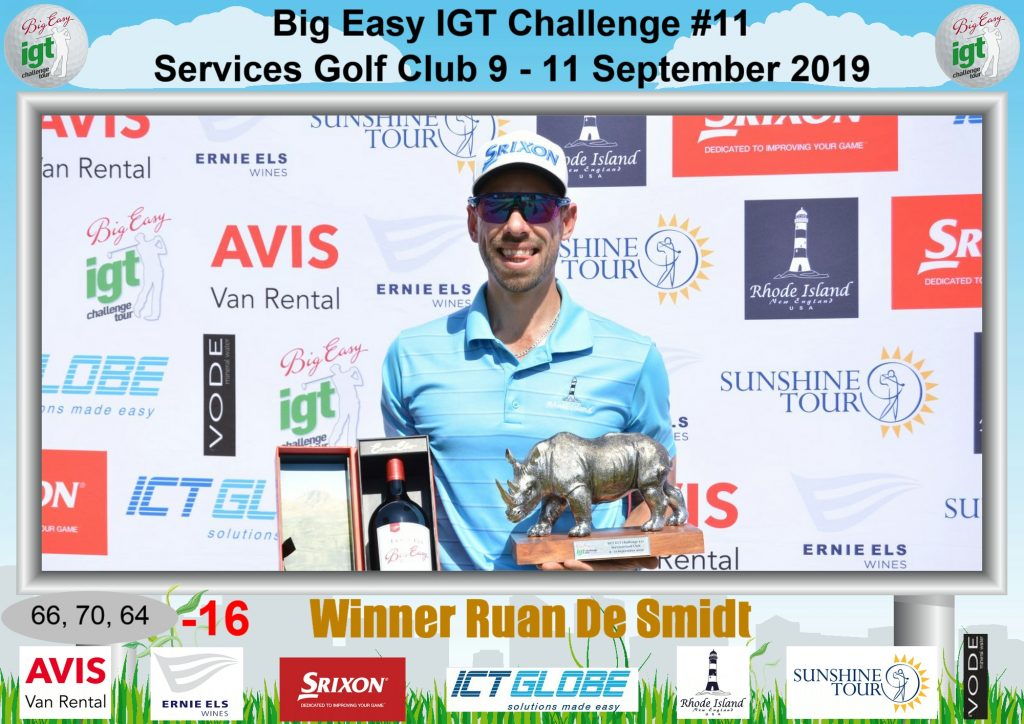 11th September 2019 | IGT Challenge Tour
Sweet success for De Smidt at Big Easy IGT Services
Sweet success for De Smidt at Big Easy IGT Services
(PHOTO – Ruan de Smidt; credit CJ du Plooy)
PRETORIA, 11 September 2019 – Ruan de Smidt returned to the winner's circle for the first time in three years with a maiden Big Easy IGT Challenge Tour victory at Services Golf Club on Wednesday.
Coming off three successive top-10 finishes, De Smidt performed according to the formbook.
The 29-year-old Krugersdorp golfer fired a final round eight-under-par 64 to come from behind and win by four shots on 16-under-par 200.
"I am really pleased to have pulled it through at last," said the champion.
"I pulled my brother (Darin) in to help me with my driver and I am hitting the ball as good as I've ever hit it in my career. The results started to show and it's my go-to club now. I was in the mix in my last two Big Easy IGT starts and I tied for ninth in the Kings Cup, so I knew coming back from Swaziland that I was trending towards a win. It's satisfying to lift a trophy again; it proves that I'm on the right trajectory."
De Smidt won four times on the Sunshine Tour, but lost his card at the end of last season.
"I had a shocking season, but these things happen. It was a huge blow, but lucky for guys like me the Big Easy IGT is our mulligan. We can stay competitive, work on our games and get back on tour without having to go through the trials of Q-School again."
De Smidt racked up seven birdies for a round of 66 on day one and force his way into a three-way tie for the lead with Road to Sunshine Tour leader Malcolm Mitchell and Matt Spacey – both two-time winners this season.
"I've never played Services, so Darin gave me his notes," De Smidt said. "I made a great start, but I was nowhere over the first eight holes on day two. I played the back nine really well, though, and got myself within striking distance again."
KwaZulu-Natal rookie Mitchell began the final day in the lead on 12-under.
Centurion winner Desne van den Bergh was two off the pace and Boland golfer Luan Boshoff a further shot drift, while De Smidt started his title bid in a three-way tie on eight-under.
He made a birdie-birdie start, but three-putted the third.
"With Malcolm gunning for a hat-trick, we all knew we needed to make a fast start and I knew I needed to go deep after that bogey," said De Smidt, who birdied the fifth before he went on the rampage with four birdies and an eagle between the ninth and 13th holes.
"I boxed a 15-footer on 10 for birdie, pitched the green on 11 and got a little lucky when the ball clung to the edge and didn't roll down the slope. I made quite a long birdie putt, but on the par five the ball didn't stay up and rolled down the slope. I had a hallelujah putt but holed it for eagle.
"On 13, I hit my second to give. I short-sided myself on 15 when I thought I was hitting into a crosswind and the wind changed. The hole played downwind and I overshot the green by 50 metres. I couldn't up-and-down to save par, but I knew I had a chance to get it back to 16-under with a par five coming.
"I played the last hole conservatively. I got my tee shot got past the trees, but I still had 210 metres to the flag, so I hit a 6-iron front left to take the water out of play. And made another solid up-and-down for birdie to get the job done."
The top six players at the end of the season-long series will earn full playing privileges for the 2020/2021 season. With the win, De Smidt has his foot on the bottom rung of the ladder.
"After the Kings Cup I moved to 31st on the Sunshine Tour Order of Merit, so I am in a good position but I've also learned not to take anything for granted. "This win puts me in the sixth spot on the Road to Sunshine Tour. If I can hold on or improve, I'll double my chances."
Mitchell closed with a level par 72 to finish in second on 12-under, which further strengthened his lead on the Order of Merit, while Van den Bergh shared the runner-up spot after signing for 70.
Jeff Inglis and Albert Venter tied for fourth on 11-under after carding a pair of 68s.
Gary Player Class of 2019 member Allister de Kock retained his position at the top of the Big Easy IGT Transformation Order of Merit with a top 20 finish.
Makhetha Mazibuko hung on to the second spot with a tie for 27th on four-under, while Centurion Country Club's Thabiso Mgcobo put in another strong performance. A final round 67 for a share of 13th on seven-under boosted the Phelan Golf Academy player to fifth in the standings.
Final Results
All competitors RSA unless otherwise specified and amateurs indicated at AMA
200 – Ruan de Smidt 66 70 64
204 – Desne van den Bergh 69 65 70, Malcolm Mitchell 66 66 72
205 – Jeff Inglis (ENG) 69 68 68, Albert Venter 72 65 68
206 – Richard Joubert 68 68 70
207 – Gideon van der Vyver 69 69 69, Dylan Kok 70 66 71, Luan Boshoff 69 66 72
208 – Basil Wright 68 72 68, Darin de Smidt 70 68 70, Jason Roets 71 67 70
209 – Thabiso Ngcobo 70 72 67, Reinhardt Blaauw 71 69 69, Theunis Bezuidenhout 70 69 70, Clinton Grobler 67 71 71, Matthew Spacey 66 72 71
210 – Aubrey Beckley 71 70 69, Allister de Kock 69 70 71, Morne Buys 71 68 71, Jason Rossiter 70 68 72
211 – DK Kim (KOR) 67 75 69, Divan Marais 71 71 69, Hendrikus Stoop 72 68 71, Caylum Boon 70 69 72, Clayton Mansfield 69 68 74
212 – Makhetha Mazibuko 72 70 70
213 – Jason Smith 71 71 71, Jack Duthie 74 68 71, Jonathan Waschefort 68 73 72, Coert Groenewald 72 68 73
214 – Leon Vorster 72 70 72, Arno Pretorius 68 74 72, Quintin Wilsnach 71 71 72
215 – Bryce Myburgh 71 71 73
218 – Marco de Beer 68 72 78
219 – Keaton Slatter 67 75 77
221 – Peetie van der Merwe 69 73 79, Beyers Smith AMA 74 68 79
Written and released by Lali Stander on behalf of the Big Easy IGT Challenge Tour.
Latest IGT Challenge Tour News