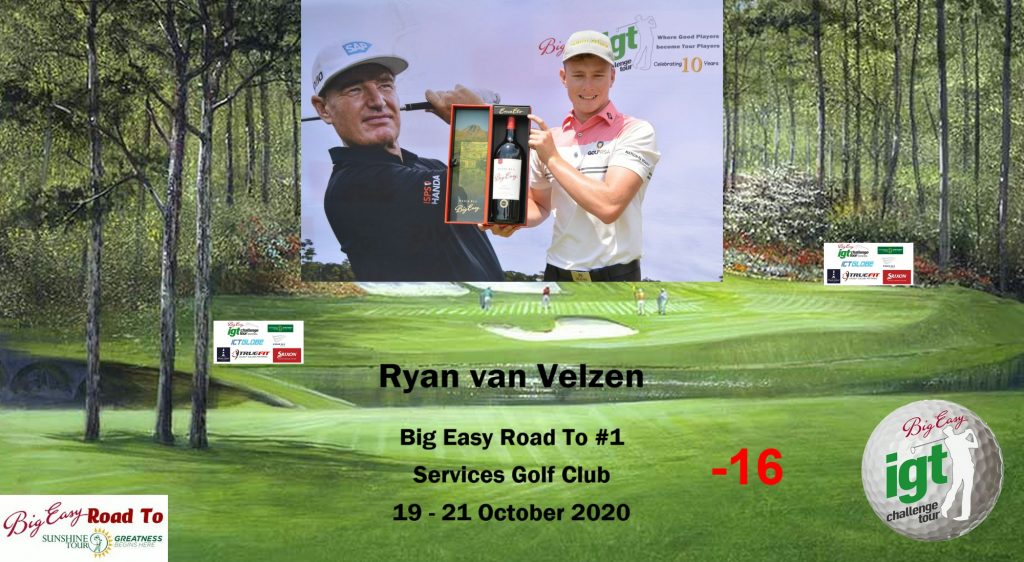 21st October 2020 | IGT Challenge Tour
Teen Van Velzen claims maiden Big Easy title with Services triumph
ZWARTKOP, October 21 – Nineteen-year-old GolfRSA Elite Squad member, Ryan Van Velzen signed for a final-round three-under-par 69 to win the Big Easy Road To #1 at Services GC on 16-under-par 200 for his maiden victory on Wednesday.
Leading by one getting into the final round, thanks to an aggressive approach he'd taken in the opening two rounds of this first event of the Big Easy Tour season, Van Velzen seemed to have changed his strategy in the final round.
"I just tried to stay patient and concentrate on what I was doing," said Van Velzen, "and it paid off eventually. I made the GolfRSA Squad earlier this year and I've never won on the IGT Tour or Big Easy so this is huge for me."
His round of 69 was as solid as the first two rounds despite the difference in the scores. His lonesome birdie on the second hole was cancelled out by the bogey he made on the par-three sixth to make it an even-par front nine for Van Velzen.
On the back nine, the 9th ranked amateur in South Africa turned things up, birdieing both the par-five 12th and 18th holes as well as the par-three 15th to claim a two-shot victory over the trio of Warwick Purchase, an amateur himself, Dylan Kok and Vaughn Van Deventer.
"I've had a few upsets this year so it feels really awesome to win against some good competition," admitted Van Velzen with some relief following his win.
Purchase's five-under-par 67 was enough only to get his tournament total to 14-under, tying that score with Kok and Van Deventer.
Karabo Mokoena also had a chance to lead and at some point, in the final six holes of the final round, he too, was just a shot behind the lead but a few drops led to him sliding down the leaderboard, to finish in a share of fifth with Llewellyn Booysen at 12-under-par.
Enjoying another good week and a top 10 finish is Kyle McClatchie whose total of 11-under has him sharing seventh with Therion Nel and amateurs Christiaan Maas and Nash De Klerk.
200 – Ryan Van Velzen (AM) (RSA) 65 66 69
202 – Warwick Purchase (AM) (RSA) 69 66 67, Dylan Kok (RSA) 64 70 68, Vaughn Van Deventer (RSA) 65 67 70
204 – Llewellyn Booysen (RSA) 68 70 66, Karabo Mokoena (AM) (RSA) 67 67 70
205 – Nash De Klerk (AM) (RSA) 68 70 67, Christiaan Maas (AM) (RSA) 66 70 69, Kyle McClatchie (RSA) 68 66 71, Therion Nel (RSA) 69 65 71
206 – Reinhardt Blaauw (RSA) 69 71 66, Gregory Mckay (RSA) 70 68 68, Rigardt Albertse (RSA) 72 65 69
208 – Alpheus Kelapile (RSA) 68 72 68, Bradley Diggeden (RSA) 68 70 70
209 – Henning Du Plooy (RSA) 66 73 70, Danie Van Niekerk (RSA) 69 69 71
210 – Michael Kok (RSA) 66 74 70, Ruan Groenewald (RSA) 73 67 70, Morne Buys (RSA) 69 70 71, Keanu Pestana (RSA) 66 72 72
211 – Adriel Poonan (RSA) 68 72 71, Werner Deyzel (AM) (RSA) 72 68 71, Franklin Manchest (RSA) 72 68 71, Gregg Gilson (AM) (RSA) 71 68 72, Keelan Van Wyk (RSA) 73 64 74, Tristan Leonard (AM) (RSA) 68 68 75
212 – Leon Vorster (RSA) 70 68 74
213 – Theunis Bezuidenhout (RSA) 68 72 73
215 – Gerard Du Plooy (RSA) 71 69 75, Caylum Boon (RSA) 66 73 76
Latest IGT Challenge Tour News