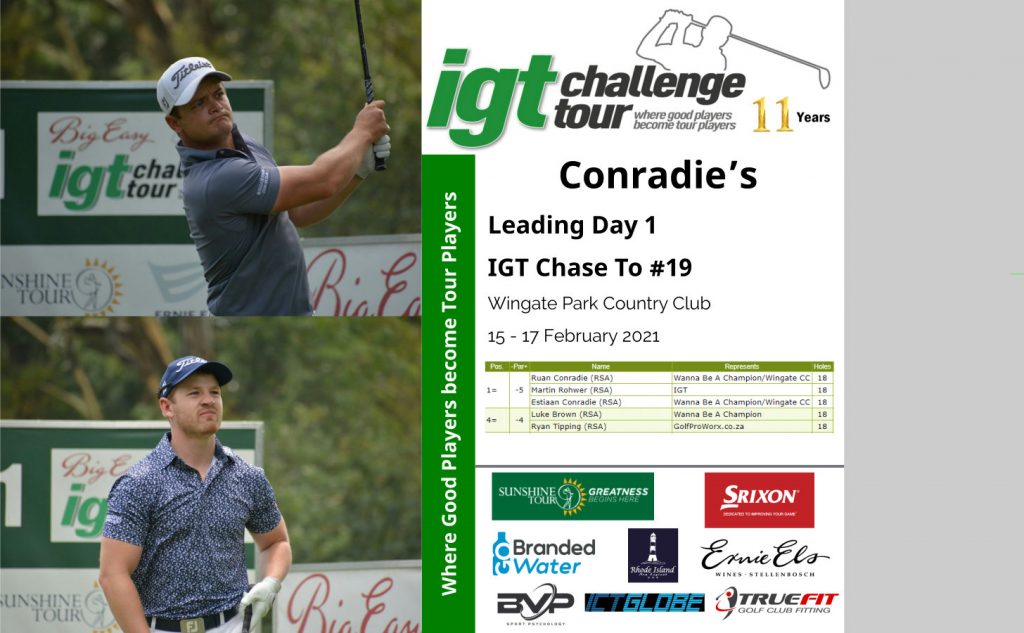 15th February 2021 | IGT Challenge Tour
The Conradies impress at Wingate Park
PRETORIA, February 15 – Brothers Ruan and Estiaan Conradie delivered masterclass performances which threw the pair into a three-way tie for the lead at their home course, Wingate Park Country Club, in the first round of this week's IGT Tour Chase To #19 Wingate.
Each with a 67 to match Martin Rohwer's superb opening round at a place they have called home for more than a decade, the Conradies' knowledge of the track proved pivotal on Monday as they dazzled in familiar surroundings.
Rohwer – who is amongst a large number of Sunshine Tour players teeing it up on this circuit in recent weeks – dropped a shot on the first hole but recovered ever so swiftly on the par-five second hole; making a birdie there before making four straight pars.
Feeling the momentum and having avoided any bigger numbers, Rohwer found joy as he birdied seven and eight before the turn. He made further gains on 15 and 16 before signing off with a birdie on 18 for a five-under 67 round.
The Conradies were at home and were led by Ruan with his flawless round while Estiaan's eventful outing could have turned out to be an even more impressive showing had he avoided the drops he made in the latter stages of his round.
In the way of gains, Ruan managed a solitary birdie on the front nine while making birdies from 15 through to the last hole.
"My brother and I are very comfortable when we play here," Ruan says, "and that back nine is definitely my favourite of the two, being that it has three par-fives and then you get more birdie opportunities. It's a fun nine to play. You can also be aggressive. That's my secret for that back nine.
"But today was a little bit different; the course tends to have an x-factor every time a tournament comes around; firmer greens, longer course. So, it never feels like a social round with my brother."
Estiaan, on the other hand, was on scintillating form on the front nine; birdieing his first two holes there and then later collecting a hat-trick of birdies on six, seven and eight. Despite making two birdies on the homeward stretch – on 15 and 18 – Estiaan dropped three shots which could have seen him top of the leaderboard after round one.
Serial winners on this Tour before becoming full members of the premier golf tour, the Conradies boast IGT 15 titles between them with Ruan claiming eight of those.
Luke Brown and Ryan Tipping share fourth at four-under-par while Sunshine Tour campaigners Thriston Lawrence, Heinrich Bruiners, Teaghan Gauche, Keagan Thomas and England's Harry Koning make up the top 10 leading players after day one in Pretoria
Latest IGT Challenge Tour News