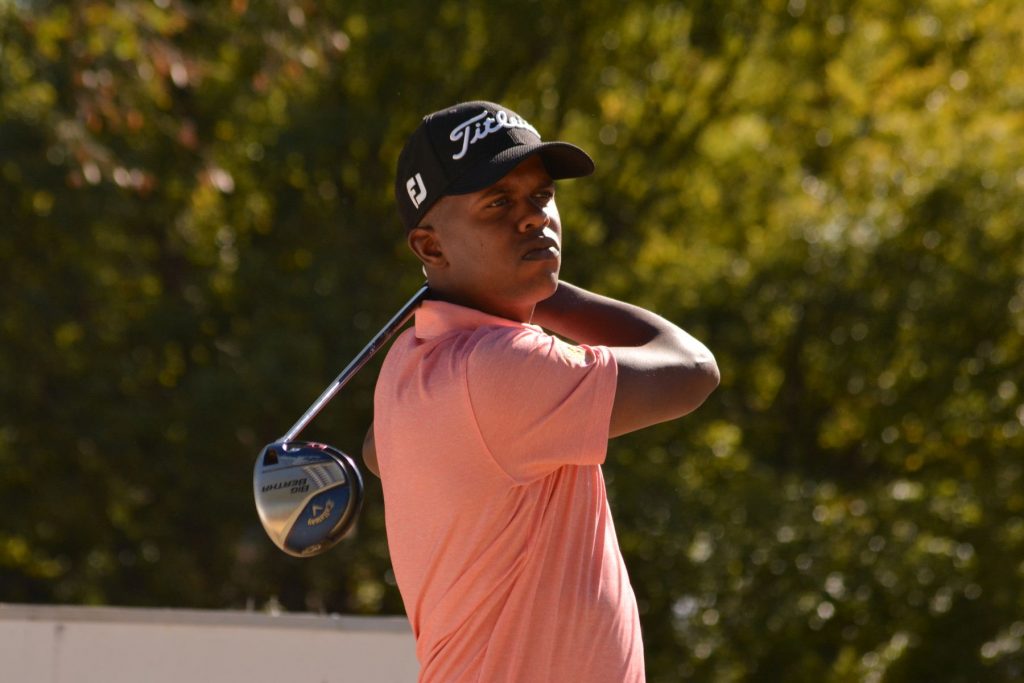 6th August 2018 | IGT Challenge Tour
Three-way tie for Big Easy IGT lead at Bushwillow
Three-way tie for Big Easy IGT lead at Bushwillow
(PHOTO – Keelan van Wyk; credit CJ du Plooy)
RANDPARK, 6 August 2018 – Ernie Els and Fancourt Foundation member Keelan van Wyk from Roodepoort made it three-way tie for the lead after the opening round of the Big Easy IGT #7 at Randpark Golf Club on Monday.
The only player to go bogey-free around the Bushwillow Course on day one, Van Wyk joined Matthew Rushton from Cape Town and Bryanston's Andrew Carlsson at the top of a log-jammed leaderboard on five-under 67.
The trio is one shot clear of former IGT Tour winner Hendrikus Stoop and Houghton amateur Liam Clinton and finished two shots ahead a group of five professionals and five amateurs tied for sixth.
DK Kim from South Korea, who claimed his second IGT Challenge Tour victory at Reading Country Club at the end of July, is tucked in a group of four players on two under.
Van Wyk birdied three of the four par fives and picked up further shots at the par three sixth and par four 10th at the 6 540 metre layout.
"It definitely went a lot better than when I last played Bushwillow," said 19-year-old Ruimsig amateur.
"I couldn't break 70 during the four rounds of the Pro Shop Northern Amateur Open and I've worked hard since middle March with my coach, Johan Wolfaardt at Benoni Country Club on lengthening my back swing. The swing is more consistent and I've posted better results lately."
In his last three starts, Van Wyk enjoyed top 10 finishes in the Western Province Amateur and Limpopo Open and tied for fourth in the KwaZulu-Natal Stroke Play. Two weeks ago, he posted a top 15 finish in his second IGT Challenge Tour event at Reading.
"I was really happy with that result, given the strength of the field," said Van Wyk, who is currently studying a B.Com Business Administration degree at Regenesys Business School at the Sandton Campus.
"With the studies it's really tough to travel beyond Gauteng, but I compete in all the amateur events and stay competitive on the IGT Challenge Tour. This is my Big Easy IGT Challenge Tour start, so it's really pleasing to post a low number."
He two-putted the par five first and third holes for birdies and hit an 8-iron to eight foot and boxed the birdie putt at the sixth.
"I hit gap-wedge into the 10th and drained a 20-footer for birdie and made a great up-and-down at 12 after my tee shot down the right hit a tree," said Van Wyk.
"The 13th hole was playing into the wind and I didn't hit a good shot. I ended up with a tough bunker shot, but I made a really good up-and-down for par to keep the momentum going. I missed five fairways and I hit 15 greens in regulation, but the real key to my round was execution. I put myself in the right spots and I was never out of position or in any danger."
Rushton had three birdies during each loop but gave back a shot at the par four fifth, while Carlsson made an eagle start and racked up four further gains to offset a drop at the par four 16th.
First Round Scores
All competitors RSA unless otherwise specified; amateurs indicated as AMA
67 – Keelan van Wyk AMA, Matthew Rushton, Andrew Carlsson
68 – Liam Clinton AMA, Hendrikus Stoop
69 – Angus Ellis-Cole AMA, Chandler Shaw AMA, Jaco van der Merwe AMA, Daniel Hammond, Conway Kunneke, Matthew Hands AMA, Teddy Mathebula, Jason Roets, Stals Swart AMA, Tyran van Lieshout
70 – Brett Liddle, Paul Boshoff, DK Kim (KOR), Dwayne Basson
71 – Stephan Erasmus, Stefan Wears-Taylor, Ruan Korb, Andrew Burmester, Peetie van der Merwe, Stuart Smith (BOT), Tokkie van den Berg, Cameron Moralee, Caylum Boon AMA, Jeff Inglis (ENG), Jonathan Waschefort, Jason Rossiter
72 – Michael-James Steyn, Michael Kok, Hayden Griffiths, Richard Maree, Irvin Mazibuko, Romano Saincic, Divan Marais, John McClean (NIR)
73 – Nicholas Souranis AMA, Francois Coetzee, Marco de Beer, Matt Bright, Eric Nel, Leon Vorster, Gerard du Plooy, Tumelo Molloyi, Duan Nagel AMA, Juran Dreyer, Greg Bentley (ZIM), Neil Cheetham (ENG), Bryce Myburgh, Alpheus Kelapile
74 – Ruhan van Dijk, Jay Fourie, Keanu Pestana AMA, Gary Daoust (BEL), Dylan Kok, Matthew Spacey, Quintin Crause, Luke Brown, Michael Dreyer, Ricki Dembo, PH McIntyre, Albert Venter, Albert Visser, Zabastian de Jager
75 – Maritz Wessels, Jesse Jacobs AMA, Keaton Slatter, Jason Diab, Arno Pretorius
76 – Gilson Filho (BRA), Mohit Mediratta (KEN), Andi Dill, Karl Lehmacher, Mitchell Lightfoot AMA, Matthew Rossouw AMA, Warric Dyers, Michael Pfeifer, Thabiso Ngcobo, Leon Visser, Christiaan Pretorius, CJ Levey, Ricardo Towell
77 – Christopher van der Merwe AMA, Wayne du Toit, Phumlani Maluka, Neville Mitchell AMA, Shaun van Tonder, Dylan Mostert
78 – Shalan Govender, Christian MacGregor AMA, Chase Paton AMA
79 – Hanish Nagrani (ZIM), Louis Botha, Nicklas van Wyk AMA, Thabo Moraba, Jonathan George AMA
80 – Terence Archibald AMA, Neal Herman
81 – Liam Labuschagne AMA
83 – Trevor Barnes (CAN)
84 – Neo Mokgatle AMA, Christiaan Greyling
Written and released by Lali Stander on behalf of the IGT Challenge Tour.
Latest IGT Challenge Tour News