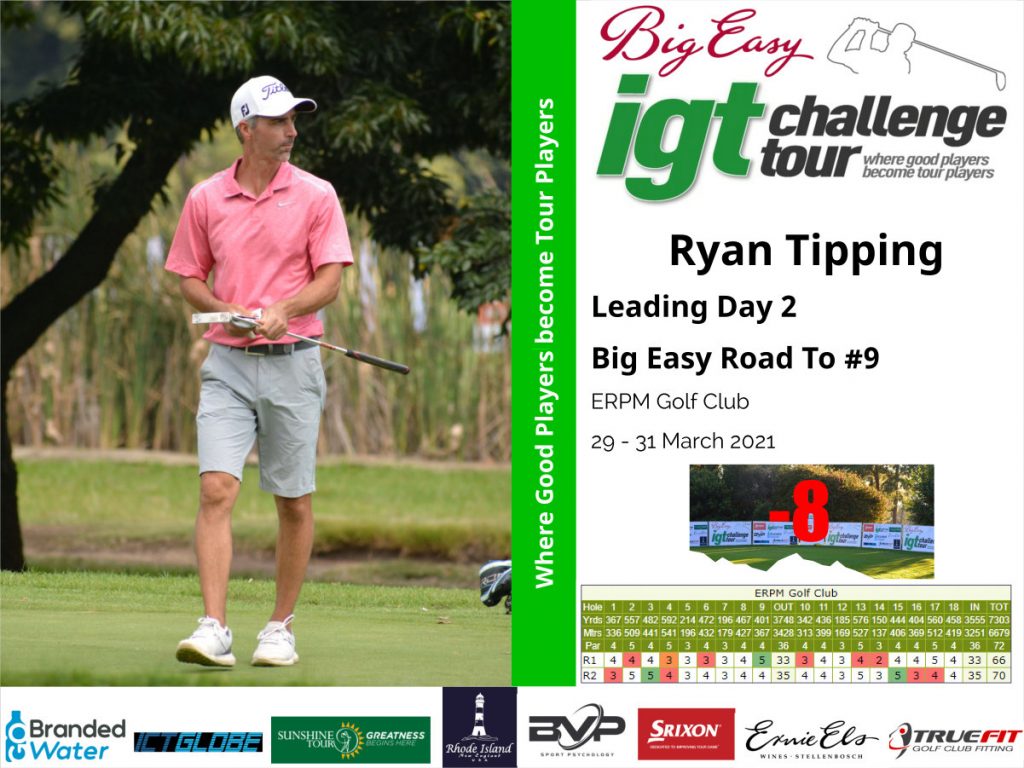 30th March 2021 | IGT Challenge Tour
Tipping holds on to ERPM lead as Griffiths and Van Wyk lurk
PRETORIA, March 30 – Ryan Tipping says his only intention in the final round of the Big Easy Road To #9 at ERPM Golf Club will be to keep the foot on the gas after his round-two 70 helped him to a tournament total of eight-under and a shot clear at the top after 36 holes.
"There is only one way to play from here," says Tipping. "And that is to keep the foot on the gas and try to shoot my lowest possible score tomorrow. I didn't hit it as straight today but I did hit a lot of good putts which just missed, so it still could have been low today."
Tipping started his second round well enough; birdieing the first and making par on the next hole. It was on the third hole, however, where he dropped a shot but he recovered swiftly as he made a birdie on the par-five fourth. Those gains were the last he would enjoy on the front nine and he turned in 35.
The first five holes on the homeward stretch were characterised by straight pars before Tipping dropped again, this time on the 15th. Once again, the Randpark Golf Club man, Tipping, showed great experience and patience and the reward was a brace of birdies to close off a good round of golf by the veteran campaigner.
"A few flags were cut on some tricky slopes but otherwise it was pretty similar to yesterday's round," noted Tipping. "But tomorrow is a different day and as I said, I will have to keep playing like I have played this week and see if I can't get a low one tomorrow."
He will hope to produce that low round on Wednesday because Keelan Van Wyk and Hayden Griffiths lurk dangerously and at seven-under-par and a shot behind, Tipping's top spot will not be safe. Both Van Wyk and Griffiths signed for 67s on Tuesday to tie the second spot ahead of the final round.
England's Harry Konig continued to impress and his six-under-66 to back up his opening 72 ensured he sits solo fourth at six-under while Kyle McClatchie, Vaughn Van Deventer, Llewelyn Booysen, Gregory McKay and Ian Snyman make up the top 10 on a total of five-under-par.
Latest IGT Challenge Tour News