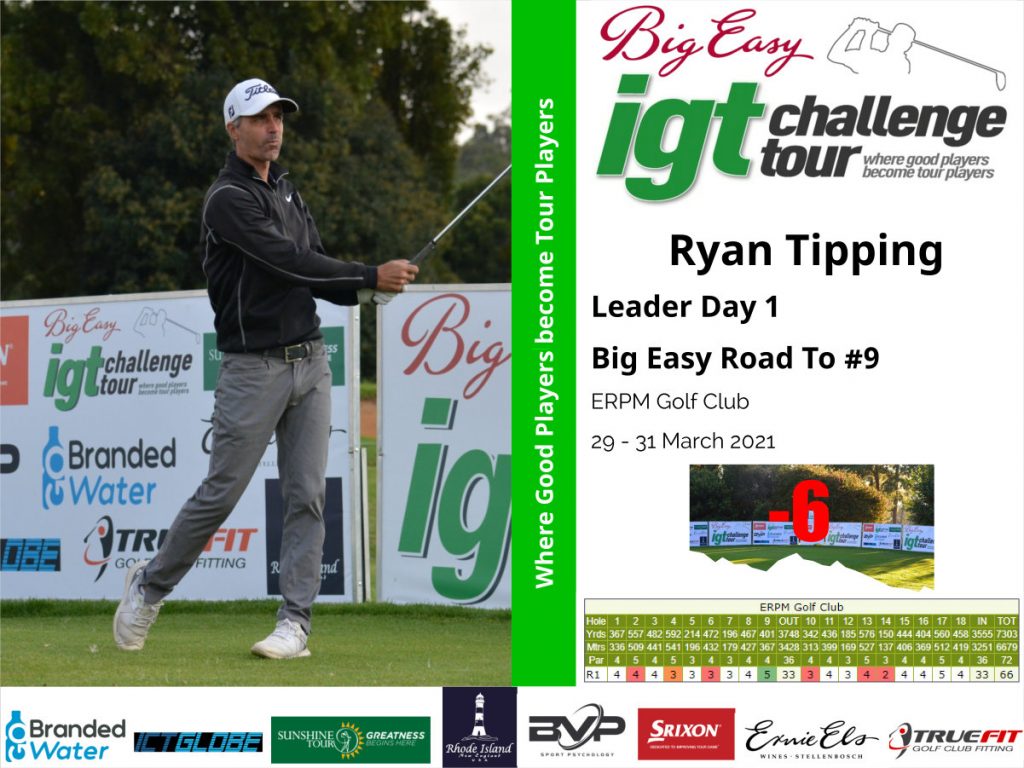 29th March 2021 | IGT Challenge Tour
Tipping off to a strong start at ERPM
Veteran Sunshine Tour campaigner Ryan Tipping played beautiful golf on Monday to sign for a first-round six-under-par 66 of the Big Easy Road to the Sunshine Tour #9 at ERPM Golf Club on the East Rand.
In what has been a decent season so far for the 40-year-old Randpark Golf Club player on this circuit – defined by two top-five finishes and two top-20s and two missed cuts – a 66 on day one to lead by two strokes marked yet another good showing by the one-time Big Easy Tour winner.
"I think it's been a pretty solid season and apart from two starts where I missed the cut, I've lived inside the top-10 for most of the season," said Tipping of his season both on the IGT and Big Easy circuits. "I just need to sink a few more important putts which will hopefully convert those into top-three finishes. But it was a nice solid day at the office today. I hit it pretty straight all day and managed to convert some of the chances. The weather was cold to start but got better mid-way through the round."
A birdie on the par-five second, an eagle on the fourth and another birdie on the sixth set Tipping up for a strong start to this week's tournament. But a drop on the ninth threatened to derail his progress and Tipping had to find something special on the homeward stretch.
"It actually wasn't the worst shot but it was just not the right club," Tipping said of that bogey on nine. "I was pleased to have a decent putting day. I didn't make any long ones but made a few 10 to 15 footers. So, tomorrow the game plan is exactly the same. Hit as many fairways and greens as possible and play stress-free golf.
"Your tee shots need to be well-positioned to attack the course. If you're a little off from the tee you can't aim at flags."
Tipping shot a bogey-free 33 on the back nine to seal a round of 66 and take a two-shot lead into the second round of this 54-hole event.
The in-form Ian Snyman was in second spot on the leaderboard, thanks to a four-under-par 68 round with Shanren Brienen, Llewelyn Booysen, Shalan Govender, recent winner Therion Nel, Keaton Slatter and amateur Kyle Kistensamy share third at three-under.
Other recent winners Franklin Manchest and Keelan Van Wyk are among the 11 players who are inside the top 20 at two-under-par 70 after day one.
Latest IGT Challenge Tour News