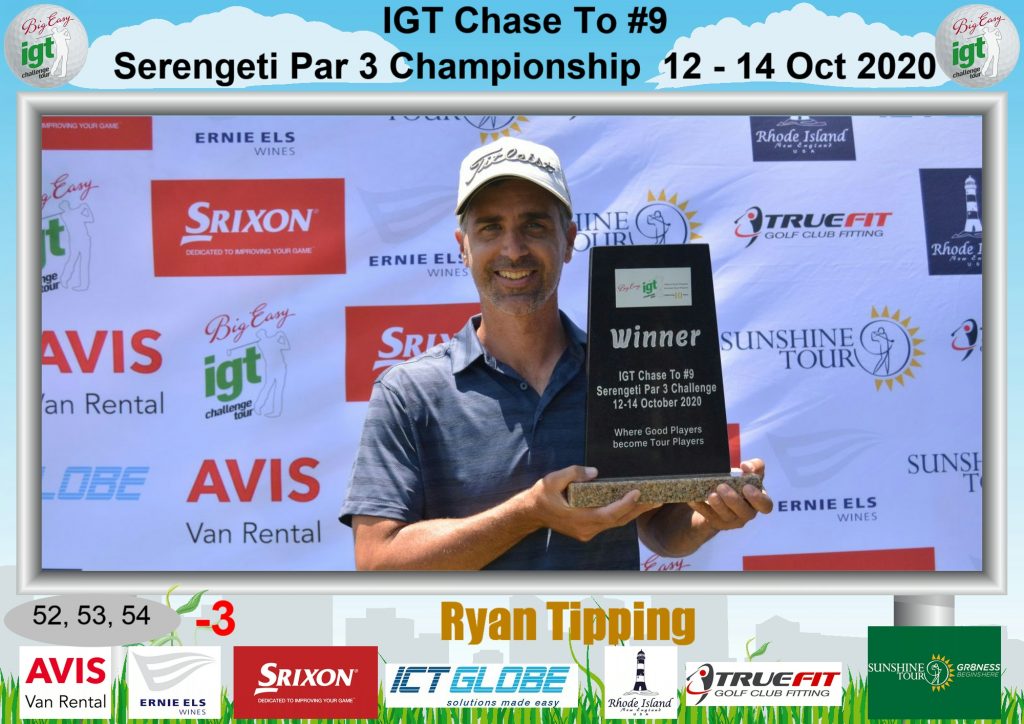 14th October 2020 | IGT Challenge Tour
Tipping returns to winning ways with Serengeti triumph
KEMPTON PARK, October 14 – Veteran campaigner, Ryan Tipping ended a decade-long winless run when he clinched the IGT Tour Chase #9 Serengeti Par-3 Championship on Wednesday.
His only professional win came in the 2009 SAA Pro-Am Invitational which was staged by the Sunshine Tour and for the better part of the last decade, Tipping has been searching.
"It's been a long while since I have been in this position – I last won in 2009 at Randpark," said Tipping after his win in Kempton Park. "I've been working with Neil Cheetham, and he's got me hitting it straight again. But the big difference is using the broomstick putter. I've been using it for 13 months, and it's made a big difference.
"The last five years have been very, very dry. It was tough, and I thought it might be the end, but I have some good people around me believing, and that helped."
His win is a result of a solid week where the soon-to-be 40-years old Tipping was never too far off the lead. In the opening round, it was Kyle McClatchie who led after a flawless four-under-par round while Tipping was just two shots back. Then on day two, Louis Albertse took to the top of the leaderboard after a fine round of golf. His slender one-stroke lead would have given Tipping some hope that a win was very possible in this par-three competition, the first on the IGT Tour.
Tipping's even-par final round – characterised by four birdies, a double-bogey, and two bogeys – was enough to earn him a one-shot victory over Albertse after the four-time winner fell back to a total of two-under after a thrilling week.
"The course is a proper test. You've got to use every club in the bag, and I used a driver four times this week," said Tipping of the Dino De Abreu-designed layout at Serengeti. "I first played it last year in the media day, and I left the driver in the car. Someone told me to run back and get it, and I'm glad I did.
"Now I'm into the Wild Coast event on the Sunshine Tour next week. I'll be looking for a top 10 there to try and keep the momentum going."
Tipping is justified to feel as confident after his win because his wait to get back into the winner's circle has been long, and after a series of solid performances recently, a win for him was almost overdue.
"This win means a lot," admitted Tipping, "my confidence has taken a bit of a beating over the last few years on the Sunshine Tour. So, I will take this and run with it for next week at Wild Coast.
159 – Ryan Tipping (RSA) 52 53 54
160 – Louis Albertse (RSA) 53 51 56
164 – Kyle McClatchie (RSA) 50 56 58
165 – Casey Jarvis (AM) (RSA) 57 56 52
167 – Werner Deyzel (AM) (RSA) 60 53 54
168 – Rigardt Albertse (RSA) 54 57 57, Luke Brown (RSA) 55 56 57, Richard O'Donovan (IRE) 54 52 62
169 – Ryan Van Velzen (AM) (RSA) 55 59 55, Herman Loubser (RSA) 55 54 60
170 – Adriel Poonan (RSA) 57 57 56, Ruan Groenewald (RSA) 60 54 56, Keanu Pestana (RSA) 52 61 57, Erhard Lambrechts (RSA) 57 56 57, Kyle Barker (RSA) 59 52 59
171 – Jason Froneman (RSA) 59 58 54, Drikus Joubert (AM) (RSA) 54 62 55, Dylan Mostert (RSA) 55 59 57
172 – Sam Mc Kenzie (AM) (RSA) 56 59 57, Christiaan Burke (AM) (RSA) 60 54 58, Callum Mowat (RSA) 55 56 61
173 – Michael Kok (RSA) 61 55 57
174 – Bradley Diggeden (RSA) 60 57 57, Marthin Scheepers (RSA) 58 59 57, Warwick Purchase (AM) (RSA) 58 57 59
175 – Irvin Mazibuko (RSA) 60 56 59, Karabo Mokoena (AM) (RSA) 59 56 60, Leon Vorster (RSA) 56 57 62
176 – Tyron Taylor (AM) (RSA) 62 56 58, Lwazi Gqira (RSA) 58 56 62, Tara Griebenow (RSA) 56 57 63, Fredrik From (SWE) 54 57 65
177 – Derick Petersen (RSA) 60 56 61
178 – Leon Scheepers (RSA) 57 60 61, John-William Blomerus (AM) (RSA) 59 58 61
179 – Leon Visser (RSA) 63 55 61, Shalan Govender (RSA) 59 58 62, Ruben Van Der Berg (AM) (RSA) 61 56 62
183 – Daniel Lee (AM) (RSA) 55 64 64
186 – Letsoso Letsai (AM) (RSA) 62 57 67
Latest IGT Challenge Tour News