Local Rules and Terms of Competition
With effect from 1 January 2019
Local Rules
1. Out of Bounds (Rule 27)
a) A ball is out of bounds when it is beyond any wall defining a boundary.
b) A ball that crosses a road which is defined as out of bounds and comes to rest on the other side of that road is out of bounds. This is true even if the ball comes to rest on another part of the course that is in bounds for other holes.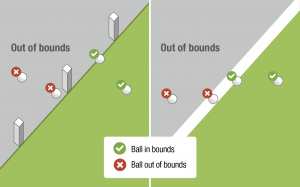 2. Penalty Areas (Rule 17)
a) When a penalty area adjoins a boundary, the penalty area edge extends to and coincides with the boundary.
b) When a player's ball is found in or it is known or virtually certain to have come to rest in any penalty area where the ball last crossed the edge of the penalty area at a point that coincides with the boundary of the course, opposite side relief is available under Model Local Rule B-2.1.
Dropping Zones for Penalty Areas
Where a dropping zone is marked for a penalty area, it is an additional option for relief under penalty of one stroke. The dropping zone is a relief area. A ball must be dropped in and come to rest in the relief area.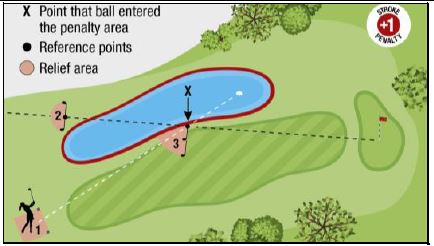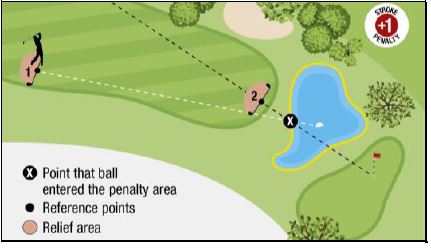 3. Abnormal Course Conditions (including Immovable Obstructions) (Rule 16)
a) Ground Under Repair.
i. Any area bounded by a white line, including spectator crossing points where marked.
ii. Any area of damaged ground (e.g. caused by crowd or vehicle movement) that is considered by a referee to be abnormal.
iii. Grass covered cable trenches
iv. French drains (stone-filled drainage ditches).
v. Seams of cut turf; Model Local Rule F-7 is in effect.
vi. Yardage painted lines or dots on the putting green or in a part of the general area cut to fairway height or less are to be treated as ground under repair from which relief is available under Rule 16.1 Interference does not exist if yardage painted lines or dots only interfere with the players stance.
b) Immovable Obstructions
White lined areas and the immovable obstruction they tie into are treated as a single abnormal course condition.
c) Embedded Ball
Rule 16.3 is modified in this way: No free relief is allowed for a ball embedded in the stacked turf face above a bunker.
4. Integral Objects
The following are integral objects from which free relief is not allowed:
a) Bunker liners in their intended position.
b) Wires, cable, wrappings or other objects where they are closely attached to trees or other permanent objects.
c) Artificial retaining walls and pilings when located in penalty areas.
5. Distance Measuring Devices
Allowed.
a) Getting information on distance or direction (such as from a distance-measuring device or compass).
Not Allowed.
a) Measuring elevation changes, or
b) Interpreting distance or directional information (such as using a device to get a recommended line of play or club selection based on the location of the player's ball).
6. Embedded Ball
When Relief Is Allowed
(1) Ball Must Be Embedded in General Area. Relief is allowed under Rule 16.3b only when a player's ball is embedded in the general area.
• There is no relief under this Rule if the ball is embedded anywhere except in the general area.
• But if the ball is embedded on the putting green, the player may mark the spot of the ball and lift and clean the ball, repair the damage caused by the ball's impact, and replace the ball on its original spot (see Rule 13.1c(2)).
Exceptions – When Relief Not Allowed for Ball Embedded in General Area: Relief under Rule 16.3b is not allowed:
• When the ball is embedded in sand in a part of the general area that is not cut to fairway height or less, or
• When interference by anything other than the ball being embedded makes the stroke clearly unreasonable (for example, when a player is unable to make a stroke because of where the ball lies in a bush).
(2) Determining Whether Ball Is Embedded. A player's ball is embedded only if:
• It is in its own pitch-mark made as a result of the player's previous stroke, and
• Part of the ball is below the level of the ground.
If the player cannot tell for sure whether the ball is in its own pitch-mark or a pitch-mark made by another ball, the player may treat the ball as embedded if it is reasonable to conclude from the available information that the ball is in its own pitch-mark.
A ball is not embedded if it is below the level of the ground as a result of anything other than the player's previous stroke, such as when:
• The ball is pushed into the ground by someone stepping on it,
• The ball is driven straight into the ground without becoming airborne, or
• The ball was dropped in taking relief under a Rule.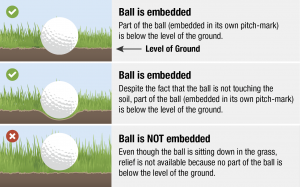 7. Temporary Power Lines or Cables
Model Local Rule F-22 is in effect.
If it is known or virtually certain that a player's ball hit a power line or tower or a wire or pole supporting a power line during play, the stroke does not count. The player must play a ball without penalty from where the previous stroke was made (see Rule 14.6).
8. Clubs and Balls
a) List of Conforming Driver Heads: Model Local Rule G-1 is in effect.
Penalty for making a stroke with a club in breach of Local Rule: Disqualification.
b) Groove and Punch Mark Specifications: Model Local Rule G-2 is in effect.
Penalty for making a stroke with a club in breach of Local Rule: Disqualification.
c) List of Conforming Golf Balls: Model Local Rule G-3 is in effect.
Penalty for breach of the Local Rule: Disqualification.
Note: An updated List of Confirming Clubs and Balls is available on www.randa.org
9. Suspension of Play (Rule 5.7)
The following signals will be used to suspend and resume play:
• Immediate stop for imminent danger – One prolonged note of a siren.
• Stop for a non-dangerous situation – Three consecutive notes of a siren.
• Resumption of play – Two consecutive notes of a siren.
Note: When play is stopped for imminent danger, all practice areas will be immediately closed.
10. Practice (Rule 5.2)
A player must not practice on the competition course before or between rounds.
Exception: All recognised practice areas within the bounds of the course may be used by players for practice on any day of the competition.
11. Transportation
During a round, a player or caddie must not ride on any form of motorized transportation except as authorized or later approved by the Committee. A player who will play, or has played, under penalty of stroke and distance is always authorised to ride on motorised transportation. The player gets the general penalty for each hole during which there is a breach. A breach between two holes applies to the next hole.
12. Anti-Doping
Players are required to comply with and be bound by any Anti-Doping Policy that is established for the Championship or Tournament in which they are competing, as detailed in the relevant Terms of Competition, as advised by prior notice or at the golf course. www.drugfreesport.org.za
13. Returning of Score Card
A player's scorecard is officially returned to the Committee when the player has left the recording office/area with both feet.
14. Deciding Ties
The method for deciding ties is provided on the relevant entry form or is published at the golf course by Big Easy IGT Challenge Tour.
15. Results of Match or Championship – Competition Closed
When the Championship trophy is presented to the winner, the results or the competition are officially announced, and the competition is closed.
16. Pace of Play (Rule 5.6)
Model Local Rule F-22 is in effect.
In stroke play, players may play "ready golf" in a safe and responsible way (Rule 6.4b Exception).
In the absence of mitigating circumstances, a group will be timed if it is in excess of the time allowed and "out of position". From commencement of timing, if the first player to play exceeds 40 seconds, or 30 seconds if it is the second or third player to play, the player would be deemed to have a "bad time".
"Out of position" is defined as more than a starting interval behind the group in front.
A player whose group is timed will have a "bad time" carried forward in the round even if the group subsequently arrives back in position or within time.
Penalties for breach of policy
1 Bad Time Verbal warning from referee and told that if he/she has a further bad time he/she will be penalised.
Stroke Play
2 Bad Times One Stroke Penalty
3 Bad Times Additional Two Penalty Strokes
4 Bad Times Disqualification