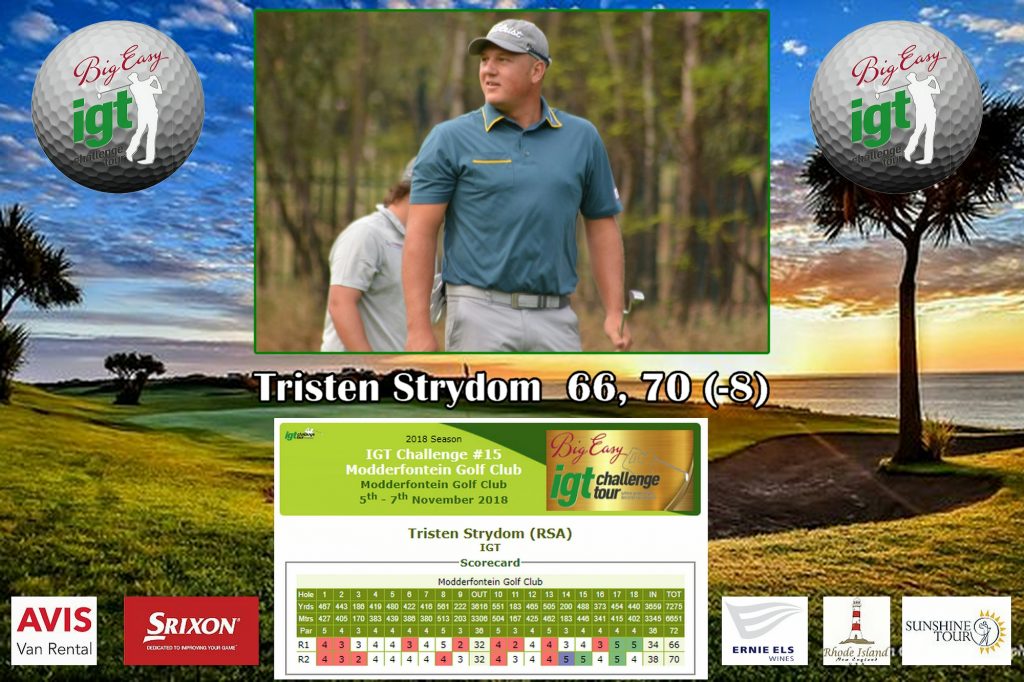 6th November 2018 | IGT Challenge Tour
Trio ready to chase down Strydom in IGT Modderfontein
Trio ready to chase down Strydom in IGT Modderfontein
(PHOTOS – Tristen Strydom; credit CJ du Plooy)
MODDERFONTEIN, 6 November 2018 – His finish wasn't great, but his round was still good enough help Tristen Strydom maintain the overnight lead on six-under 138 in the IGT Challenge Tour #15 at Modderfontein Golf Club on Tuesday.
The Pretoria golfer squandered four shots in his last five holes for two-under 70 and will start the final round two shots clear of Lejan Lewthwaite, Bryce Myburgh and Herman Loubser.
Strydom was four clear on eight-under in the first round before he faltered with a bogey-bogey finish for a 66. The closing stretch proved to be his undoing once again. The 22-year-old started with three birdies on the bounce and was well clear of the chasing pack after further gains at eight, 10 and 13, but a double bogey at the short 14th and bogeys at 15 and 17 let the field back in.
Benched with ligament sprains in both his ankles for a couple of months, Strydom only returned to competitive golf last week, but a top 10 finish in the Big Easy IGT Challenge Tour #13 at Eagle Canyon was proof positive that the former number one ranked amateur is ready to do battle.
To bag his fifth title on the country's premier golf development circuit, Strydom will have to stave off challenges for the fierce threesome on his heels.
Lewthwaite, the first female winner on the IGT Challenge, backs herself to win again.
"I started a bit wobbly with two bogeys, but I kept my cool and I made a nice bounce-back birdie when I stuck my 6-iron stiff at the third," said the Benoni golfer. "I birdied the par five (eight) to get back to level par and birdied 10 to go two-under.
"Not much happened until I had a soft drop at 15, but I bounced back when I holed out with a gap-wedge for eagle at 16. The ball pitched six metres past the pin, spun back and dropped. I wasn't too happy about the drop at 17 where I missed a three-footer for par, but I made a clutch birdie at the 18th to finish two off the pace. It should be a great fight tomorrow and I ready for action."
Myburgh and Loubser are both still chasing that elusive maiden win on the IGT Challenge Tour.
Like Lewthwaite, Myburgh started the second round two shots behind Strydom. The Umhlali golfer, who plays out of Steyn City, fired six birdies to stay in touch with a two-under 70.
"Overall I was happy with my play today," said Myburgh. "I found that the wind picked up a little on my back nine and made it a little tricky. I played very solid throughout the round and without the four bogeys it could've been a very low one.
"I'm hitting the ball well and making a handful of putts. I haven't made any big mistakes over the two rounds and I feel that this is why I am up on the leaderboard with a chance to win. I had a silly three putt on my last, but still can't be too unhappy with an under par round. It should be a good final round as there are a bunch of good players that will be playing for the win and I look forward to it."
Loubser returned a four-under 68 that featured eight birdies – three from the first and four from 10.
"I've gotten off to a great start both days," said the Theewaterskloof golfer. "I started with three birdies in a row and then broke the momentum straight away with two bogeys and a double at six.
"It wasn't ideal, but I'm pretty confident at the moment, so I knew there were lots more birdies out there and I made four in a row from 10 to 13. I look forward to playing with Tristen in the final round. He's a good friend of mine and we played a lot of golf together as amateurs. It's been ages since I've last played with him. If I can keep those pesky bogeys to a minimum tomorrow, I should have a pretty decent chance. Can't wait."
Behind the trio in second, at least four players could also mount a challenge in the final round.
Ruan Korb is in good shape at five-under after carding a flawless 66. Andrew Carlsson and Gary Player School of 2018 member Allister de Kock both returned rounds of 67 move to four-under and join rookie Keaton Slatter, who signed for 71.
Second Round Scores
All competitors RSA unless otherwise specified and amateurs are indicated as AMA:
136 – Tristen Strydom 66 70
138 – Herman Loubser 70 68, Bryce Myburgh 68 70, Lejan Lewthwaite 68 70
139 – Ruan Korb 73 66
140 – Keaton Slatter 69 71, Andrew Carlsson 73 67, Allister de Kock 73 67
141 – DK Kim (KOR) 70 71, Dwayne Basson 69 72
142 – Gareth Sargent AMA 75 67, Thabang Simon 72 70, Christof Appel 72 70, Ruan Groenewald 72 70, Francesca Cuturi 70 72
143 – Dylan Mostert 76 67, Makhetha Mazibuko 71 72
144 – Musiwalo Nethunzwi 72 72, Michael Kok 74 70
145 – Thabiso Ngcobo 72 73, Jason Diab 72 73, Deon Bredenkamp 73 72
146 – Irvin Mazibuko 73 73, Derick Petersen 74 72, Michiel Bothma 75 71, Leon Vorster 76 70, Ivanna Samu 75 71
147 – Tristan Topka AMA 74 73, Jabulane Mabilane 72 75, Harry Konig (ENG) 75 72
148 – Blain Sansom 74 74, Patric Dowling AMA 76 72, Gerard du Plooy 73 75, Tiaan Diederiks 77 71
149 – Dennis Williams AMA 76 73, Ricki Dembo 75 74, Marcel Steyn Scholtz AMA 77 72, Dean du Plessis AMA 73 76, Catherine Lau 72 77
150 – Michael Pfeifer 76 74, Ryan Clarke 77 73, Fritz Orren 80 70, Liam Clinton AMA 75 75, Christopher van der Merwe AMA 74 76
151 – Mitchell Lightfoot 76 75, Lincon Cele 80 71, Cody White (CAN) 80 71
Missed the cut:-
152 – Ray Janse van Rensburg AMA 78 74
154 – Warric Dyers 78 76
155 – Jonathan George AMA 79 76, Henning du Plooy AMA 77 78
156 – Sipho Bujela 80 76, Aneurin Gounden AMA 78 78
157 – Liam Cloete AMA 79 78
158 – Kyle Murphy AMA 80 78, Adam Baker 84 74, Myburgh Viljoen AMA 78 80
160 – Kaylin Pillay AMA 83 77
161 – Divan de Villiers 82 79
162 – Altaaf Bux 78 84
163 – Jordan Parsons AMA 82 81
165 – Michael van Rooyen 84 81
169 – CJ Brits AMA 87 82
172 – Heinrich Prinsloo AMA 83 89
174 – Gerhard Henning AMA 93 81
175 – Jared Hall AMA 88 87
177 – Martin van Vuuren 84 93
181 – Hanro Booysen 95 86
193 – Phillip de Waal 100 93
Ends
Written and released by Lali Stander on behalf of the IGT Challenge Tour.
Latest IGT Challenge Tour News