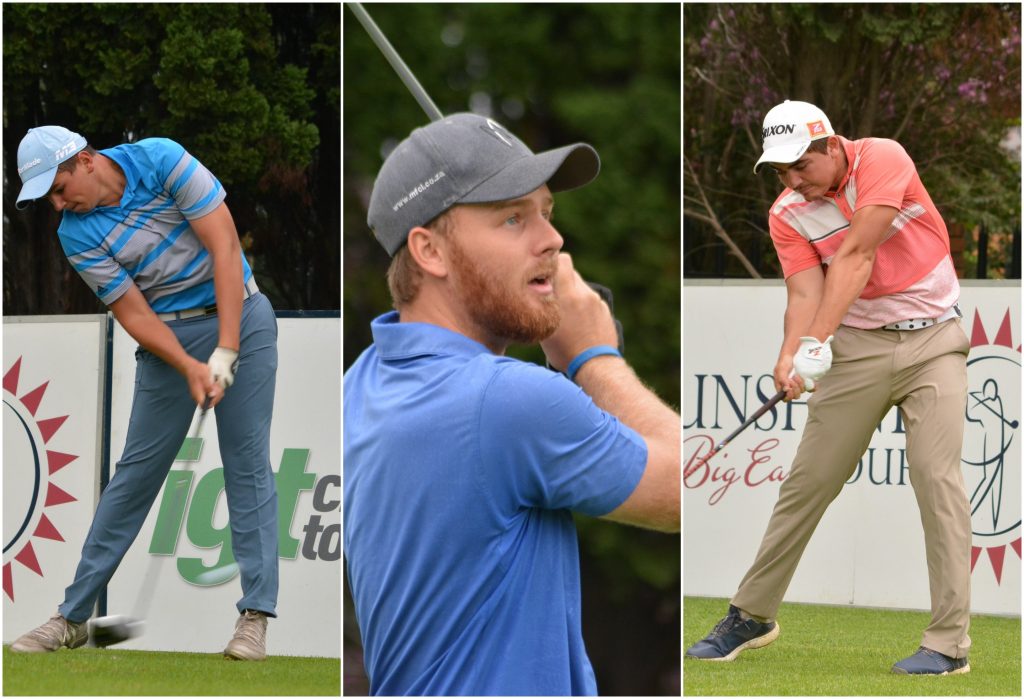 4th February 2019 | IGT Challenge Tour
Trio tied at top at State Mines
Trio tied at top at State Mines
BRAKPAN, 4 February 2019 – State Mines amateurs Casey Jarvis and Francois Blaauw took route 66 at their home course to make it a three-way tie for the lead with Ruhan van Dijk in the opening round of the IGT Challenge Tour's Race to Q-School #4.
Fifteen-year-old Jarvis was out in 31, while Blaauw raced through his back nine in 30 strokes to tie the Kempton Park rookie at the top of the leaderboard on Monday.
The trio will start the second round with a two shot lead over KwaZulu-Natal professional Thanda Mavundla and amateurs Christopher van der Merwe, Duan Nagel and Jaco van der Merwe.
Big Easy IGT Challenge Tour Championship winner Luke Brown finished a further shot adrift and shares eighth with Andrew Carlsson from Bryanston and amateurs Werner Deyzel and Vaughn van Deventer.
Jarvis, a member of the GolfRSA National Squad, and Blaauw entered the event to put the final touches on their preparation for the African Swing, which tees off with the African Amateur Stroke Play Championship next week.
Van Dijk, who missed out at First Stage, still has a chance of making it into the Final Stage of the Sunshine Tour Qualifying School in March.
"I will have to finish in the top 15 on the Race to Q-School Order of Merit and I am currently 57th in the rankings, so a top three finish this week will definitely give me a nice boost," said the 22-year-old Wanna Be A Champion Academy golfer.
"I wasn't striking it well, but I gave the putter a real workout. I boxed a 25-footer at the second, a 15-footer at the third and another 25-footer at the fourth to go three-under. At the sixth I hit it to four foot and had another three-footer for birdie at eight."
Van Dijk missed a five-foot putt for par and dropped a shot, but after a birdie at 10 and a good par-save at 12, he rolled in a 35-footer for birdie at the par-three 13th.
"I kept it going with a good par-save at 14, but missed another birdie chance at 15 when I three-putted at the par five," he said. "I dropped another shot at 16 when I missed a pretty short putt, but I boxed an eight-footer for birdie at 17 to get back to six-under. It definitely wasn't a great ball-striking day, but I pulled it though with some good short irons and wedges and a hot putter."
Jarvis bagged a Nomads SA Boys double last year in the Under-15 and Under-17 Championships, and he broke through for his first provincial victory in the Ekurhuleni Open. However, an injury at the start of the season derailed his start on the junior circuit.
The Ekurhuleni junior was back to full speed with a second place finish in the Bridge Fund Managers Junior Series at his home course and a runner-up finish in the Gauteng North Open late in January.
"I had to sit on the bench for two weeks after I injured an inter-costal muscle and missed out on two Nomads National Order of Merit tournaments," he said. "With so many top international golfers coming to Leopard Creek and a lot of world golf ranking points on offer, I have to take my A-game to Leopard Creek."
Jarvis burst from the blocks with three birdies in a row and added further gains at five and seven.
"I hit my second shot just short of the green and chipped in for eagle at 10 to go seven-under, but I put it in the water on 11 and also dropped 13 after probably my best drive of the day," said Jarvis.
"I was really disappointed, but I kept my head down and I birdied the par five (15) to get at least one shot back. I'm really happy with my overall game, and I'm glad to have two more rounds to fine-tune my game for next week."
Blaauw was level through the turn and understandably pleased with his come-back on the back nine.
"I started with birdies at 10 and 11, but bogeyed at 12 and 14," he said. "I knew there were birdie holes coming, so I just kept it going with pars to the turn."
The Robbie Stewart Academy golfer got within striking distance of the clubhouse lead in the first four holes on the back nine. "I flicked a lob-wedge to three feet on one and two," he said. "I hit a poor drive at the third. I had 243 flag and I hit a three-wood to three foot and holed for eagle. At the next hole, I hit a pitching wedge to six foot and boxed the birdie putt.
"I had a chance at seven, but I hit my approach a little soft, but I got the distance right at eight and made one more birdie for a share of the lead. It's nice to be among the leaders, because it builds some confidence for the African Amateur. Hopefully I can keep it going for two more rounds."
First Round Scores
All competitors RSA unless otherwise specified; amateurs indicated as AMA
66 – Casey Jarvis AMA, Ruhan Van Dijk, Francois Blaauw AMA
68 – Christopher Van der Merwe AMA, Duan Nagel AMA, Jaco Van Der Merwe AMA, Thanda Mavundla
69 – Werner Deyzel AMA, Vaughn Van Deventer AMA, Luke Brown, Andrew Carlsson
70 – Dylan Kok, Peetie Van Der Merwe, Neal Woernhard (SUI), Richard Joubert, Darin De Smidt AMA, Gary Daoust (BEL)
71 – Paul Rodrigues AMA, Stephan Erasmus, Quintin Crause, Lincon Cele, Henning Du Plooy AMA, Jack Rex Duthie, Michael-James Steyn, Kyle Murphy AMA, Divan Marais, Maritz Wessels
72 – Nico Du Buisson, Riaan Swart AMA, Bryce Myburgh, Christof Appel, Michael Saunders (ENG), Keanu Pestana AMA, Nqobani Ndabambi (ZIM)
73 – Kobus Engelbrecht AMA, Tristen Strydom, Angus Ellis-Cole AMA, Gareth Sargent AMA, Hanish Nagrani (ZIM), Andrew Plint AMA, Deon Bredenkamp, Hanlo Jacobs, Khaya Jika, Neal Herman, James Mack (ENG), Ricardo Towell
74 – Michael Van Rooyen, Christian Basson AMA, Albert Visser, Jason Diab, Carlo Heunis AMA, Zabastian De Jager, David Rebelo, Mitchell Lightfoot, Igor Milicic (SRB)
75 – Elmo Barnard AMA, Jancarel Rossouw AMA, Tristan Topka AMA, Paulo Serrao (POR), Brandon Lydon AMA, Cody White (CAN), Matt Westner, Bradley Diggeden AMA
76 – Christopher Constantinou AMA, WM Coetzee AMA, Ivan Mare AMA, Tristan Brice AMA, Alwyn Smith, Blain Sansom, Francois Nel AMA, Dean Du Plessis AMA, Clinton Grobler, Jonathan Waschefort
77 – Rigardt Albertse AMA, Luke Kelly
78 – Jay Dean Fourie, Mike Dewsbury (ENG), Thabiso Ngcobo
79 – Adam Baker
80 – Marcus Smal AMA, Louis Botha
81 – Jared Hall AMA, Songezo Sonamzi
82 – Jonathan George AMA, Christopher Scheppel AMA, Leon Vorster, Angelo Marques AMA, Warric Dyers
83 – Divan De Villiers
85 – Matthew Hands AMA
86 – Jeandre Badenhorst
88 – Hanro Booysen, Dylan Van Heerden AMA
PHOTOS – State Mines amateurs Casey Jarvis and Francois Blaaw share the first round lead of the IGT Challenge Tour Race to Q-School #4 at their home course with Kempton Park rookie Ruhan van Dijk; credit CJ du Plooy.
Written and released by Lali Stander on behalf of the IGT Challenge Tour.
Latest IGT Challenge Tour News