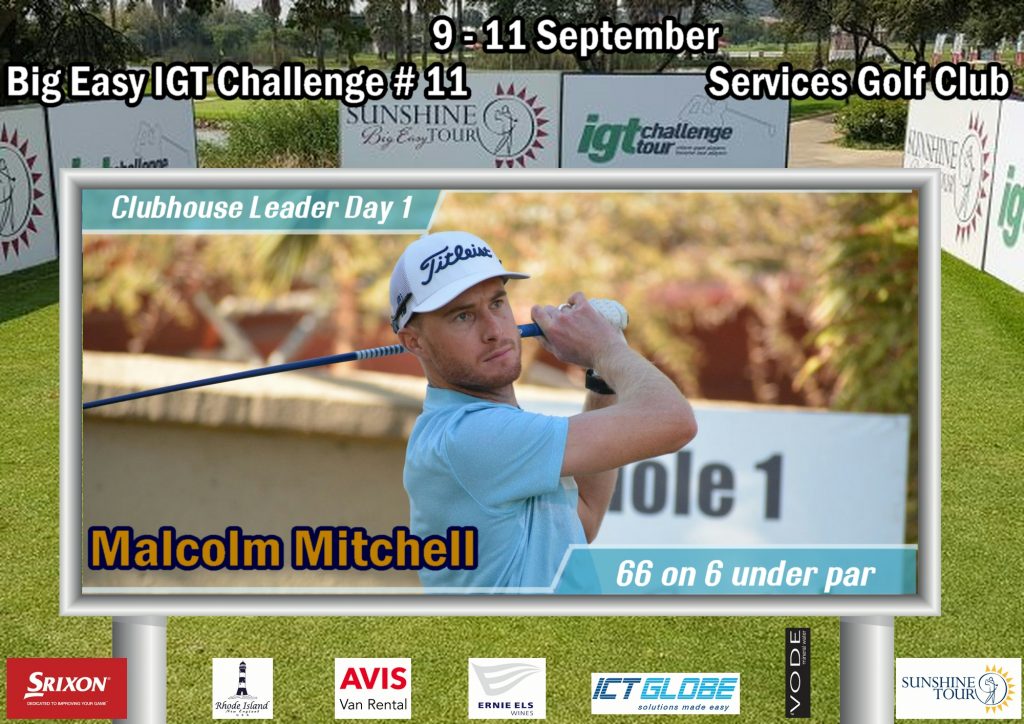 9th September 2019 | IGT Challenge Tour
Trio tied for Big Easy IGT Services lead
Trio tied for Big Easy IGT Services lead
(PHOTOS – Matt Spacey, Malcolm Mitchell and Ruan de Smidt; credit CJ du Plooy)
PRETORIA, 9 September 2019 – Malcolm Mitchell, Matt Spacey and Ruan de Smidt made the most of scorable conditions at Services Golf Club to share the lead in the first round of the Big Easy IGT Challenge Tour #11.
Mitchell and Spacey capitalised on an early start with rounds of 66 to set the early clubhouse lead and for a long while it looked like none of the afternoon starts could catch them.
Enter four-time Sunshine Tour winner De Smidt, who carded a total of seven birdies to go six-under and make it a three-way tie at the top on Monday.
South Korea's DK Kim, Clinton Grobbler and rookie pair Gerhard Pepler and Keaton Slattery finished one shot off the pace, with a group of five players a further shot adrift.
Mitchell – the current leader of the Road to Sunshine Tour rankings – was the only one among the pacesetting trio to clock in with a clean card.
"I was happy with today; I just started off very solid again," said Mitchell.
"I birdied the second and chipped in for birdie at the fourth and then had a nice little run from the ninth. I holed a bunker shot for eagle on nine and made solid birdies at 10 and 11.
"I drove it down the middle on 10, wedged it to 15 feet and made the putt. And another good approach on 11 set me up nicely for another birdie. I kept the round ticking over with pars, but unfortunately I didn't take advantage of the two par fives coming home. I had three-putts on both the 12th and 18th holes. That stung a little, but otherwise it was a solid round."
In recent months, the KwaZulu-Natal rookie has worked hard on the weaker points of his game and the effort has paid off with two wins, a runner-up finish and two top-10s in his last six starts on the golf development circuit.
"I've been working on my wedges, because they cost me in a couple of events, and I've worked on my putting," he said. "There is nothing really wrong with my putting, but you put in the graft because you can never make too many putts."
Spacey and De Smidt are both looking to finish in the top six at the end of the Big Easy IGT Challenge Tour season to regain playing privileges on the Sunshine Tour. While De Smidt has risen to eighth in the Road to Sunshine Tour, he is still chasing that elusive first win.
Spacey, however, has made two turns in the winner's circle and sits comfortably in the second spot in the Road to Sunshine Tour.
"I had a really, really solid day," said the Dainfern golfer. "I had a lone bogey at the fourth, where I missed a four-footer for par, but otherwise I made very few mistakes.
Birdies at the second and fourth set a positive tone for his round and he also enjoyed a profitable run around the turn, racking up four birdies.
"I hit a 2-iron to the back of the green on the second hole and two-putted for birdie and at the fourth, I wedged it on the green and holed a 10-footer for birdie," he said. "I two-putted for birdie on the ninth and wedged it from 89 metres to two feet on 10. On the short hole, I hit a soft wedge 15 feet left of the pin and holed it.
"I nearly had an eagle on 12. I drove it down the middle and hit 6-iron to eight feet, but I left the eagle putt in the throat. And I made one birdie at 14 coming home. I'm really pleased with the round.
"To finish in the top six at the end of the season you need to consistently finish in the top 10, so it really helps to get off to a fast start. I'm still hunting for my hat-trick, but you can't force it and you can't control what the other players are doing, so you also have to exercise patience. At the end of the day, it's all about what you do out there."
First Round Scores
All competitors RSA unless otherwise specified and amateurs indicated as AMA.
66 – Matthew Spacey, Malcolm Mitchell, Ruan de Smidt
67 – Clinton Grobler, DK Kim (KOR), Gerhard Pepler, Keaton Slatter
68 – Richard Joubert, Arno Pretorius, Jonathan Waschefort, Basil Wright, Marco de Beer
69 – Keanu Pestana, Gideon van der Vyver, Peetie van der Merwe, Allister de Kock, Clayton Mansfield, Luan Boshoff, Jay Fourie, Yubin Jung, Desne van den Bergh, Jeff Inglis (ENG)
70 – Michael Kok, Thabiso Ngcobo, Divan de Villiers, Dylan Kok, Caylum Boon, Jason Rossiter, Darin de Smidt, Theunis Bezuidenhout
71 – Quintin Wilsnach, Morne Buys, Jason Smith, Bryce Myburgh, Reinhardt Blaauw, Stuart Smith (BOT), Neil Cheetham (ENG), Jason Roets, Aubrey Beckley, Jaco van der Merwe, Divan Marais, Quintin Crause, Jason Diab
72 – Gareth Sargent, Hendrikus Stoop, Nicholaus Frade, Makhetha Mazibuko, Leon Vorster, Matt Saulez, Jason Froneman, Coert Groenewald, Albert Venter, Leon Visser, Adriel Poonan, Mike Maile
73 – Paulo Serrao (POR), Cameron Esau, Brandon Gildenhuys AMA, Michael-James Steyn, Carlo Heunis, Matt Bright, Hanlo Jacobs
74 – Jason Viljoen, Teboho Sefatsa, Jack Duthie, Karl Ochse, Charles Spencer-White (WAL), Dean du Plessis, Alpheus Kelapile, Alex Pienaar AMA, Beyers Smith AMA, Ruan Groenewald, Ruhan van Dijk, Evance Vukeya
75 – Duan Nagel, Romano Saincic, Ryan Tipping, John McClean (NIR), Henning du Plooy, Francois Blaauw AMA, Neal Woernhard (SUI), CJ Levey
76 – Zabastian de Jager, Phumlani Maluka, Hennie O'Kennedy, Dwayne Basson, Gary Daoust (BEL), Marthin Scheepers, Nqobani Ndabambi (ZIM), Pequestro Dyssel
77 – Byron van der Merwe, Albert Visser, Wesley du Toit AMA, Michael Pfeifer, Maverick Faber (FRA), Marnus Barnard AMA, Wayne Stroebel, Dennis Williams, Jacques Viljoen AMA
78 – Thabang Simon, Mitchell Lightfoot, Christian Basson, Teddy Mathebula
79 – Donald Makhafola AMA, Louis Botha, Mark Murless, Fritz Orren
80 – Michael Schutz, Neo Mokgatle, Tanaka Mhere (ZIM)
81 – Eric Nel
82 – Cameron Gurr AMA, Christiaan Pretorius
88 – Cody Holwill AMA
90 – Christopher Constantinou AMA
RTD – Ruan Korb
Written and released by Lali Stander on behalf of the Big Easy IGT Challenge Tour.
Latest IGT Challenge Tour News