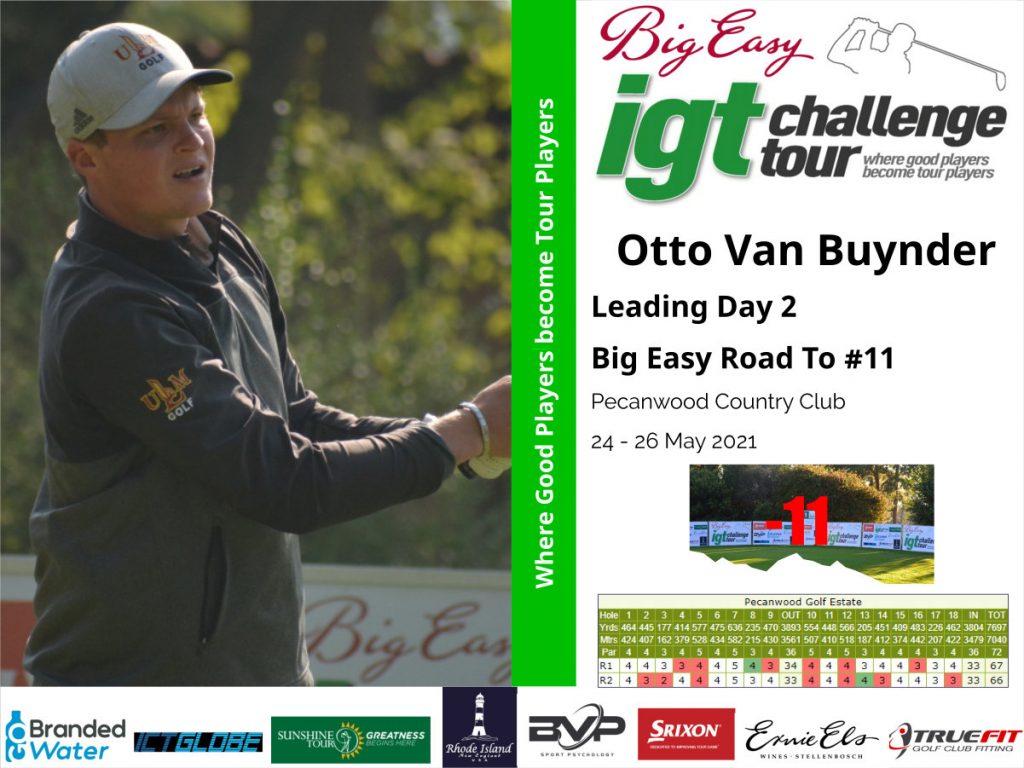 25th May 2021 | IGT Challenge Tour
Van Buynder in slim lead at Pecanwood
BRITS, May 25 – A bogey-free front nine of 33 formed a solid foundation for a second-round 66 which catapulted amateur Otto Van Buynder to the top of the leaderboard in the Big Easy Tour Road To #11, one shot clear at Pecanwood Country Club.
Trailing by four at the start of the second round, Van Buynder was among those who would have felt they had every chance of taking the top spot following beautiful weather conditions which allowed for low scoring in round one. The second round was not different as the low scores kept trickling in. For his part, Van Buynder birdied the first two holes of the golf course and then made par on the next. He followed that up with a birdie on the fourth and gave nothing away as he went on to turn in 33.
"It feels great to see my name on top of the leaderboard," said Van Buynder, "but I still have to go out tomorrow and play better than the rest of the field. I played my par-fives three-under today and I was steady the whole day. My birdie on three was a nice touch and the putter helped me immensely through both rounds."
More solid golf saw him walk away with a birdie on the tough par-five 10th, and two pars later, another birdie got onto his card. An error on 13 saw his surrender a shot there but that drop wasn't enough to demoralise him as he recovered with a birdie on the next hole. He was happy to walk away with pars for the next three holes before closing off with another birdie which helped him unseat fellow amateur Ernest Ludick from the summit on a tournament total of 11-under.
"It is going to be a fun group tomorrow and I will see how everything goes," said Van Bynder, "but I have my own game to play. All I need to do is to keep doing what I have been doing and I will be fine."
Tied for the second spot and just a single stroke adrift, Ludick, Rupert Kaminski and amateur Slade Pickering will look forward to the final round, knowing any error on Van Buynder's part could mean an opportunity. Kaminski has come close to winning on this circuit this season and he will want nothing but victory on Wednesday.
Occupying solo fifth at eight-under-par after 36 holes is Quintin Wilsnach who, like many in this field, has everything it takes to overturn a slim lead such as the one Van Buynder holds going into the final round. Trailing by three, Wilsnach knows he is in contention for the title and will not be easily shrugged off.
Latest IGT Challenge Tour News