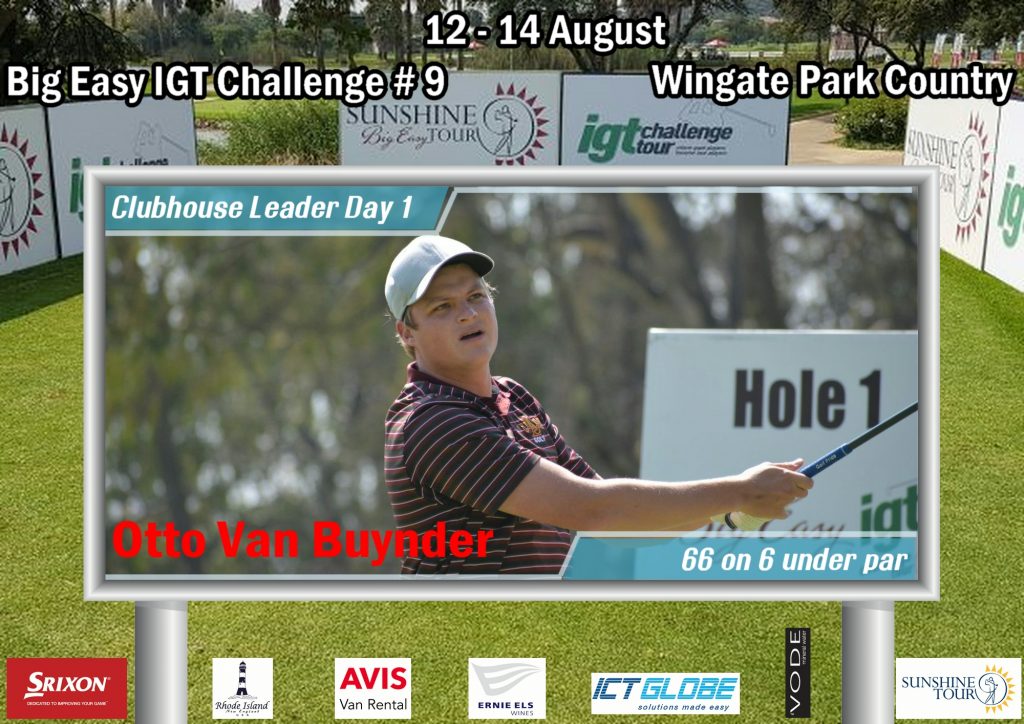 12th August 2019 | IGT Challenge Tour
Van Buynder leads the way at Wingate
Van Buynder leads the way at Wingate
PRETORIA, 12 August 2019 – Pretoria amateur Otto van Buynder fired a pacesetting six-under-par 66 to open up a one-shot lead in the first round of the Big Easy IGT Challenge Tour #9 at Wingate Park Country Club on Monday.
Sunshine Tour rookie Deon Germishuys and Kyle Barker tied for second, with Luke Trocado, Theunis Bezuidenhout, Mike Maile and Zambian golfer Dayne Moore a further shot adrift.
Last week's IGT Challenge Tour champion Ruan de Smidt also finished within striking distance.
The former Sunshine Tour champion sits just three shots off the pace in a group of eight players on three-under, including Gary Player School pair Teboho Sefatsa and Makhetha Mazibuko.
Van Buynder bagged his first win on Big Easy IGT Challenge Tour at Randpark in June last year, just a week before he headed to the United States to take up a golf scholarship at Louisiana Monroe University.
Taking pole is nothing new for the former Tshwane Junior Open champion, but leading the field in just his fourth after 10 weeks on the bench left the 20-year-old out in high spirits.
"Just after we start our Spring Break in May, I had a run-in with a club car and I came off worse," joked Van Buynder. "The tips of my middle finger and pinkie were just hanging, but the x-rays I had in the USA didn't show anything wrong.
"As soon as I got home, I went to see our family doctor and he discovered that I had torn the nerve right off the bone. I went under the knife and they put pins put in my hand. I was very frustrated to sit around for 10 weeks, but in retrospect I think it was very good for my game, because I was really hungry to going again."
Van Buynder began practicing two weeks ago.
"I won the Blue Valley Club Championships at the end of July and finished fifth in the Big Easy IGT at Centurion," said Van Buynder, who tied for 12th on the IGT Challenge Tour at Krugersdorp Golf Club last week.
"It's really great to have such a strong competitive circuit here at home. This is really helping me to get back to form before I head back to the USA."
Former SA Amateur champion Germishuys and Barker – already a winner this season – set the early target on five-under, but afternoon starter Van Buynder leapfrogged the pair for the top spot with seven birdies.
"I turned two-under after a trio of birdies and a soft three-putt bogey at the seventh, but I got it to four-under with a birdie-birdie start on the back nine," Van Buynder said. "I rolled in a left-to-right slider from seven metres for birdie at 10 and boxed a four-metre putt on 11.
"I birdied the next par five (12) and made some good pars until 18, where I went for the green. I drove it down the middle and had 185 metres flag left. I hit a 7-iron in and two-putted for birdie. I didn't expect to be leading today, but it feels great to be back to full strength. I'm relieved, more than anything, that the 10 weeks downtime didn't adversely affect my game."
First Round Scores
All competitors RSA unless otherwise specified and amateurs indicated as AMA.
66 – Otto van Buynder AMA
67 – Deon Germishuys, Kyle Barker
68 – Luke Trocado, Theunis Bezuidenhout, Dayne Moore (ZAM), Mike Maile
69 – Teboho Sefatsa, Matthew Spacey, Teagan Moore, Makhetha Mazibuko, Jade Buitendag, Ruan de Smidt, Divan Marais, Luke Mayo
70 – Hanlo Jacobs, Brandon Gildenhuys AMA, Peetie van der Merwe, Clinton Grobler, James Pennington (SWZ), Yubin Jung, Matt Bright, Christian Basson, Leon Visser, Dwayne Basson
71 – Bryce Myburgh, Gideon van der Vyver, Byron Coetzee, Jacquin Hess, Bradley Diggeden, Neal Woernhard (SUI), Ruan Groenewald, Jason Rossiter, Ryan Tipping, Keegan Mclachlan AMA, Jeff Inglis (ENG), Jason Froneman
72 – Michael Schutz, Duan Nagel, Malcolm Mitchell, Jason Smith, Marco de Beer, Cameron Moralee, Desne van den Bergh, Jason Roets, Coert Groenewald, Reinhardt Blaauw
73 – Quintin Wilsnach, Stuart Smith (BOT), Jack Duthie, Karl Ochse, Clayton Mansfield, Thabiso Ngcobo, Jason Viljoen, Caylum Boon, Albert Venter, Keaton Slatter, Sipho Bujela, Jaco van der Merwe, Christopher van der Merwe, Stefan Wears-Taylor
74 – Richard Joubert, Gerhard Pepler, James du Preez, Wayne Stroebel, Hendrikus Stoop, Adriel Poonan, Evance Vukeya
75 – Alex Pienaar AMA, Zabastian de Jager, Angus Ellis-Cole, Gerard du Plooy, Luan Boshoff, Hennie O'Kennedy, Michael-James Steyn, DK Kim (KOR), Marthin Scheepers, Aubrey Beckley, Dylan Naidoo, Phumlani Maluka, Neo Mokgatle, Carlo Heunis, Juran Dreyer, Thabang Simon, Jason Diab, Jonathan George AMA
76 – Basil Wright, Ruan Korb, Dennis Williams, Michael Kok, Arno Pretorius, Alpheus Kelapile, CJ Levey, Francois van der Walt AMA, Franklin Manchest, Cameron Esau, James Cleasby AMA
77 – Gary Daoust (BEL), Romano Saincic, Maritz Wessels, John McClean (NIR), Allister de Kock, Jay Dean Fourie, Keelan Africa, Darin de Smidt, Llewellyn Booysen, Jonathan Waschefort, Liam Labuschagne
78 – Wesley du Toit AMA, Gareth Sargent, Ruan Botha, Eric Nel, Tristan Eeles, Ruhan van Dijk
79 – Keanu Pestana, Louis Botha
80 – Marnus Barnard AMA, Christopher Constantinou AMA, Shalan Govender, Nicholaus Frade, Leon Vorster, Albert Visser, Wynand Potgieter, Donald Makhafola AMA, Jacques Viljoen AMA
81 – Maverick Faber (FRA)
82 – Cameron Gurr AMA, Clinton Duncan AMA
84 – Ryan Joyce AMA
85 – Tyron Taylor AMA
RTD – Quintin Crause
DSQ – Thato Mazibuko
Written and released by Lali Stander on behalf of the Big Easy IGT Challenge Tour.
Latest IGT Challenge Tour News