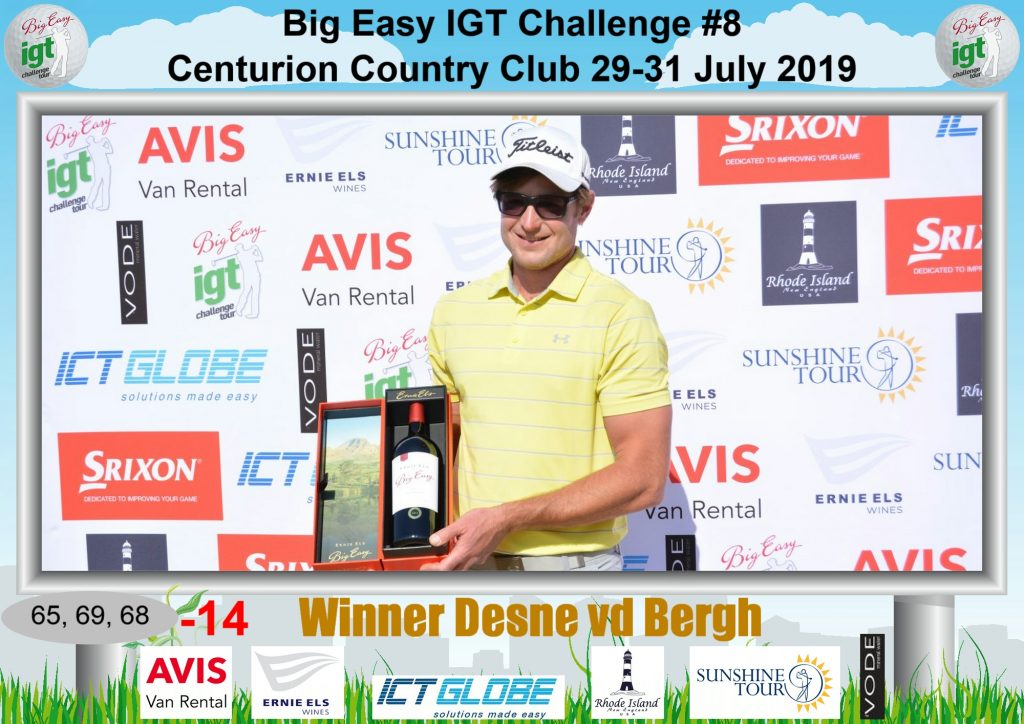 31st July 2019 | IGT Challenge Tour
Van den Bergh seals maiden Big Easy IGT win
Van den Bergh seals maiden Big Easy IGT win
(PHOTO – Desne van den Bergh; credit CJ du Plooy)
PRETORIA, 31 July 2019 – Desne van den Bergh finally shed his Big Easy IGT Challenge Tour bridesmaid tag with a one-shot victory in the eighth event at Centurion Country Club on Wednesday.
The Vaal de Grace golfer was over the moon after he closed out victory on 14-under 202 on a dramatic final day.
"I am absolutely over the moon to be in the winner's circle," said the 29-year-old, who edged out Malcolm Mitchell with a final round four-under-par 68.
"It was touch and go at the end and I won with a bogey, but I finally got it done. After a hat-trick of second places, lifting the trophy validated all the hard work I've put into my game in the last couple of months. This means so much to me."
Van den Bergh entered the final round two shots behind Mitchell, who was targeting a second victory in the eighth event of the series.
The 36-hole leader got off to a blistering birdie-birdie start and kept clear of the chasing pack with birdie number three at the fourth, but Van den Bergh kept pace with a quartet of birdies.
"I drove it down the middle at the first, hit a 7-iron to the middle of the green and two-putted for a birdie start," said Van den Bergh. "I hit a wedge to eight feet on the third and made the birdie putt, and on the fifth, I hit a huge drive just short of the green, chipped it two feet short and boxed the putt."
Van den Bergh made a great up-and-down for birdie on the par-five seventh to move to 14-under and was still trailing Mitchell by one shot heading home.
"Malcolm birdied 10 and I made a momentum birdie at 11 to stay with him," said Van den Bergh.
"I hit a great drive and had 170 metres flag. The wind was into us from the left and I hit an 8-iron six feet past the flag, leaving myself with a dead-straight putt. On 15, Malcolm hit his drive out of bounce, but made a great recovery to save par."
Everything changed for Van den Bergh on the par-three 17th when Mitchell's tee shot finished in the drink.
"I had a two-shot lead playing the last and all I could think about was not messing it up. The wind was off the left and I struck it well, but the ball took a weird dip and plonked in the water," Van den Bergh said. "Malcolm's tee shot ended in the bunker, so I knew I still had a chance.
"I pulled the wedge-shot from the drop zone and it finished left and long. I chipped it to two-feet and after Malcolm two-putted from 30 metres, all I had to do was to tap-in for the win. We had a great contest and it feels pretty great to come out on the winning side for a change."
While a R10 500 pay-day boosted Van den Bergh to fourth in the rankings, Mitchell's consolation prize was the number one spot on the Road to Sunshine Tour.
"One bad shot cost me the win, but you can't get hung up on stuff like that," said Mitchell, who tops the rankings with earnings of R36 363 after eight starts.
"The goal in each tournament is to be in contention on the last day and to finish in the money, so I really can't complain. I've got a nice R6 000 cushion. Hopefully I can keep the run going until the end of the season."
The top six ranked players at the end of the season will gain full cards on the Sunshine Tour, and the top three players on the Transformation Order of Merit for previously disadvantaged competitors will also earn playing privileges for the 2020/2021 season.
Allister de Kock currently heads up the rankings on R28 000. Thabang Simon, Dwayne Basson and Shalan Govender are second, third and fourth respectively. Former Sunshine Tour winner James Kamte, who is targeting a return to the main circuit, tied for 26th and Thabiso Ngcobo tied for 34th to join Yubin Jung in fifth place.
Final Result
All competitors RSA unless otherwise specified and amateurs indicated as AMA.
202 – Desne van den Bergh 65 69 68
203 – Malcolm Mitchell 67 65 71
206 – Albert Venter 69 71 66, Leon Vorster 67 68 71
208 – Otto van Buynder AMA 71 67 70
209 – Nicholaus Frade 72 71 66, Jeff Inglis (ENG) 72 67 70
210 – Marco de Beer 66 76 68, Matthew Spacey 70 71 69, Francois van der Walt AMA 71 70 69, Gideon van der Vyver 70 67 73, Arno Pretorius 68 68 74
211 – Angus Ellis-Cole 71 70 70, Michael Kok 70 71 70, Theunis Bezuidenhout 71 69 71, Jason Smith 68 69 74
212 – Keaton Slatter 69 72 71
213 – Gareth Sargent 71 71 71, Quintin Wilsnach 71 70 72, Reinhardt Blaauw 67 72 74, Luke Trocado 69 70 74, Coert Groenewald 73 65 75
214 – Michael Schutz 71 68 75, Keagan Thomas AMA 69 69 76
215 – Jason Roets 73 70 72
216 – Luan Boshoff 74 70 72, Michael-James Steyn 69 75 72, James Kamte 71 72 73
217 – Clayton Mansfield 72 71 74, Hennie O'Kennedy 72 71 74
218 – Casey Jarvis AMA 76 66 76
219 – Richard Joubert 69 75 75
221 – Dwayne Basson 74 70 77
222 – Thabiso Ngcobo 70 74 78
225 – Paulo Serrao (POR) 70 74 81
Written and released by Lali Stander on behalf of the Big Easy IGT Challenge Tour.
Latest IGT Challenge Tour News