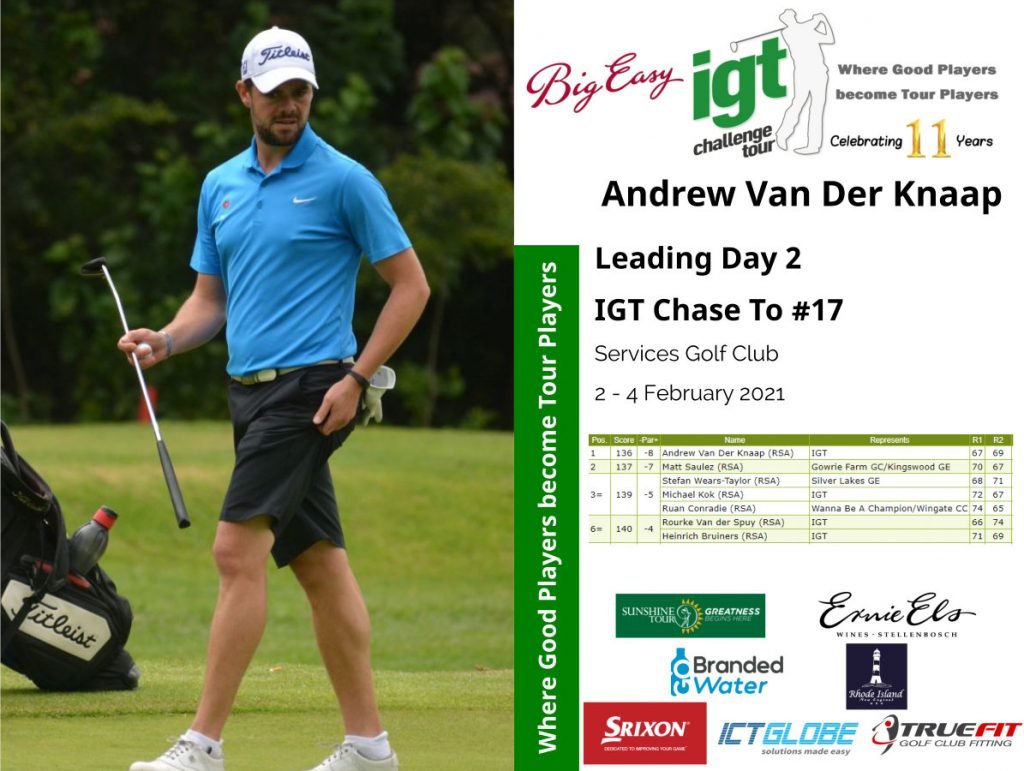 3rd February 2021 | IGT Challenge Tour
Van Der Knaap takes Zwartkop lead despite tough day at the office
ZWARTKOP, February 3 – Centurion's Andrew Van Der Knaap backed up his opening 67 with a round-two three-under-par 69 which took his tournament total to eight-under and earned him a hard-fought one-stroke lead ahead of the final round of the IGT Tour Chase To #17 at Services Golf Club on Wednesday.
Several Sunshine Tour professionals are teeing it up in this week's event on the IGT Chase To the Sunshine Tour and along with overnight leader Rourke Van Der Spuy and Derick Petersen to name a few, Van Der Knaap came into this week seeking a much-needed competitive action under his belt, and his maiden IGT Tour title.
"Today was a tough day off the tee compared to yesterday," Van Der Knaap admitted. "but my recovery shots and the short game helped me post a good score. I gave myself great chances on the last six holes and had a couple of lip-outs but, all in all, I'm happy with the way I scored.
"The golf felt great the last two days. I have been feeling very relaxed mentally which has helped me post a good total. It's a great feeling to compete again for the first time this year and it is a great feeling to be where I am after two rounds, I must admit. I am really excited to see what tomorrow holds"
His round two consisted of two birdies in his first three holes before another birdie made its way onto his card on the ninth. Bogeys on 10 and 13 sandwiched a birdie before Van Der Knaap managed to squeeze in one more birdie on the last hole for a 69.
"I would definitely say there are aspects that need refining," he noted after his round, "I felt like my rhythm was not as good as it was in the first round, but I'm happy with my game at the moment. Tomorrow I am just going to go out and enjoy myself, stick to my game plan and take each shot as it comes."
Matt Saulez is a shot off the pace and having performed well in the last few events on this circuit, and after a solid round-two 67, he will feel he can mount a serious challenge on Thursday. The same can be said for the trio of Stefan Wears-Taylor, Ruan Conradie and recent winner Michael Kok, who are all tied for third at five-under-par this week. They trail by just two and that's not the biggest of margins that it can't be overturned.
A tough day on the course sees Van Der Spuy slip down to a share of sixth with fellow Sunshine Tour pro, Heinrich Bruiners, at four-under-par.
Latest IGT Challenge Tour News