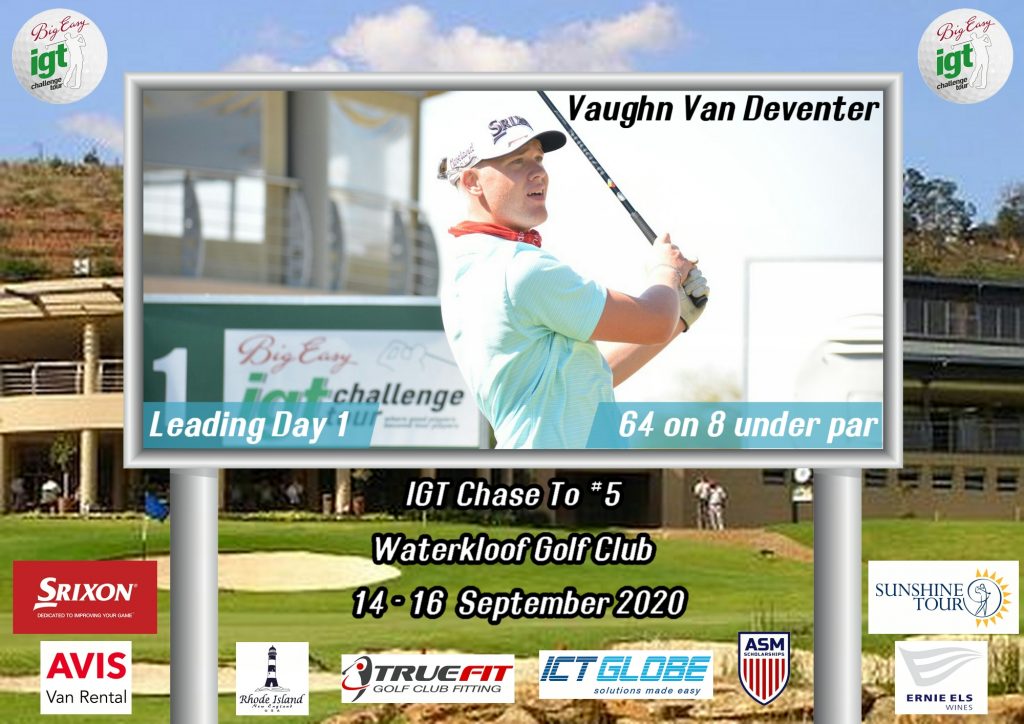 14th September 2020 | IGT Challenge Tour
Van Deventer surges to Waterkloof lead
PRETORIA, September 14 – Recent winner on the IGT Tour, Vaughn Van Deventer carded an impressive eight-under-par 64 in the opening day of the IGT Chase to #5 Waterkloof on Monday to lead by two strokes.
Van Deventer is fresh from a comfortable three-shot victory two weeks ago at Reading Golf Club in Alberton and the confidence which that victory brought him was almost palpable in Pretoria on Monday. Four birdies with no bogeys on the front nine signalled a clear desire to dominate by the State Mines Country Club player.
Four-under on the front nine, Van Deventer did what any professional in his position would do; keep going for more birdie-opportunities. Three straight birdies after the turn followed before an untainted bogey on the 16th made its way onto his otherwise beautiful scorecard.
"The weather this morning was very nice it wasn't too hot and the wind wasn't blowing much so it was set for a good scoring round today, noted Van Deventer after his round. "My driving off the tee was good today. I don't think I missed many fairways. Iron play was good which set up good birdie chances and I made good putts out there today when I needed to.
"My putting wasn't very good at Copperleaf last week so I'm glad to be putting well again. But beyond that, I feel good on the course, and I feel very comfortable with my swing and especially my putting. But tomorrow is another day and I'm just going to stick to my game plan and enjoy the course."
Also popping up with a near-perfect round, a six-under 66 effort, was Michael Kok who occupies the second spot, just two shots off Van Deventer's pace. Having challenged on a few occasions already since the return of golf, Kok will feel his time in the winner's circle is around the corner and two more solid rounds might just deliver him the Waterkloof victory.
Sunshine Tour trio of Richard Joubert, Albert Venter and Heinrich Bruiners and Bradley Diggeden lie three-shots off Van Deventer's lead, after a five-under 65 for each in the first round. Sharing the seventh spot on four-under on Monday was Adriel Poonan, number one amateur in the country right now Casey Jarvis and fellow amateurs Christian Burke, Slade Pickering, Gregg Gilson and Travis Ladner, who all shot 68s on Monday.
64 – Vaughn Van Deventer (RSA)
66 – Michael Kok (RSA)
67 – Richard Joubert (RSA) , Albert Venter (RSA) , Heinrich Bruiners (RSA) , Bradley Diggeden (RSA)
68 – Casey Jarvis (AM) (RSA) , Christiaan Burke (AM) (RSA) , Slade Pickering (AM) (RSA) , Adriel Poonan (RSA) , Gregg Gilson (AM) (RSA) , Travis Ladner (AM) (RSA)
69 – Bradley Fuchsloch (AM) (RSA) , Josh De Aguiar (AM) (RSA) , Jade Buitendag (RSA) , Gerard Du Plooy (RSA)
70 – Wynand Potgieter (RSA) , Bernard Meyer (AM) (RSA) , Keanu Pestana (RSA) , Leon Visser (RSA) , Louis Albertse (RSA) , Angus Ellis-Cole (RSA) , Ryan Van Velzen (AM) (RSA) , Paulo Serrao (POR) , Werner Deyzel (AM) (RSA) , Darren Neyt (AM) (RSA) , Marthin Scheepers (RSA) , Karabo Mokoena (AM) (RSA) , Nikhil Gopal (AM) (RSA)
71 – Toto Thimba Jnr (RSA) , Nikhil Rama (RSA) , Kyle McClatchie (RSA) , Henning Stander (AM) (RSA) , Ryan Tipping (RSA) , Handre Truter (AM) (RSA) , Darren Slingers (AM) (RSA)
72 – Derick Petersen (RSA) , Quintin Wilsnach (RSA) , Francois Blaauw (AM) (RSA) , Conway Kunneke (RSA) , Johan Kriek (AM) (RSA) , Tristan Leonard (AM) (RSA)
73 – Brandon-Lee Geere (AM) (RSA) , Divan De Villiers (RSA) , Saul Moss (AM) (RSA) , Matthew Mortimer (AM) (RSA) , Leon Vorster (RSA) , Neville Mitchell (RSA) , Yubin Jung (RSA) , Marno Prinsloo (AM) (RSA) , Henning Du Plooy (RSA) , Shalan Govender (RSA) , Liam Labuschagne (RSA) , Allister De Kock (RSA) , Marcel Steyn Scholtz (RSA) , Franklin Manchest (RSA) , Xander Prinsloo (AM) (RSA) , Drikus Joubert (AM) (RSA) , Christiaan Pretorius (RSA) , Thabang Simon (RSA) , Evance Vukeya (RSA) , Carlos Laranja (AM) (RSA)
74 – Alex Pienaar (AM) (RSA) , Caylum Boon (RSA) , Wynand Dingle (RSA) , Christopher Bagnall (AM) (RSA) , Nikki Jonker (RSA) , Judd Sundelson (AM) (RSA) , Nico Els (AM) (RSA) , Nkosikhona Dilla (RSA) , Stals Swart (AM) (RSA) , Jason Diab (RSA) , Ricky Hendler (RSA) , Stephan Meintjes (AM) (RSA) , Carel Tromp (AM) (RSA)
75 – Matthew Dennis (AM) (RSA) , John-William Blomerus (AM) (RSA) , Mattheus Adendorff (AM) (RSA) , Zabastian De Jager (RSA) , Gideon Van Der Vyver (RSA) , Armand Van Dyk (AM) (RSA) , Mike Saxer (AM) (SUI) , Fritz Orren (RSA) , Warrick Moonieyan (RSA) , Pedro Cristovam (AM) (RSA) , Ruan Korb (RSA) , Gerhard Henning (AM) (RSA)
76 – Martinus Barnard (RSA) , Wayne Stroebel (RSA) , Herman Loubser (RSA) , Shanren Brienen (RSA) , Conner Mackenzie (AM) (RSA) , Shaydon Johnson (AM) (RSA) , Johan Milho (RSA) , Tumelo Molloyi (RSA) , Gè-Rico Muller (AM) (RSA) , Helary Jules (AM) (RSA) , Liam Ross (AM) (RSA)
77 – Brenden Pieters (RSA) , Weandre Bosman (AM) (RSA) , Christopher Scheppel (AM) (RSA) , Tiaan De Jager (AM) (RSA) , Phumlani Maluka (RSA) , Jacques Van Der Merwe (AM) (RSA) , Juan Diedericks (AM) (RSA) , Jurgen Visser (AM) (RSA) , Donald Makhafola (RSA) , Lance Ellerbeck (AM) (RSA) , Warwick Purchase (AM) (RSA) , Pierre Du Plessis (AM) (RSA) , Llewellyn Barnes (RSA)
78 – Jan-Louis Nel (AM) (RSA) , Simon Du Plooy (AM) (RSA) , Clinton Duncan (AM) (RSA) , Rees Emanuel (AM) (RSA) , Alpheus Kelapile (RSA)
79 – Cameron Borcher (AM) (RSA) , Lwazi Gqira (RSA) , Chase Paton (RSA)
80 – Rekgabile Nyhonyha (RSA) , Rudolph Van De Venter (AM) (RSA) , Ricardo V D Westhuizen (AM) (RSA) , Jason Hale (RSA) , Lincon Cele (RSA)
81 – Ronan Du Plessis (RSA) , Mikail Carrim (AM) (RSA) , Ricco Motsa (AM) (RSA) , Ernest Ludick (AM) (RSA) , Slenda Sithebe (RSA)
82 – Daniel Lee (AM) (RSA)
83 – Sfiso Motsa (AM) (RSA) , MS Calitz (RSA) , Byron Van Der Merwe (RSA)
84 – Martin Mare (AM) (RSA) , Reuben Du Plessis (AM) (RSA)
85 – Heinrich Bolleurs (AM) (RSA)
86 – Pierre Le Roux (AM) (RSA) , Neo Mokgatle (RSA)
92 – Mchumane Wayiti (AM) (RSA)
Latest IGT Challenge Tour News