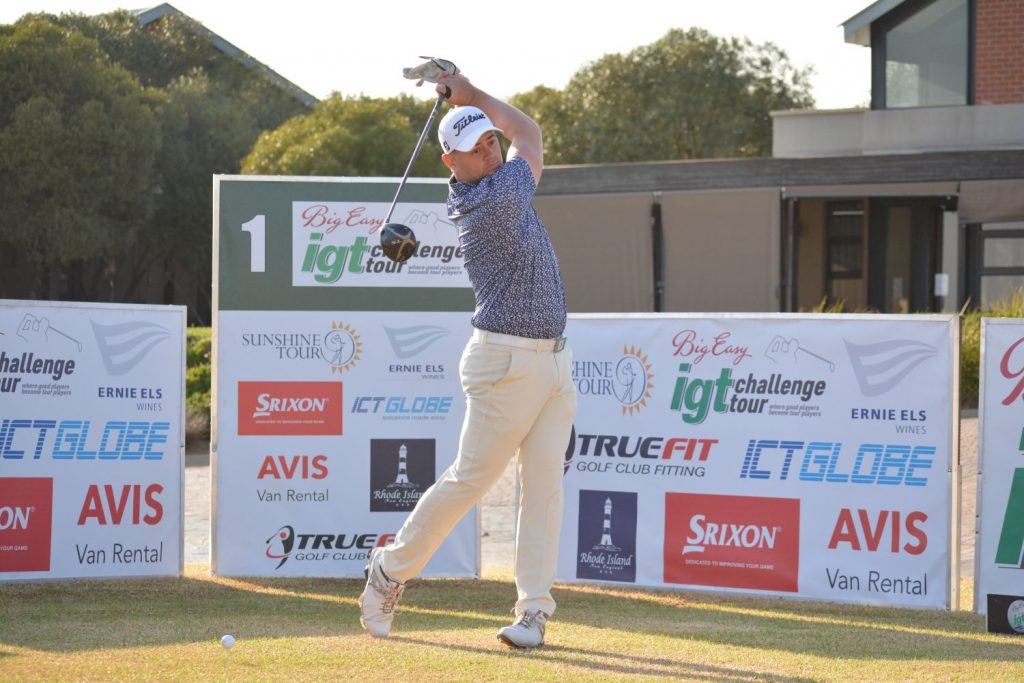 8th September 2020 | IGT Challenge Tour
Van Tonder, Premlall share Copperleaf lead ahead of final round
CENTURION, September 8 – Daniel van Tonder will look to secure his second title in as many weeks when he tees off for the final round of the IGT Chase #4 after his second-round five-under 67 got him to a total of nine-under for the week.
He ties that score with overnight leader and Golf RSA National squad member, the very impressive Yurav Premlall, whose three-under 69 in round two helped him stay on top.
Van Tonder entered the second round two shots off Premlall's pace, at four-under, and turned things on in the second round, signing for the lowest score of the round which catapulted him to the summit along with Premlall against one of the strongest fields on the IGT Tour currently.
"I have been playing a lot on the Sunshine Tour and overseas which is why I did not get any chances to play on IGT," said Van Tonder after his round, "But, it is great to play on the IGT when there aren't any other events because it helps to keep your golf game sharp. This year with Covid-19 there aren't many Tournaments on Sunshine Tour so now I can play a couple of IGT events again that are between the Sunshine Tour events."
A threat in just about every tournament he plays, Van Tonder could prove unstoppable at his home course when the time to turn it up arrives. Now, judging by his recent results on the Sunshine Tour which consist of a ninth-spot finish at the BETWay Championship, a victory in the African Bank Sunshine Tour Championship at Glendower and a 10th-place last week in Pretoria, no-one can confidently say that Van Tonder can't win tomorrow.
"I am a member at Copperleaf and I play and practice here during when I am not playing other events," he noted with confidence, "I feel very confident at Copperleaf and before I became a member here, I have always enjoyed playing this golf course."
As has been shown many times already in the last season or two, while Van Tonder is a proven winner on the Sunshine Tour and now aiming for success abroad, Golf RSA players and those who graduated there in recent times aren't any pushovers. Premlall has already had a taste of IGT victory before and at his age, he wants more. He's proven he can do it and Van Tonder has seen it as well, and that makes that final pairing tomorrow an appetising affair.
Dylan Mostert is only a single shot behind the leading duo and following back-to-back 68s at Copperleaf, the left-handed man has all the potential to pull a low one and play himself into the reckoning.
Amateur Werner Deyzel is seven-under-par and lies fourth, with fellow amateurs Dawid Opperman and Slade Pickering also within touching distance of the lead.
135 – Danie Van Tonder (RSA) 68 67, Yurav Premlall (AM) (RSA) 66 69
136 – Dylan Mostert (RSA) 68 68
137 – Werner Deyzel (AM) (RSA) 68 69
138 – Dawid Opperman (AM) (RSA) 68 70
140 – Slade Pickering (AM) (RSA) 71 69, Kyle McClatchie (RSA) 70 70, Wynand Dingle (RSA) 71 69
141 – Leon Vorster (RSA) 71 70, Carlo Heunis (RSA) 73 68
142 – Samual Mc Kenzie (AM) (RSA) 70 72, Herman Loubser (RSA) 73 69, Jacques Blaauw (RSA) 68 74, Vaughn Van Deventer (RSA) 70 72
143 – Jeremy Sharpe (RSA) 70 73, Thabiso Ngcobo (RSA) 71 72, Jason Diab (RSA) 71 72
144 – Christiaan Maas (AM) (RSA) 71 73, Cameron Moralee (RSA) 69 75, Christiaan Burke (AM) (RSA) 71 73, Saul Moss (AM) (RSA) 73 71
145 – Therion Nel (RSA) 76 69, Francois Blaauw (AM) (RSA) 71 74, Ryan Tipping (RSA) 72 73
146 – James Pennington (SWZ) 73 73, Derick Petersen (RSA) 72 74, Tumelo Molloyi (RSA) 74 72, Jacques Van Der Merwe (AM) (RSA) 68 78, Handre Truter (AM) (RSA) 74 72, Matt Saulez (RSA) 76 70, Warwick Purchase (AM) (RSA) 71 75
147 – Keanu Pestana (RSA) 71 76, Bradley Diggeden (RSA) 75 72, Henning Stander (AM) (RSA) 70 77
148 – Jason Froneman (RSA) 73 75, Marco De Beer (RSA) 69 79, Josh De Aguiar (AM) (RSA) 73 75, Danie Van Niekerk (RSA) 75 73, Jancarel Rossouw (RSA) 80 68
149 – Conway Kunneke (RSA) 73 76, Neville Mitchell (RSA) 76 73, Rees Emanuel (AM) (RSA) 76 73, Ryan Van Velzen (AM) (RSA) 78 71, Conner Mackenzie (AM) (RSA) 76 73
150 – Gè-Rico Muller (AM) (RSA) – Cut 74 76, Simon Du Plooy (AM) (RSA) – Cut 74 76, Gerard Du Plooy (RSA) – Cut 76 74, Slenda Sithebe (RSA) – Cut 77 73
151 – Marno Prinsloo (AM) (RSA) – Cut 76 75, Jacquin Hess (RSA) – Cut 75 76, Jurgen Visser (AM) (RSA) – Cut 79 72, Reinhardt Blaauw (RSA) – Cut 75 76, Drikus Joubert (AM) (RSA) – Cut 78 73, Lance Ellerbeck (AM) (RSA) – Cut 76 75
152 – Massimo Mbetse (AM) (RSA) – Cut 75 77, Kai-Alexander Brandkamp (RSA) – Cut 76 76, Travis Ladner (AM) (RSA) – Cut 74 78, JP Du Rand (RSA) – Cut 78 74, Cameron Borcher (AM) (RSA) – Cut 75 77
153 – Tetelo Seseni (RSA) – Cut 77 76, Pierre Du Plessis (AM) (RSA) – Cut 78 75, Leon Van Der Walt (AM) (RSA) – Cut 77 76, Lwazi Gqira (RSA) – Cut 78 75
154 – Keelan Van Wyk (RSA) – Cut 76 78, Tiaan De Jager (AM) (RSA) – Cut 75 79, Walter Els (RSA) – Cut 80 74, Ricky Hendler (RSA) – Cut 73 81
155 – Armand Van Dyk (AM) (RSA) – Cut 80 75, Michael Pretorius (AM) (RSA) – Cut 81 74, Dylan Kok (RSA) – Cut 76 79, Xander Prinsloo (AM) (RSA) – Cut 78 77, Tristan Leonard (AM) (RSA) – Cut 77 78, Marcel Steyn Scholtz (RSA) – Cut 77 78, Paulo Serrao (POR) – Cut 75 80
156 – Shaun van Tonder (RSA) – Cut 79 77, Matthew Dennis (AM) (RSA) – Cut 75 81, Adriel Poonan (RSA) – Cut 80 76, Divan De Villiers (RSA) – Cut 76 80
157 – Eugene Schwartz (RSA) – Cut 80 77, Craig Frauenstein (RSA) – Cut 73 84, Martinus Barnard (RSA) – Cut 78 79, Darren Neyt (AM) (RSA) – Cut 81 76, Gianni Pera (AM) (RSA) – Cut 76 81, Johan Kriek (AM) (RSA) – Cut 79 78
158 – Alpheus Kelapile (RSA) – Cut 80 78, Jason Hale (RSA) – Cut 78 80, Regan Steyn (AM) (RSA) – Cut 78 80, Shanren Brienen (RSA) – Cut 80 78, Rudolph Van De Venter (AM) (RSA) – Cut 79 79, Juan Diedericks (AM) (RSA) – Cut 81 77, Liam Labuschagne (RSA) – Cut 81 77
159 – Mikail Carrim (AM) (RSA) – Cut 79 80, Ruan Groenewald (RSA) – Cut 76 83, Shaun Bernstein (AM) (RSA) – Cut 79 80, Jan-Louis Nel (AM) (RSA) – Cut 81 78, Umar Davids (AM) (RSA) – Cut 75 84
160 – Lynette Fourie (RSA) – Cut 83 77, Rekgabile Nyhonyha (RSA) – Cut 81 79, Mohammed Darsot (AM) (RSA) – Cut 81 79, Ryan Van Rosenveldt (RSA) – Cut 80 80, Clinton Duncan (RSA) – Cut 80 80, Shaydon Johnson (AM) (RSA) – Cut 85 75, Herman Du Plessis (AM) (RSA) – Cut 80 80
161 – Lloyd Herbst (AM) (RSA) – Cut 82 79, Johan Milho (RSA) – Cut 80 81, Dylan Foster (AM) (RSA) – Cut 77 84
162 – Nikki Jonker (RSA) – Cut 79 83, Tiger Malabie (RSA) – Cut 78 84, Richard Spagnolo (AM) (RSA) – Cut 79 83, Lincon Cele (RSA) – Cut 78 84, MS Calitz (RSA) – Cut 78 84
163 – Donald Makhafola (RSA) – Cut 85 78, Lindi Coetzee (RSA) – Cut 83 80, Juan-Paul Oosthuizen (AM) (RSA) – Cut 81 82, Dechlan Bennett (AM) (RSA) – Cut 81 82, Gerhard Henning (AM) (RSA) – Cut 80 83, Neo Mokgatle (RSA) – Cut 81 82
165 – Phillip Degenaar (RSA) – Cut 81 84, Phumlani Maluka (RSA) – Cut 81 84
166 – Andrej Skrbinsek (AM) (RSA) – Cut 83 83
167 – Louis Botha (RSA) – Cut 84 83
168 – Adam Gamsy (AM) (RSA) – Cut 81 87
169 – Darren Johnson (RSA) – Cut 84 85, Victor Kau (RSA) – Cut 76 93, Christiaan Pretorius (RSA) – Cut 79 90
172 – Nkosikhona Dilla (RSA) – Cut 87 85, Brandon Moodley (RSA) – Cut 81 91
176 – Llewellyn Barnes (RSA) – Cut 92 84
178 – Mchumane Wayiti (AM) (RSA) – Cut 86 92
181 – Peter Lekhoaba (AM) (RSA) – Cut 95 86
WDN – Cameron Gurr (AM) (RSA) – Cut 85 WDN, Heinrich Bruiners (RSA) – Cut 72 WDN, Bryandrew Roelofsz (RSA) – Cut 77 WDN, Gareth Sargent (RSA) – Cut 81 WDN
RTD – Irvin Mazibuko (RSA) – Cut 74 RTD
DSQ – Tyran Van Lieshout (RSA) – Cut 75 DSQ
RTD – Brandon Gildenhuys (RSA) – Cut RTD
Latest IGT Challenge Tour News