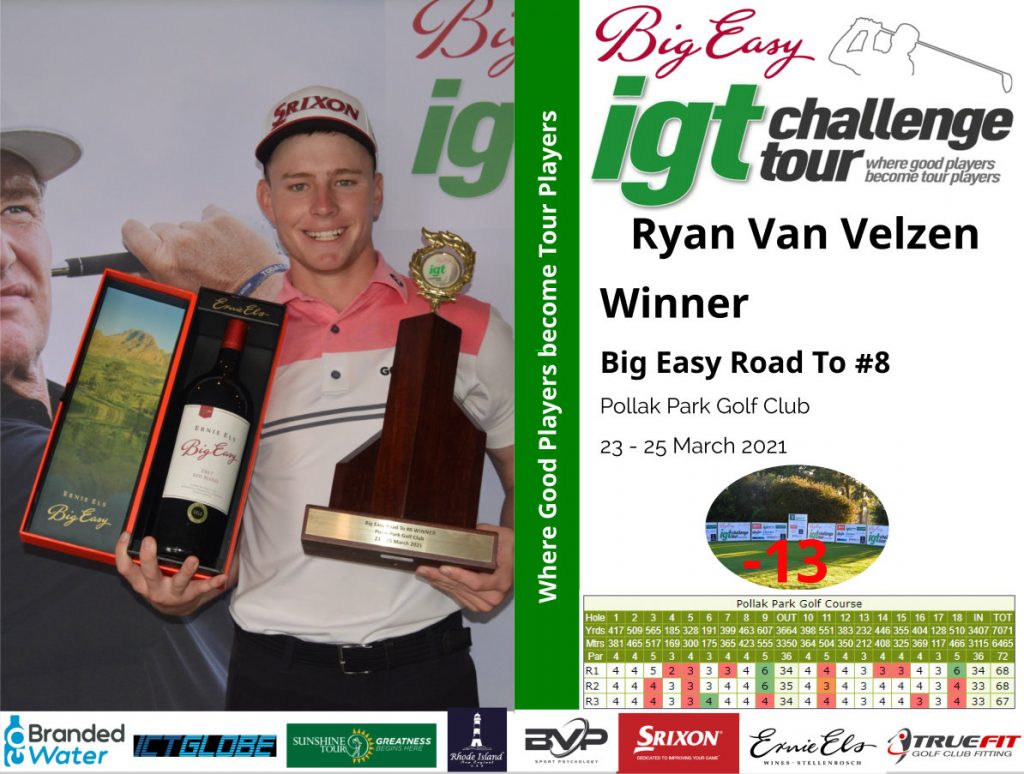 25th March 2021 | IGT Challenge Tour
Van Velzen claims victory as Slatter stutters in Springs
SPRINGS, March 24 – Amateur Ryan Van Velzen overturned a six-shot deficit to claim a one-shot win for his second Big Easy Tour title after a final round of 67 in the Big Easy Tour Road To #8 took his tournament total to 13-under-par at Pollak Park Golf Club on Thursday.
Keaton Slatter had occupied the top spot for the first 36 holes thanks to an inspired performance that yielded a 64 and a 66 in those two days. Solid as his pair of 68s was for the first two rounds, Van Velzen knew he had to dig deep in the final round to stand any chance at victory in Springs.
"It was a bit slow in the beginning, "said Van Velzen, "the wind was blowing today and towards the end of the round, it began to rain. But I was solid all day."
Two pars to steady the nerves on the first two holes for Van Velzen were followed by a birdie on the third. He made another birdie on the fifth but quickly lost those gains thanks to a drop on six. A birdie before the turn, however, gave Van Velzen some confidence going to the back nine.
"Keaton dropped a few shots in the beginning so I knew if I kept solid, I'll have a chance," Van Velzen said. "I just tried to hit as many fairways as possible and I knew that if I hit the ball well off the tee, I'll have a good chance. I just focused on my own game."
Van Velzen was just as solid coming home as he gave nothing away in the way of bogeys while making three tournament-winning birdies to seal his second title on Tour this season. Van Velzen had not played any Big Easy Tour tournaments this year.
"It feels really good to win here today," he said, "this is my first Big Easy Tour event this year so I'm pretty thrilled to get it done."
A blemish-free round of 68 catapulted Matthew Rushton to solo second at 12-under-par while Slatter, Erhardt Lambrechts, Ricky Hendler, and Matt Saulez share third at 11-under. Michael Kok continued his rise up the Order of Merit with a share of seventh with Dylan Kok at nine-under-par.
Latest IGT Challenge Tour News