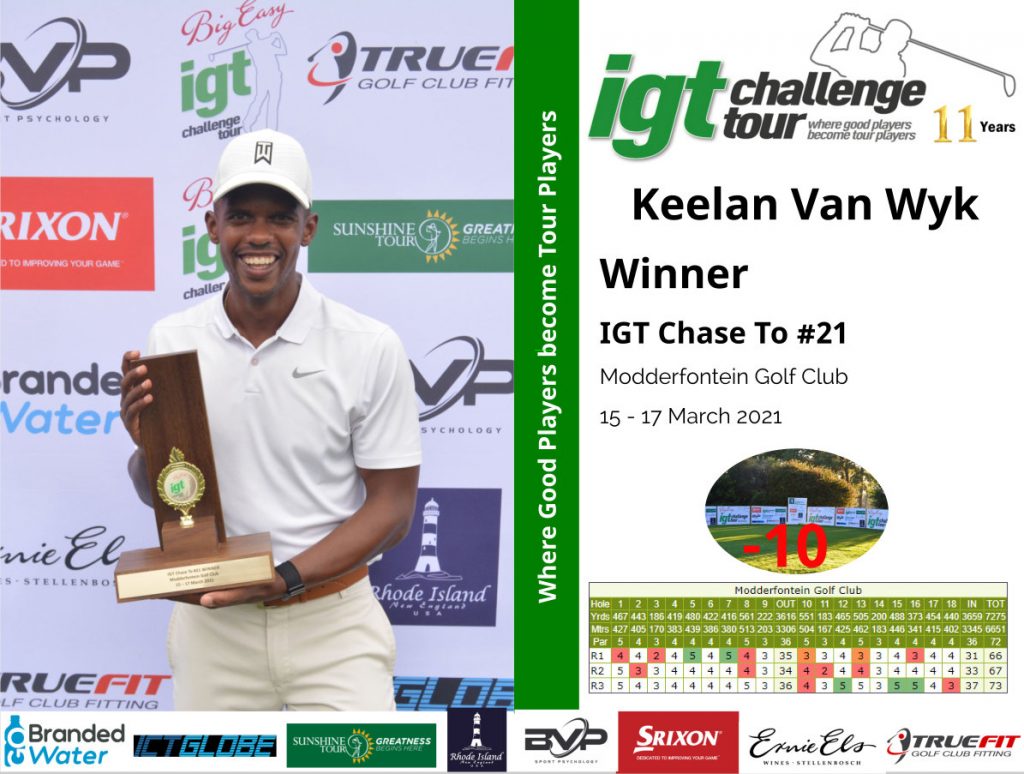 17th March 2021 | IGT Challenge Tour
Van Wyk clinches first IGT Tour title in testing conditions at Modderfontein
MODDERFONTEIN, March 17 – Keelan Van Wyk battled his way to a 10-under-par total in the IGT Big Easy Tour Chase To #21, forced himself into a playoff spot before birdieing the first hole of sudden-death for his breakthrough victory at Modderfontein Golf Club.
He carded a hard-fought one-over-par 73 in the final round and with Ricky Hendler tying the same score while England's Harry Konig fell away thanks to a round-three 75, Van Wyk knew he had a real chance at claiming his maiden title as a professional.
"The weather was a complete twist from the previous days," noted Van Wyk after his round, "It was wet and windy all day, pretty much. But I drew up my game plan in such a way that it keeps the big numbers off the cards. I played really consistently throughout and executed my plan."
That game plan was visible from the onset because Van Wyk didn't make a single drop on the front nine but didn't make any birdies either, however. It was a strong front nine considering the weather conditions and the fact that none among the top five finishers this week were able to navigate around that stretch under par.
Coming home and immediately after the turn, Van Wyk sunk a birdie on 10 but those gains were quickly taken away as he dropped three shots on 12, 15 and 17. He found a consolation birdie on the last to force a playoff with Hendler.
"I started battling with my swing towards the end but I remained patient," added Van Wyk. "I'm happy I managed to birdie the playoff hole. I hit a 3-wood down the middle of the fairway and had about 110 meters to the flag. I hit a soft gap-wedge to about nine feet and made the putt. Ricky hit it close as well but missed his putt.
"This is my first win on the IGT and as a professional. For now, it just shows me that I'm doing the right things and that I must always trust my process."
Hendler was solid all week and will feel a little disappointed with second place after a great week. Konig settled for a share of third with Jason Froneman who has been knocking on the door for his second IGT Tour title. They finished at nine-under while Herman Loubser's seven-under-par tournament total sees him taking up the fifth spot this week.
Latest IGT Challenge Tour News