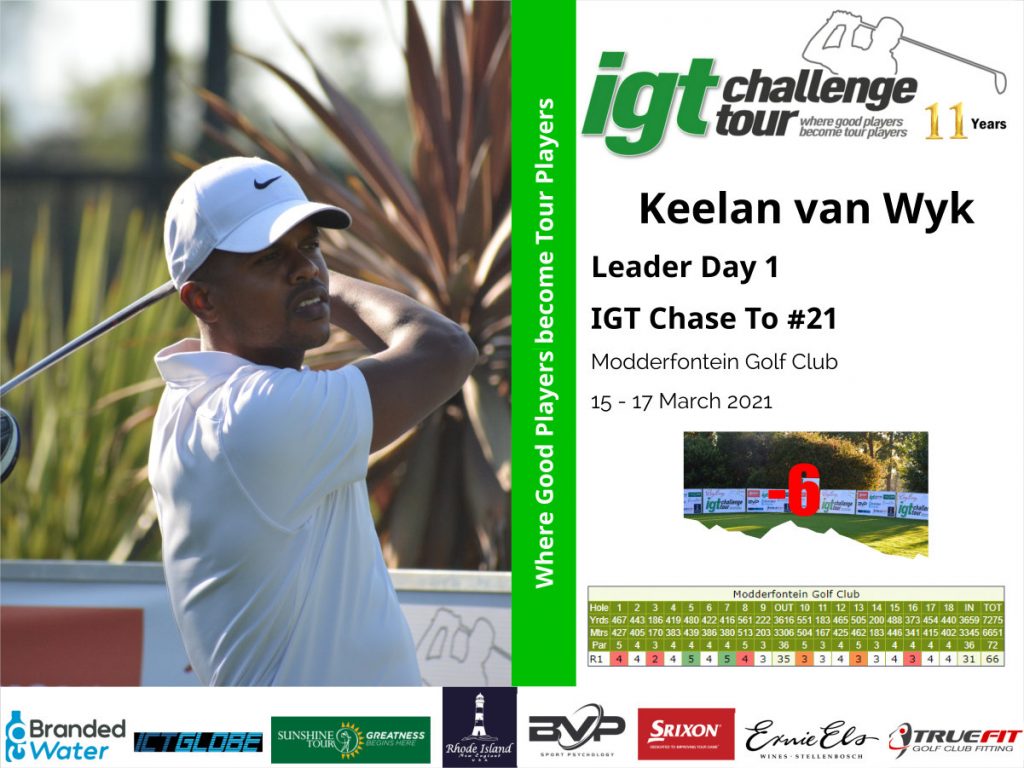 15th March 2021 | IGT Challenge Tour
Van Wyk finds form at Modderfontein
MODDERFONTEIN, March 15 – Keelan Van Wyk made two eagles in a bogey-free back nine of 31 en route to an opening round of 66 to share in a three-way tie of the lead in this week's Big Easy IGT Tour Chase To #21 at Modderfontein Golf Club.
Van Wyk made three birdies and a pair of bogeys on the front nine for a score of one-under 35 on the front set up of the golf course before an eventful back nine catapulted him into a three-way share of the top spot with England's Harry Konig and Ricky Hendler at six-under.
"I think I found some type of form today," admitted Van Wyk after his round on a rather familiar layout – he has played a couple of the Sunshine Tour's Vusi Ngubeni events here. "But to be honest, I battled a bit with my ball-striking on the front nine. Then, I decided to stop fighting my swing and just go with it and I ended up hitting it way better."
Up came the par-five 10th – after a par on the ninth which was preceded by a birdie – where Van Wyk made his first eagle. Two pars later, on the 13th, another eagle made it onto his card and suddenly things looked different on the upper half of the leaderboard. A birdie on 16 sealed an opening 66 for Van Wyk and marked a strong start to the week, three shots clear of the closest challengers.
"The score was purely a reflection of how well I putted today," he said, "I mean, on 10, a good drive, then a 4-iron from 215 metres to about 15 feet and I made the eagle-putt. Then after another good drive on 13, I hit a 5-iron from 193 metres and into the wind, to about 30 feet and made that putt.
"I feel good about my game. I have been working very hard on my swing over the last few months and only now am I starting to see glimpses of good golf coming through. There is still a lot of work to be done but I am happy with the way I started this week. It is important to start with a low round. It helps set the tone but on a course like Modderfontein, it's mostly about staying patient."
Konig also seemed to struggle on the front stretch, only managing to shoot a 35 which was characterised by birdies on the third and eighth holes while dropping a shot on the ninth before the turn. He grew stronger after the turn, however, scoring a perfect 31 on the homeward stretch for his own 66.
Hendler will be gutted by the back-to-back bogeys he made right at the end of the round on 17 and 18. Had it not been for those, he would have had the outright lead at eight-under and two shots clear. He will find solace in knowing that he can produce a super-low round on a tough track such as Modderfontein.
After an opening round of three-under-par 69, Fritz Orren, amateur Kyle De Beer, Michael Kok, Sunshine Ladies Tour member Lejan Lewthwaite and Basil Wright are tied for fourth while Jason Froneman, Thanda Mavundla, Leon Vorster and amateurs Samuel Simpson and Lance Ellerbeck are among those who make up the top 10 at two-under after day one.
Latest IGT Challenge Tour News