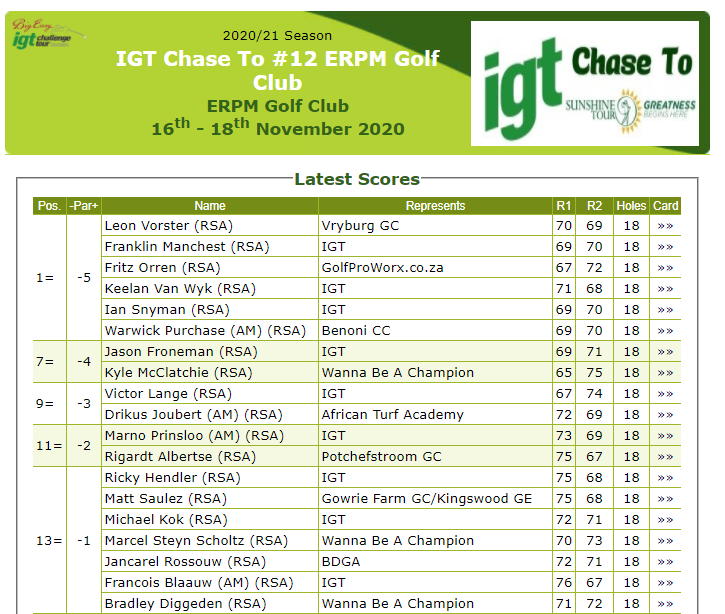 17th November 2020 | IGT Challenge Tour
Van Wyk tames swirling back nine wind to co-lead at ERPM
BOKSBURG, November 17 – Keelan Van Wyk capitalised on some solid ball-striking to piece together a bogey-free four-under 68 and get himself in contention ahead of the final round of the IGT Tour Chase To #12 at ERPM Golf Club on Tuesday.
Sneaking in with a perfect 68 in what would turn out to be a tricky moving day in Boksburg, Van Wyk made amends to a somewhat shaky one-under-par 71 opening round and is now in a six-way share of the lead at five-under-par for the week.
"Thanks to my ball-striking I was able to give myself decent chances and make use of them," Van Wyk said. "The conditions were a lot tougher today but I hit the ball really well today and made some good putts. There was a lot of swirling wind out there, particularly on the back nine. I was able to judge the wind very well though and I think that also counted in my favour."
Van Wyk made a solitary birdie he made on the par-five second hole, accompanied by the eight pars he made on that front stretch, in what proved to be a great job avoiding the big numbers early on in the round.
"It was the way I hit the ball," he said, "it played a big role in keeping the bogeys off the card. Even when I would make a mistake, I was able to recover, so it was a good two days for me."
He went on to make birdies on the 11th, 15th and 17th to sign for a 68. He ties the lead with Leon Vorster, Franklin Manchest who is still beaming confidence following his breakthrough victory at Modderfontein a fortnight, the on-form Fritz Orren, Ian Snyman and amateur Warwick Purchase to make up the six-man tie at the summit.
"My fellow competitors and I are good enough to shoot a low number on any given day," he said of the possibilities that tomorrow might bring. "but I think the guy who stays patient and sticks to his game plan is going to win it."
After a round-two three-over-par 75, overnight leader Kyle McClatchie surrendered his lead but remains a shot off the pace, along with Jason Froneman who backed up his round one score of three-under 69 with a 71 on Tuesday. A shot further and along with amateur Drikus Joubert, lies Victor Lange at three-under and within two strokes of the lead.
Scores at End of Round 2 – STROKEPLAY/STATS: GROSS/ALL STATS (H/H)
139 – Leon Vorster (RSA) 70 69, Franklin Manchest (RSA) 69 70, Fritz Orren (RSA) 67 72, Keelan Van Wyk (RSA) 71 68, Ian Snyman (RSA) 69 70, Warwick Purchase (AM) (RSA) 69 70
140 – Jason Froneman (RSA) 69 71, Kyle McClatchie (RSA) 65 75
141 – Victor Lange (RSA) 67 74, Drikus Joubert (AM) (RSA) 72 69
142 – Marno Prinsloo (AM) (RSA) 73 69, Rigardt Albertse (RSA) 75 67
143 – Ricky Hendler (RSA) 75 68, Matt Saulez (RSA) 75 68, Michael Kok (RSA) 72 71, Marcel Steyn Scholtz (RSA) 70 73, Jancarel Rossouw (RSA) 72 71, Francois Blaauw (AM) (RSA) 76 67, Bradley Diggeden (RSA) 71 72
144 – Lwazi Gqira (RSA) 72 72
145 – Leon Van Der Walt (AM) (RSA) 75 70, Carlo Heunis (RSA) 73 72, Lora Assad (RSA) 71 74
146 – Sam Botham (ENG) 75 71, Travis Ladner (AM) (RSA) 74 72
147 – Keanu Pestana (RSA) 77 70, Jonathan George (AM) (RSA) 74 73, Albert Visser (RSA) 71 76
148 – Louis Botha (RSA) 77 71, Ryan Van Rosenveldt (RSA) 73 75
149 – Divan De Villiers (RSA) 74 75, Wayne Stroebel (RSA) 78 71, Phumlani Maluka (RSA) 71 78, Byron Van Der Merwe (RSA) 71 78, Tristan Leonard (AM) (RSA) 75 74
150 – Cameron Borcher (AM) (RSA) 75 75, Shaydon Johnson (AM) (RSA) 73 77
152 – Brandon Gildenhuys (RSA) 76 76
154 – Johan Milho (RSA) 73 81
156 – Slenda Sithebe (RSA) 79 77
Latest IGT Challenge Tour News