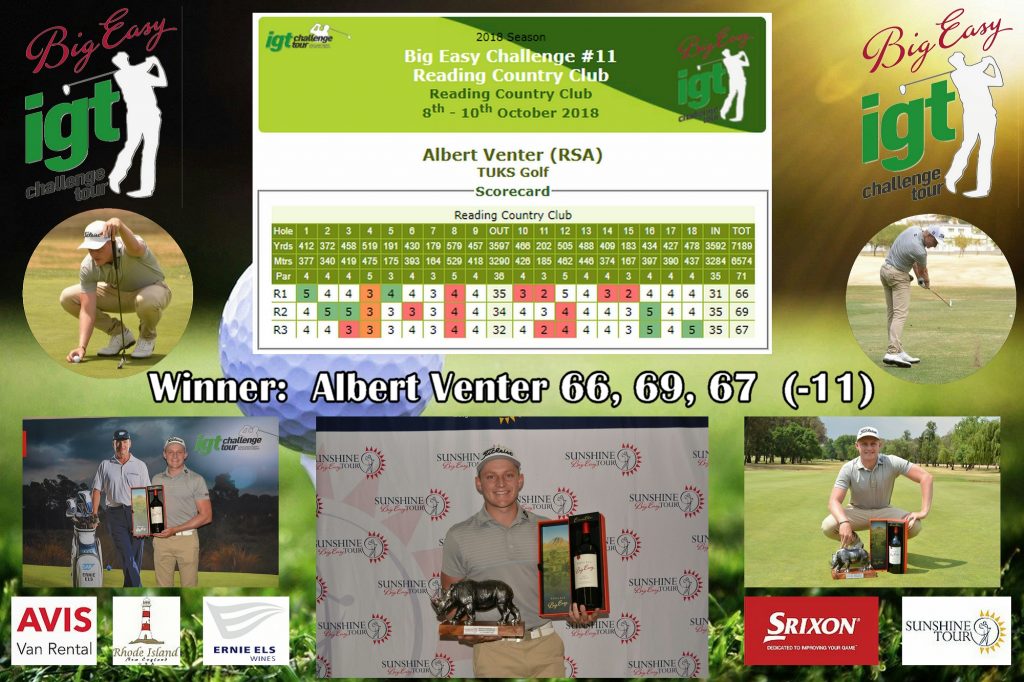 11th October 2018 | IGT Challenge Tour
Venter celebrates pro breakthrough on Big Easy IGT
Venter celebrates pro breakthrough on Big Easy IGT
(PHOTO – Albert Venter; credit CJ du Plooy)
ALBERTON, 10 October 2018 – Pretoria rookie Albert Venter proved that form is temporary but class is permanent as the former top ranked amateur marched to a maiden pro victory in the Big Easy IGT Challenge Tour #11 in Alberton on Wednesday.
The 22-year-old Venter stayed calm in windy conditions at Reading Country Club to win his first title in fine style, closing with a four-under-par 67 for a two shot victory on 11-under 202.
Matt Bright, already a two-time winner this season, carded 70 to finish second.
Michael Kok fired a five-under 66 to claim the low round honours and a share of third with Hendrikus Stoop and overnight leader Hayden Griffiths on seven-under. Stoop returned a 69 and Griffiths signed off with a 75.
Venter started the final day four strokes behind Griffiths, but took grabbed a share of the lead with a birdie-eagle combination at three and four. A further gain at the eighth handed him the outright lead.
"I tapped in for birdie at three and holed a 10-footer for eagle at four," said the former African Amateur champion. "Hayden birdied the fourth four to join me in front, but he dropped at six and I made a great up-and-down at eight for birdie to take the lead on my own."
Venter pulled even further clear of the chasing pack with successive birdies at 11 and 12.
"I hit a 5-iron into 11 and boxed a putt from seven foot," he said. "I hit my tee shot left at 12 and had 182 metres flag. I hit a 6-iron just short of the green and nearly holed the chip for eagle."
Bright got within two shots with an eagle at 12. He had birdies at 12 and 17, but a pair of bogeys left Venter with a three shot cushion at the final hole after he missed a par-putt on the high side at 16.
"They moved the tee box back and left, and I wanted to take the direct line over the trees, but it was the wrong option," he said. "I ended up in the bunker and couldn't up-and-down for par. It was a little disappointing to finish with a bogey, but a win is a win, as they say.
"I've learned not to dwell on little things, but to focus on the big picture. My biggest progress this season has been on the mental side of the game. I've realised that you have to pay your dues. You have to work hard, grind, stay patient and wait for your breakthroughs.
"I'm really pleased with my performance. I've been up the leaderboard and close to a win and I've fallen down a few times this season, but I've been building towards a win lately. I got mine today and it's a really nice feeling to have the first one under the belt."
Venter won the Alps Tour Qualifying School last year. He spent 13 weeks competing on the development circuit in Europe, where he made nine cuts in 13 starts. This meant less starts at home, and he was overjoyed when his Big Easy IGT Challenge Tour breakthrough in his fourth start launched him to 16th spot in the Road to Sunshine Tour Rankings.
"I lost time competing in Europe, but now I feel like I'm within striking distance of the top 10," said the delighted Silver Lakes golfer. "I am still about R6 000 short of the top 10, but I'm a lot closer than I was in August.
"I certainly don't regret my decision. The Challenge Tour guys use the Alps Tour like the Sunshine Tour players use the IGT Challenge Tour to stay competitive between events. I got to play against top professionals in Europe and the experience was invaluable.
"I'll be flying back to Europe on Sunday to compete in the Grand Final, but then I'm coming back and making the top 10 a priority. I want to be one of the guys to get my playing privileges on the Sunshine Tour in December."
Final Result
All competitors RSA unless otherwise specified; amateurs indicated as AMA
202 – Albert Venter 66 69 67
204 – Matt Bright 68 66 70
206 – Michael Kok 70 70 66, Hendrikus Stoop 70 67 69, Hayden Griffiths 67 64 75
207 – Arno Pretorius 70 67 70
208 – Tokkie van den Berg 71 70 67, Dylan Mostert 64 73 71, Kyle Barker 66 69 73
209 – Jason Roets 69 73 67, Matthew Spacey 67 71 71, Marco de Beer 68 67 74
210 – Marthin Scheepers 75 67 68, Yubin Jung 72 70 68
211 – Luke Brown 73 69 69, Theunis Bezuidenhout 69 72 70, Ruan Korb 69 70 72, Allister de Kock 70 69 72
212 – Juran Dreyer 72 70 70, Eric Nel 69 73 70, Stuart Smith (BOT) 72 69 71
213 – Coert Groenewald 74 68 71, Conway Kunneke 71 70 72, Ruhan van Dijk 74 67 72
215 – Wayne Stroebel 73 68 74, Dongkwan Kim (KOR) 70 71 74
216 – Jack Duthie 69 72 75
217 – Rupert Kaminski 69 73 75
218 – Adriel Poonan 72 70 76
223 – Bryce Myburgh 68 74 81
Written and released by Lali Stander on behalf of the IGT Challenge Tour.
Latest IGT Challenge Tour News