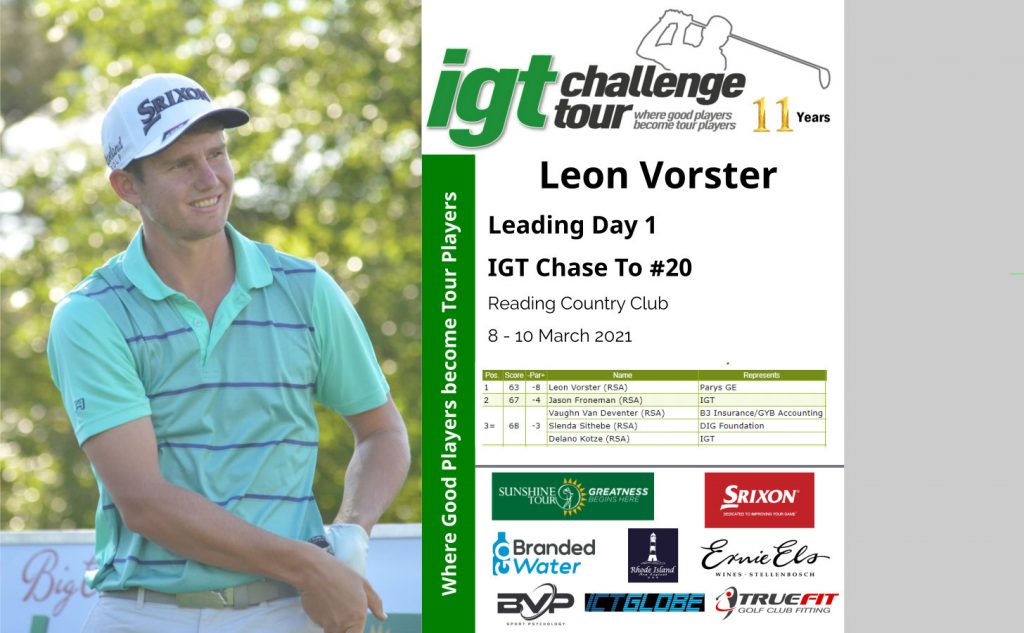 8th March 2021 | IGT Challenge Tour
Vorster shoots 63 to take Reading day one lead
ALBERTON, March 8 – Leon Vorster powered himself to a comfortable four-shot lead in the Big Easy IGT Chase To #20 at Reading Country Club after a sublime opening round of eight-under-par 63 on Monday.
"It could have been a really low round today, he said, "I still made a few mistakes but I'm very happy overall."
He did not have the greatest of starts as he bogeyed his first hole of the round but the despair of dropping a shot would soon be replaced by the joy of signing for a birdie-laden round.
"I made a really silly drop on the first hole," Vorster recounted what went wrong when he dropped on the first, "I was in the middle of the fairway with 142 meters in and I hit my second shot into the water."
That drop didn't faze him one bit, and instead, seemed to have rejuvenated him as he bounced back with back-to-back birdies on the second and third holes. Three more birdies on the trot – this time from the seventh through to the ninth to turn in 32, followed.
But then, he dropped again on 10, the first hole of the homeward stretch.
"I hit my tee shot right into the trees and was forced to chip out," Vorster said of the bogey after the turn, "then I hit my third shot to about 15 feet but unfortunately missed the putt."
Just as he had done on the front nine when he had dropped on the first, Vorster picked up an important par on the par-three 11th before going on a four-birdie run which was brought to a halt by the two pars he made on 16 and 17. In a classic way of sealing a great performance, Vorster squizzed in one last birdie on the 18th hole four a four-shot lead over Jason Froneman.
"I am really proud of my round today," added Vorster, "I have been working so hard in the last couple of weeks and it is really good to see it showing on the course. I feel really good on the greens. I only had 23 putts today, so I hope it can continue like that the whole week."
After struggling to a final-round three-over-par 75 last week, Froneman looked a completely improved player on day one. He kept things very steady for the first six holes, happily taking pars along the way.
Then came the short par-three seventh hole and he made his first birdie there. He followed that up with two more birdies on the eighth and ninth holes before making furth gains with a birdie on 13 for a bogey-free four-under 67.
The trio of Vaughn Van Deventer, Slenda Sithebe and Delano Kotze lie a shot further at three-under 68.
Latest IGT Challenge Tour News