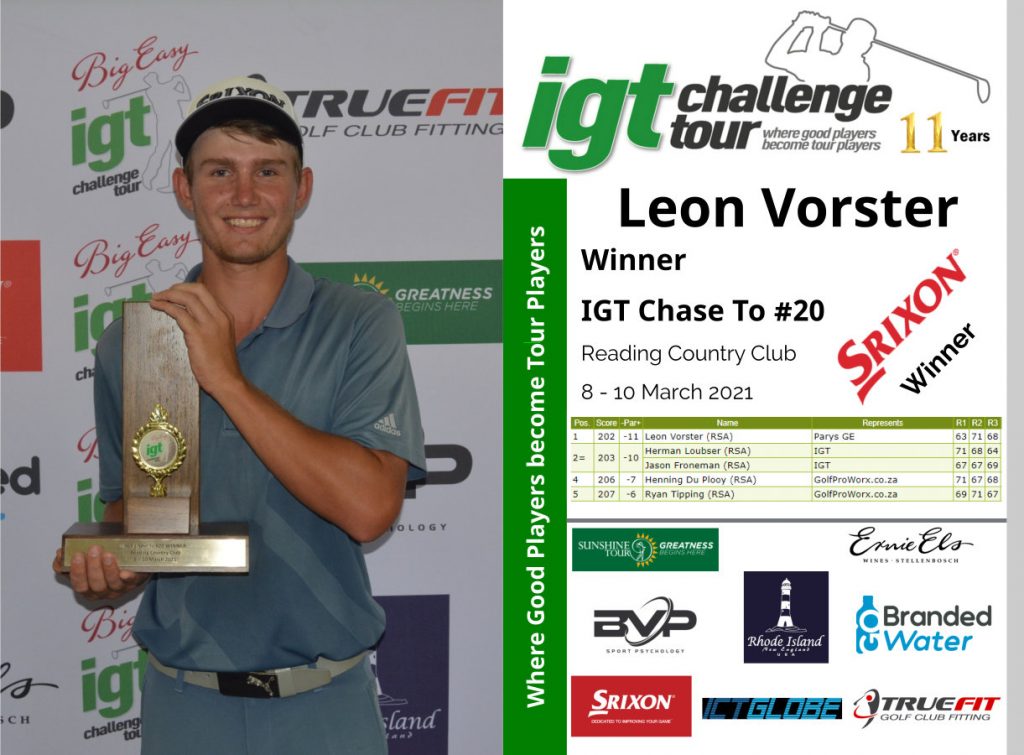 10th March 2021 | IGT Challenge Tour
Vorster wins maiden IGT Tour title
ALBERTON, March 10 – Leon Vorster did not surrender his position atop the leaderboard of the Big Easy IGT Tour #Chase To #20 for the entire tournament and didn't slow down on day three as he went on to claim a one-shot victory for his maiden title on Tour.
A final round of 68 at Reading Country Club was enough to hand him his first win on Tour but it was not without stress.
"It was a really stressful and emotional day out there," sighed Vorster, "I just tried to stay positive and not to think about the outcome too much. Luckily, the putts dropped today, thank goodness for that. I just tried to remember what I did here on Monday and it seemed to have worked."
Unlike his second round where he seemed to have lost his touch around the greens, Vorster's day three was much more eventful. It consisted of five birdies and an eagle, along with three bogeys and a double.
Adding to the pressure was the chasing duo of Herman Loubser and Jason Froneman who was co-leader coming into the final round. Loubser's seven-under-par 64 propelled him to a 10-under-par total, a score he shared with Froneman at the end of play in Alberton.
Froneman will be left disappointed after the two bogeys he made in his last three holes possibly cost him this tournament. A birdie and par on either of those holes would have forced a playoff with Vorster. A three-under-par 69 round was all Froneman was able to weave together but it all proved inadequate in his quest for a second IGT Tour win.
Vorster, on the other hand, has joined an illustrious list of players whose first professional triumphs were on the IGT Tour platform.
"I am really happy for this win," said Vorster who plays out of Parys Golf Estates, "This is my first IGT title and I am super proud. I will definitely take a lot of confidence out of this week."
Henning Du Plooy walks away with a fourth-place finish this week at seven-under-par while veteran Ryan Tipping takes up the fifth spot on a tournament total of six-under-par.
Latest IGT Challenge Tour News