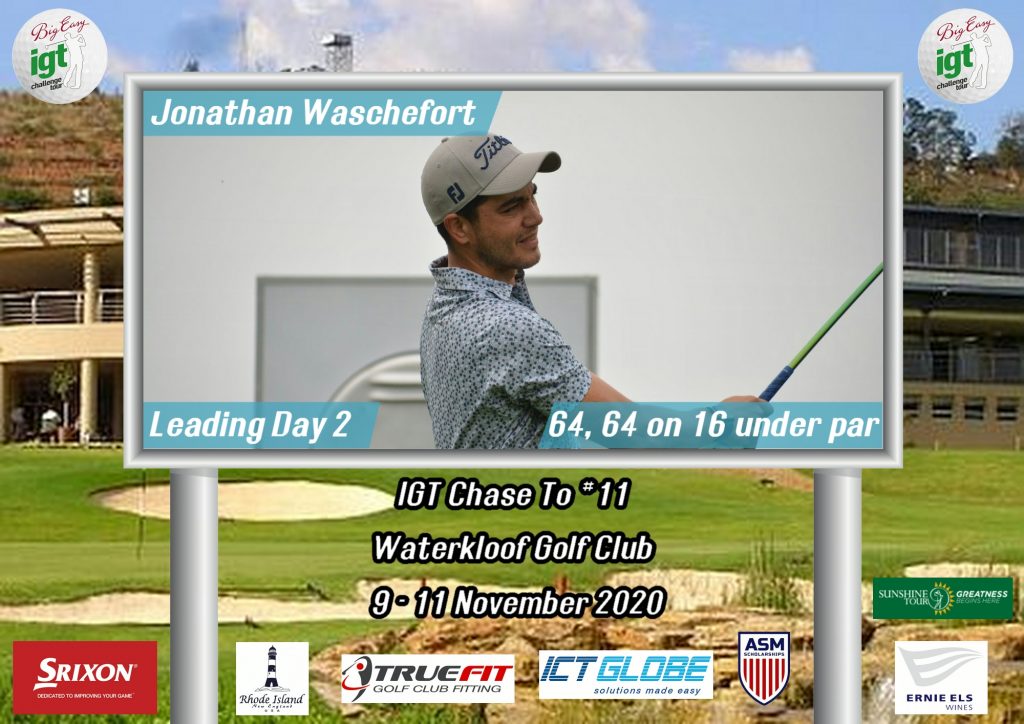 10th November 2020 | IGT Challenge Tour
Waschefort aims for maiden IGT win at familiar Waterkloof
PRETORIA, November 10 – Jonathan Waschefort was in fine form again at Waterkloof Golf Club where he carded a second-successive eight-under-par 64 in the IGT Tour Chase To #11 Waterkloof, and at 16-under for the week, leads Ryan Van Velzen by three shots going into the final round.
In a similar fashion to how he started yesterday's round where he birdied the first two holes, Waschefort repeated the feat at the start of the storm-hit second round. Unlike yesterday when he bogeyed the third and made par on the fourth, he made par on the fourth and dropped on the fifth hole on Tuesday. He followed the bogey up with a birdie on five before two more birdies – on seven and eight – entered his scorecard to seal an impressive four-under 32 on the front nine.
"It obviously felt great to shoot a 64 again today," said Waschefort after round, "You never expect to shoot two rounds of 64 back-to-back. I had to have the same thought process and attitude as yesterday, you know. We had a rain delay so I really had to stay patient but also finish on time."
Coming home, Waschefort was unrelenting in his pursuit of the lowest number he could score on day two of this IGT Tour event. He birdied 10, 12, 14 and 18 for a perfect back nine, and indeed, a perfect two days in the capital, a place he is all too familiar with.
"I started playing golf right here at Waterkloof," he revealed, "so, there are a lot of good memories here and I feel a bit comfortable. But the guys are making a lot of red numbers (birdies) on the course and I think that's got to do with the fact that the greens are running so smoothly this week."
Three shots clear at the top, Waschefort will not rest on his laurels, for he is aware of the chasing field, led by the young Van Velzen, whose three-under 69 on Tuesday meant he abdicates the top spot going into round three.
"Tomorrow will be about doing the same things I have done in the first two days," Waschefort said, knowing tomorrow could be the day he wins his maiden IGT Tour title. "I'll just focus on my game and see what happens after 18 holes."
128 – Jonathan Waschefort (RSA) 64 64
131 – Ryan Van Velzen (AM) (RSA) 62 69
133 – Sean Cronje (AM) (RSA) 70 63
134 – Jordan Duminy (AM) (RSA) 70 64, Leon Vorster (RSA) 66 68, Heinrich Bruiners (RSA) 66 68, Albert Venter (RSA) 69 65
136 – Vaughn Van Deventer (RSA) 68 68, Harry Konig (ENG) 68 68, Herman Loubser (RSA) 69 67
137 – Henning Du Plooy (RSA) 64 73, Phumlani Maluka (RSA) 69 68
138 – Nikhil Gopal (AM) (RSA) 68 70
139 – Christiaan Burke (AM) (RSA) 67 72, Keanu Pestana (RSA) 71 68, Paulo Serrao (POR) 69 70, Quintin Wilsnach (RSA) 69 70, Warwick Purchase (AM) (RSA) 72 67, Leon Van Der Walt (AM) (RSA) 69 70
141 – Drikus Joubert (AM) (RSA) 76 65, Carlo Heunis (RSA) 68 73, Jade Buitendag (RSA) 73 68, Michael Kok (RSA) 68 73, Franklin Manchest (RSA) 73 68, Carlos Laranja (AM) (POR) 68 73
142 – Thabiso Ngcobo (RSA) 72 70, Ricky Hendler (RSA) 72 70, Therion Nel (RSA) 71 71, Stephan Meintjes (AM) (RSA) 71 71, Adriel Poonan (RSA) 75 67, Martinus Barnard (RSA) 72 70, Gerard Du Plooy (RSA) 73 69
143 – Llewellyn Booysen (RSA) 74 69
144 – Armand Van Dyk (AM) (RSA) 73 71, Tyron Taylor (AM) (RSA) 69 75, Nikhil Rama (RSA) 74 70, Victor Lange (RSA) 72 72, Divan De Villiers (RSA) 69 75, Jason Froneman (RSA) 73 71
145 – Handre Truter (AM) (RSA) 75 70, Wayne Stroebel (RSA) 73 72, Sam Mc Kenzie (AM) (RSA) 71 74, JP Du Rand (RSA) 75 70, Conner Mackenzie (AM) (RSA) 73 72, Ernest Ludick (AM) (RSA) 71 74, Dwayne Basson (RSA) 75 70, Ayden Senger (AM) (RSA) 75 70
146 – Travis Ladner (AM) (RSA) – Cut 74 72, Johan Kriek (AM) (RSA) – Cut 72 74, Cameron Borcher (AM) (RSA) – Cut 75 71
147 – Duan Nagel (RSA) – Cut 77 70, Jason Hale (RSA) – Cut 72 75, Tumelo Molloyi (RSA) – Cut 74 73, Lora Assad (RSA) – Cut 73 74, Alphius Kelapile (RSA) – Cut 72 75, Lincon Cele (RSA) – Cut 76 71
148 – Zethu Myeki (RSA) – Cut 76 72, Marno Prinsloo (AM) (RSA) – Cut 73 75, Tristan Leonard (AM) (RSA) – Cut 77 71, Juan Diedericks (AM) (RSA) – Cut 75 73
149 – Tiger Malabie (RSA) – Cut 77 72, Lindi Coetzee (RSA) – Cut 78 71, Leon Scheepers (RSA) – Cut 74 75, Bradley Fuchsloch (AM) (RSA) – Cut 74 75
150 – Tiaan De Jager (AM) (RSA) – Cut 78 72, Clinton Duncan (AM) (RSA) – Cut 77 73
151 – Wynand Potgieter (RSA) – Cut 73 78
152 – Johan Milho (RSA) – Cut 79 73, Pierre Du Plessis (AM) (RSA) – Cut 79 73, Slenda Sithebe (RSA) – Cut 75 77
153 – MS Calitz (RSA) – Cut 70 83, Christiaan Pretorius (RSA) – Cut 74 79, Lwazi Gqira (RSA) – Cut 75 78
154 – Andrej Skrbinsek (AM) (RSA) – Cut 74 80, Ronan Du Plessis (RSA) – Cut 78 76
155 – Cameron Gurr (AM) (RSA) – Cut 77 78
156 – Songezo Sonamzi (RSA) – Cut 78 78, Victor Kau (RSA) – Cut 77 79
158 – Nikki Jonker (RSA) – Cut 74 84
161 – Ricco Motsa (AM) (RSA) – Cut 78 83
164 – Joshua Riemer (AM) (RSA) – Cut 81 83
169 – Sfiso Motsa (AM) (RSA) – Cut 87 82, Reuben Du Plessis (AM) (RSA) – Cut 85 84
172 – Lesego Lekoma (RSA) – Cut 85 87
176 – Darius Jacobs (AM) (RSA) – Cut 80 96
179 – Peter Lekhoaba (AM) (RSA) – Cut 92 87
WDN – Madeleen Grosskopf (RSA) – Cut 84 WDN, Francois Storm (AM) (RSA) – Cut 84 WDN, Brandon Moodley (RSA) – Cut 78 WDN
DSQ – Sipho Bujela (RSA) – Cut DSQ
Latest IGT Challenge Tour News