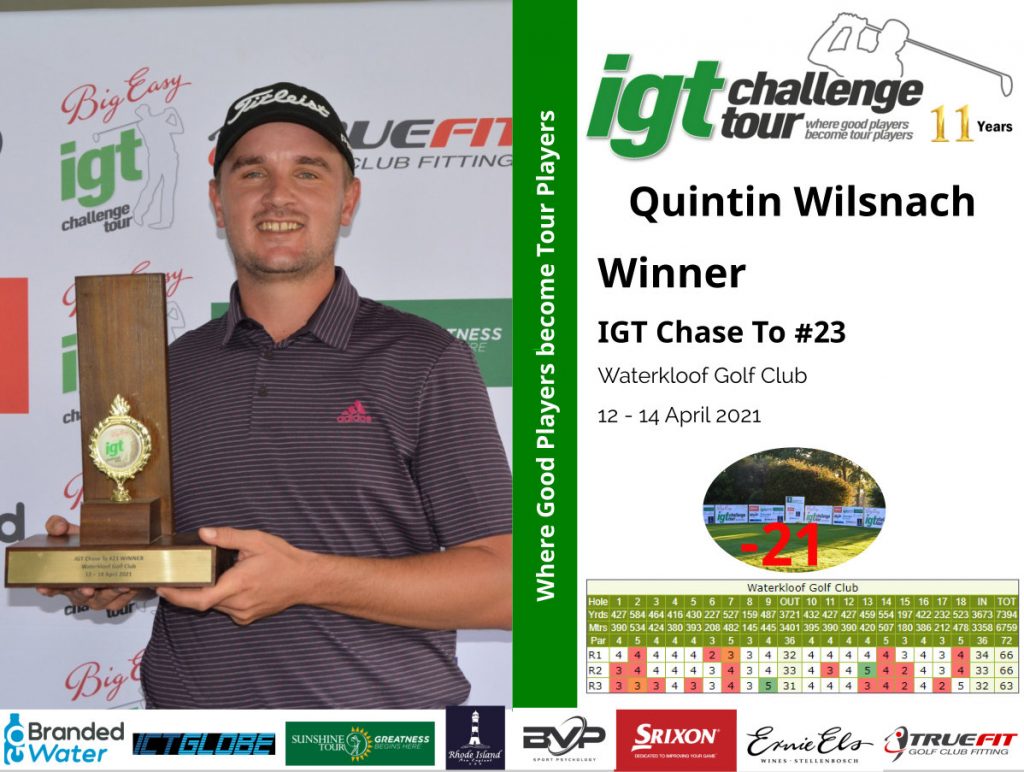 14th April 2021 | IGT Challenge Tour
Wilsnach dominates his way to Waterkloof victory
PRETORIA, April 14– Pretoria's Quintin Wilsnach put on a commanding performance in familiar surroundings on Wednesday as he claimed a dominant five-shot victory in the Big Easy IGT Tour Chase To #23 at Waterkloof Golf Club, his home course, on Wednesday.
His final round nine-under-63 proved too strong for any challengers as Wilsnach claimed his maiden professional title on a tournament total of 21-under-par 195, just a shot off Daniel Van Tonder's record for a 54-hole IGT event which stands at 22-under-par.
Wilsnach was tied for the lead with amateur Christiaan Burke at the start of the final round, both at 12-under, thanks to some brilliant golf played in the preceding 36 holes. Back-to-back scores of 66 placed Wilsnach in pole position to go all out on Wednesday in search of his breakthrough win on this circuit.
"Today was unreal," said an elated Wilsnach, "I had a perfect start: birdie, eagle, birdie, par, birdie and I was five-under after five. But I think yesterday's round did me a lot of good because it got me into a position to stand a chance to win today. I am happy I got it done because I have come second a few times and I have a couple of top 10s as well.
"It almost felt like there was a little barrier in front of me just blocking me from getting the job done. So, I'm really happy to finally get my professional win. I really felt calm today and I managed to play my own game and not think about yesterday's round or what all the other players were doing. I was just trying to stay in touch with my goal – I set myself a target of 20-under-par and I knew I would have a good chance to win."
Another birdie on the par-five seventh to add to his gains made its way onto his card before Wilsnach made bogey on nine. He refused to let another drop derail his progress and after three straight pars, Wilsnach let loose again; firing in three birdies one after the other from 13 to 15.
Sensing that his moment of glory was entirely dependent on whatever he did in the last three holes of the round, the local man steadied himself nicely by taking a par on 14 rather than risking an unwanted bogey. A birdie on the par-three 17 was followed by a neat par on the last to sign for a 63.
"I am a member here," he adds, "and I know my way around the course. This week was tough but I played solidly and today was tough too. I felt a bit of pressure on the sixth today; Christiaan (Burke) hit a nice shot in there and I tucked mine a bit to the left. But I managed to up-and-down and save par from there."
Wilsnach will now focus his attention on the upcoming Sunshine Tour Limpopo Championship pre-qualifiers as he sets himself a new target. But before then, he will want to enjoy his moment of victory.
Latest IGT Challenge Tour News