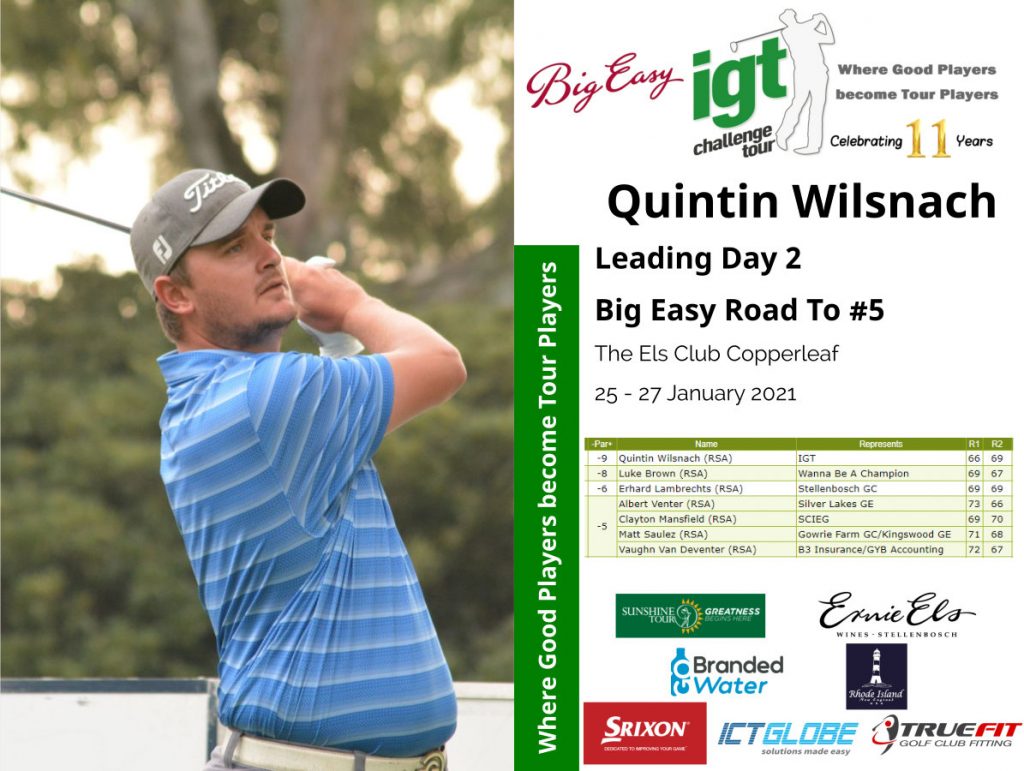 26th January 2021 | IGT Challenge Tour
Wilsnach shrugs off poor start to remain top at Copperleaf
CENTURION, January 26 – Overnight leader in the Big Easy Tour Road To #5 Copperleaf, Quintin Wilsnach, shrugged off a poor start on Tuesday to fight his way to a three-under-par 69 round two which saw him maintain his spot atop the leaderboard at nine-under and just one shot clear ahead of the final round.
Wilsnach, by his own admission, has failed to capitalise on some solid opening rounds in some of the events that have passed, and a bogey on the first hole of a second-round after one of his best rounds this season could have easily thrown his entire round off.
He teed off from the 10th and dropped a shot there, but the next hole was a par-five – an opportunity to steady himself. He made par there and again on the 12th as his confidence grew. Then, a birdie. A crucial par on the 14th, a par-three hole at The Els Copperleaf Club, was followed by another on the par-five 15th.
"I thought today was good," said Wilsnach after his round, "but the bogey on the very first hole there; I hit a good second shot in there, it just bounced on the green and I hit a bad chip in. But I made a nice birdie on my fourth hole and then another on the seventh hole of my front nine to finish one-under."
Just as he was beginning to fight his way back with a strong showing on the front nine, Wilsnach made a double-bogey after the turn to bring his score back at even-par.
"That wasn't great," said Wilsnach of that double, "but I knew I was still in it. I just had to keep that fighting spirit and I got back my mind back where it needed to be and just forgot about that hole."
It didn't take him long, indeed, to forget about that 10th hole because he followed that up with an eagle on the fourth hole of the course – his 13th. He then sealed the top spot with a pair of birdies on the 16th and 17th holes.
"That eagle gave me a lot of confidence," said Wilsnach. "I knew there were a lot of birdie holes coming in and especially with the wind blowing from behind us. And then I birdied my 16th and 17th holes, so, overall, I think it was solid. Tomorrow is another day but I won't try to do anything special other than what I have been doing the whole week."
A one-shot lead isn't the safest margin by which to lead, especially, when the player trailing is one Luke Brown. On a total of eight-under-par, Brown will fancy a challenge and with both players competing regularly on the Sunshine Tour, that experience should make tomorrow's final group an interesting one.
They will be playing with Erhardt Lambrechts whose second-round 67 catapulted him to third on the leaderboard at six-under while the quartet of Albert Venter, Clayton Mansfield, Matt Saulez, and Vaughn Van Deventer tie fourth at five-under for the week.
Latest IGT Challenge Tour News