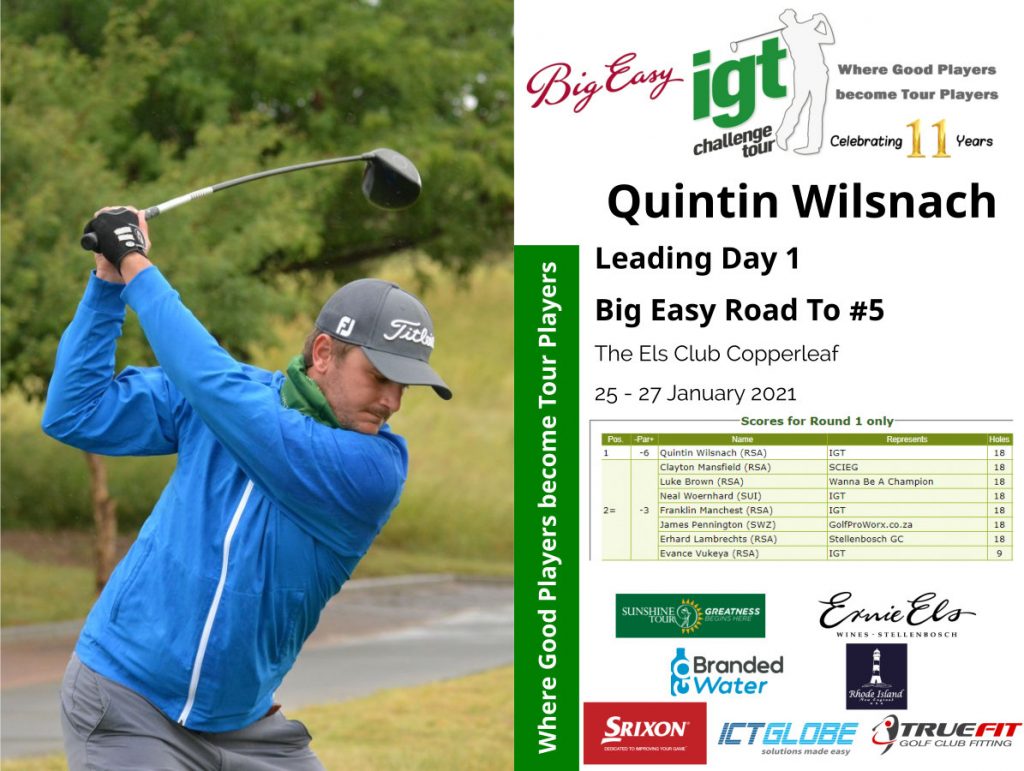 25th January 2021 | IGT Challenge Tour
Wilsnach snatches early lead in tough conditions at Copperleaf
CENTURION, January 25 – A windy and rainy start to Monday's Big Easy Tour Road To #5 at The Els, Copperleaf Club, did little to stop Quintin Wilsnach from marching to a three-shot lead thanks to a blemish-free 66.
For the second time in two starts in Centurion (first in the IGT Tour Chase to #15), Wilsnach weaved together a solid opening round which sees him sitting three clear at the top.
"The weather was really tough today," Wilsnach pointed out. "the rain and the wind made things tough up until around the eighth hole. But I managed it well and just tried to keep the ball in play, get it onto the greens and I'll take my par. When a birdie opportunity came, I made it and that helped the round. But what was more special was not making the bogeys today.
"I putted really well today and hit some pitches in there as well, which helped a lot. I think the biggest thing today was keeping the ball in play and not get it high up there because you see wide fairways but just hitting the fairways and trying to hit those greens in two."
He opened his round with seven straight pars before going birdie-birdie just before the turn. He found more joy after the par he made on the 10th, birdieing both 11 and 12. Pars on the next two holes were followed by another pair of birdies – one after another – on 15 and 16 before he closed off with back-to-back pars for an untainted 66.
"I feel like I'm in good form at the moment," said Wilsnach who plays out of Waterkloof, "I've been playing well the last couple of weeks. I've been shooting good first-round scores but I've just not been clinical enough to get it done. It's really good because it shows I'm not too far off my bigger target and there's a long way to go still."
Comfortable as a three-shot cushion sounds, it has been proven many times at this level of competition that such a lead can be overturned with ease. And with Clayton Mansfield, Franklin Manchest, James Pennington, Erhardt Lambretchs, Neal Woernhard and Luke Brown lurking at three-under-par, Wilsnach knows there won't be any room for complacency in the next 36 holes.
"Shooting bogey-free is really special in these conditions," said Wilsnach, looking ahead to the next round. "Tomorrow, I need to keep calm-headed, take it one shot at a time and focus on what the bigger plan is. I've started well so far and hopefully, I can keep calm and get a nice win in there."
Latest IGT Challenge Tour News