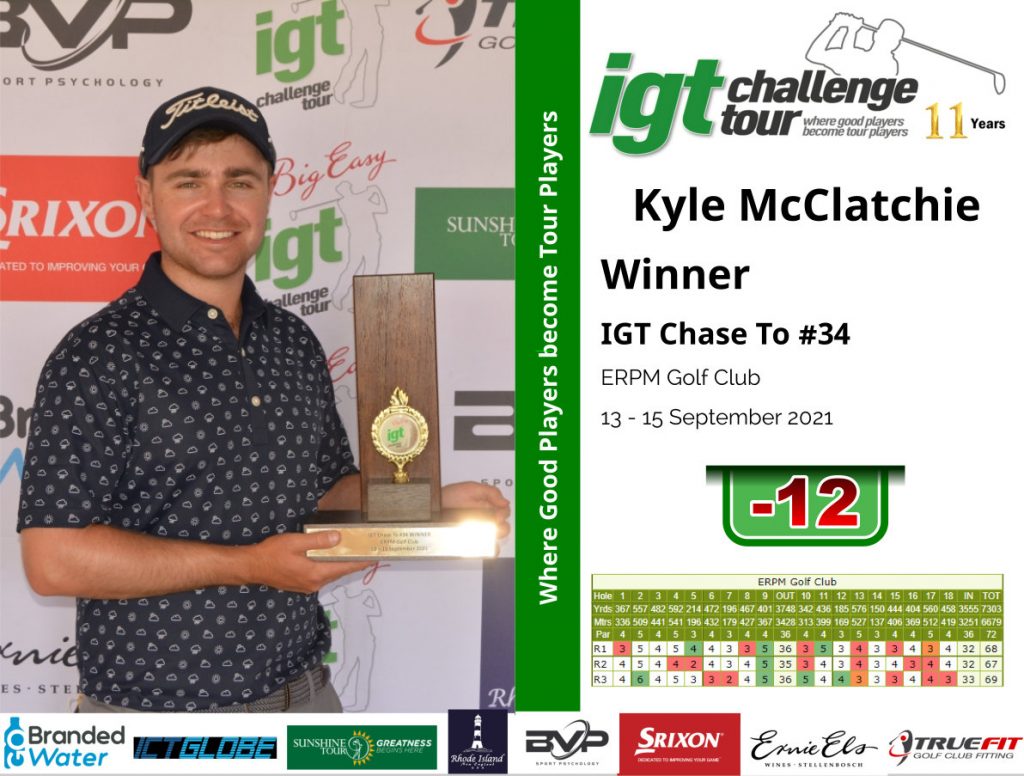 23rd September 2021 | IGT Challenge Tour
Win for McClatchie at ERPM brings him 3rd title for 2021
Kyle McClatchie won his third Big Easy IGT Challenge Tour title on Wednesday when he took the Chase to the Sunshine Tour #34 by three shots from his nearest challenger at ERPM Golf Club.
It was a sprint to the finish line that took McClatchie clear, as he eagled the 13th, and made birdies on 15, 17 and 18 to finish off with a three-under-par 69. Runner-up was Leon Vorster after he closed with a one-under 71 to be nine-under for the tournament, and Keelan van Wyk finished third after his closing 69 took him to seven-under, five behind McClatchie.
It was the eagle on 13 which was the turning point for McClatchie, as he'd made two birdies and four bogeys up to that point. "It was a tough day out there up to that point, with swirling wind making things difficult," he said, "and on 13, I finally had the wind behind me. I got my drive out there, and I only had 74 in, so it was a lob wedge to 15 feet and I made the putt.
"It was a good way to break out the crush at the top of the leaderboard, and it was also a good way to finish things off. It was important to hang in while I wasn't playing particularly good golf, but it helped knowing that everyone was struggling in the wind," he added.
The first bogey came early for McClatchie, on the second, and, while he made birdies on six and seven, he dropped another shot on nine. Two more bogeys after the turn on 10 and 12 put the cat firmly among the pigeons, but 13 lay ahead, and with it, the start of his charge for home.
"It's good to have won a third time this year," he said, "and especially good to have got it done at this time of the year, where it counts ahead of the play-offs and the final, and there's so much at stake."
He's currently second on the Chase to the Sunshine Tour Order of Merit, and the top three when all is done and dusted will get their Sunshine Tour cards. McClatchie has had one already, and is very keen to get it back. "I know that I can deal with the challenges," he said, "and I know that staying patient when things aren't going well is part of what needs to be done.
"I'm just pleased that I did exactly that today."
Latest IGT Challenge Tour News