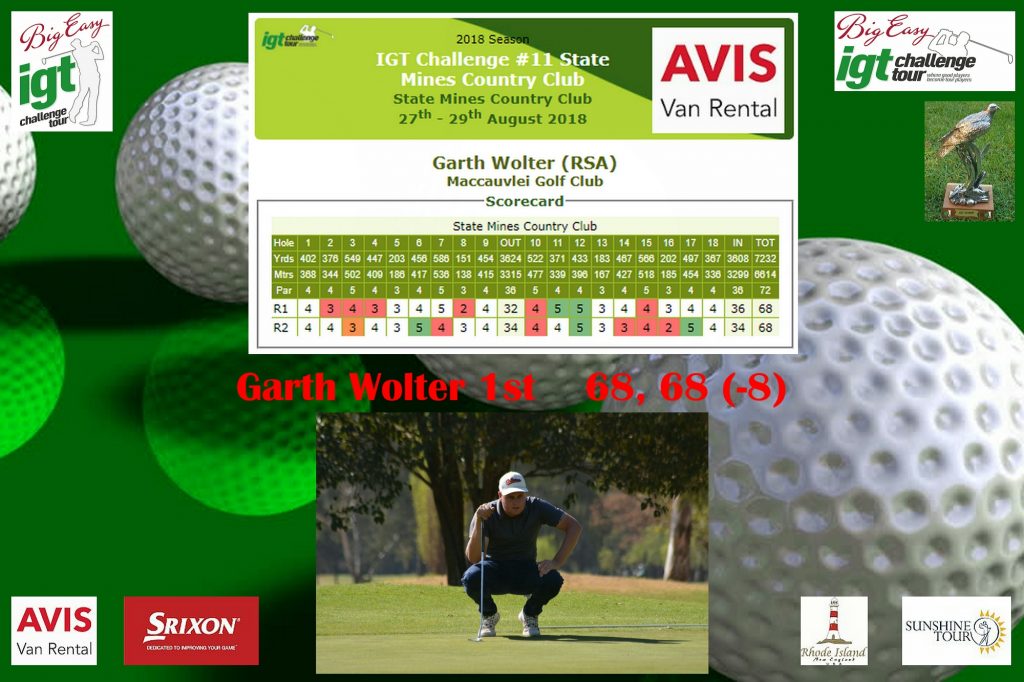 28th August 2018 | IGT Challenge Tour
Wolter powers into IGT lead at IGT State Mines
Wolter powers into IGT lead at IGT State Mines
(PHOTO – Garth Wolter; credit CJ du Plooy)
BRAKPAN, 28 August 2018 – Vereeniging restaurateur Garth Wolter will sleep on a five-shot lead after taking command of the IGT Challenge #11 in Tuesday's second round at State Mines Country Club in Brakpan.
Unlike the cold and windy conditions on day one, the weather was warm and sunny, but once again, only 12 players in the 71-strong field managed to post red numbers.
Wolter carded four-under 68 to move to eight-under, finishing well clear of Peetie van der Merwe, John McClean and overnight leader Michael Pfeifer in joint second.
"I was surprised that the scores weren't lower, because the weather was so much better," said the 25-year-old Maccauvlei golfer. "That said, the course set-up was brutal. The pins were tucked or set on slopes and made it tough to score."
Wolter fired a trio of birdies to start the opening round and a further gain at the eighth propelled him to the top of the leaderboard. He lost pole position to German-born South African Pfeifer, but overcame the one-shot overnight deficit early on day two with an eagle at the par five third.
"I wanted to take a Tiger line at the par five, but my tee shot stayed out left," said Wolter. "I had a clean shot to the green, though, and landed an 8-iron from 163 metres out two feet from the pin and holed the putt."
Wolter bogeyed six, but was back to six under with a birdie at the par five seventh and led the field through the turn. He traded a birdie at 10 for a bogey at 12 and three birdies on the bounce from the 14th hole saw him open up a yawning gap on the field.
"I hit a great drive at 14 and had 90 metres to the pin," said Wolter. "I hit a sand-wedge in and holed a 15-foot downhill putt for birdie.
"I was on for two at 15, but I landed front right and the pin was back right, so I lagged the first putt close and made the second for four. At the short hole, I holed a 10-footer for birdie."
Wolter enjoys the challenges of running the Urban Eatery Restaurant, which he co-owns with his father and sister in his hometown, but the desire to play the pro circuit still burns strong.
"I practice every available moment at Maccauvlei and work on my game constantly, but it's tough to take time away from the restaurant," he said.
"I haven't played much this season, so I am really pleased with my performance over the first two rounds. I'm striking the ball really well and giving myself chances. It would be really nice to close out a win on Wednesday, just to boost the confidence.
"The IGT Challenge Tour is great for the youngsters to bridge the gap between the amateur and pro ranks, but it's also a lifeline for guys like me. We have tournaments all year long to stay competitive. I really want to give Qualifying School one more bash. Maybe now that I'm a little older, a little wiser and more mature, my time has come."
Pretoria rookie Van der Merwe returned a 70, Ulsterman McClean posted an even-par 72 and Pfeifer from Fancourt made it a three-way tie at three-under after carding 73.
Shaun van Tonder dipped three shots below par to join Ruan Korb, who carded 70, on two-under.
Bryce Myburgh and Patrick Thompson a further shot adrift after signing for a pair of 71's, while Sunshine Ladies Tour campaigner Lejan Lewthwaite was the only female survivor after the 36-hole fell at 11-over 155.
The Benoni golfer will start the final round in joint 12th on two-over after successive rounds of 73.
Second Round Scores
All competitors RSA unless otherwise specified; amateurs indicated as AMA
136 – Garth Wolter 68 68
141 – Peetie van der Merwe 71 70, Michael Pfeifer 67 74, John McClean (NIR) 69 72
142 – Shaun van Tonder 73 69, Ruan Korb 72 70
143 – Bryce Myburgh 72 71, Patrick Thompson 72 71
144 – Leon Vorster 71 73
145 – Clinton Grobler 72 73, Gary Daoust (BEL) 75 70
146 – Lejan Lewthwaite 73 73, Mitchell Lightfoot AMA 74 72
147 – Jason Diab 76 71, Paulo Serrao (POR) 73 74
148 – Keanu Pestana AMA 73 75, Jack Duthie 74 74, Ruhan van Dijk 76 72, Henning du Plooy AMA 75 73, Leon van der Walt AMA 72 76, Stephan Erasmus 75 73, Warric Dyers 71 77
149 – Dean du Plessis AMA 75 74
150 – Michael Kok 76 74, Stefan Wears-Taylor 74 76, Matthew Hands AMA 72 78, Luke Mayo AMA 80 70, David Rebelo 78 72
151 – Byron Sampson AMA 72 79, Leon Visser 78 73, Marcus Smal AMA 79 72, Willie Olivier AMA 73 78, Lincon Cele 82 69
152 – Adrian Brabson AMA 75 77, Gareth Sargent AMA 78 74
153 – Blain Sansom 75 78, Eric Nel 82 71, Kyle Murphy AMA 77 76, Terence Mogapi 80 73
154 – JP Rousseau AMA 74 80, Thabiso Ngcobo 75 79, Tristan Brice AMA 78 76
155 – Hanish Nagrani (ZIM) 78 77, Jihwan Yeom AMA 80 75, Vickus Fleischman AMA 79 76
Missed the cut:-
156 – Matthew Holland AMA 80 76, Nicholas Souranis AMA 83 73, Llewellyn Grobbelaar AMA 81 75, Jared Hall AMA 79 77, Neville Mitchell AMA 83 73, Tyler Johnston AMA 85 71, Francois van Rensburg AMA 77 79
157 – Alrich Labuschagne 80 77, Dino Capazario AMA 77 80, Handre Truter AMA 80 77, Quinton Coleman 80 77
158 – Leslie Grandet (MDG) 80 78, Tiaan Greyvenstein AMA (AUS) 76 82, Stephan du Toit 81 77
159 – Divan Marais 81 78
160 – Donneo Catanho AMA 83 77
161 – Michael van Rooyen 77 84, Michael Louth 81 80
163 – Kyle Opperman AMA 79 84, Dominique Jacobs 83 80, Marnus Barnard AMA 82 81
164 – Andrej Skrbinsek AMA 85 79
165 – Bradley Diggeden AMA 86 79
167 – Alwyn Smith 85 82
177 – Dylan Morton AMA 98 79
181 – Louiz Pereira 90 91
Latest IGT Challenge Tour News