17th July 2020 | IGT Challenge Tour
Zoono Germ Free 24
Protect yourself with Germ Free 24
Germ Free 24 keeps on doing it for up to 24 hours, no matter how
many times you wash or wipe your hands!
Order here
Sent email to [email protected] requesting more info for Zoono
Product use
Germ Free 24
Person need 2ml per day Germ Free 24 to have 24 hours protection.
Zoono 500ml Spray
The Zoono 500ml spray can be used on any personal item that is exposed in the public i.e. golf clubs, golf bag, back pack, hand bag, clothing etc and you are protected 28 days.
Zoono
The long lasting antimicrobial solution

YOUR SECRET WEAPON
KEEPING CLIENTS AND STAFF
"GERM FREE"
The world's best kept antimicrobial secret
Original Technology developed for the US Navy to control the spread of microbial infections within the confined atmosphere of  nuclear submarines.
Zoono is a mechanical molecular device which destroys microbial cells by stabbing through the cell membrane and electrocuting the organism, with the same molecule capable of attacking new cells again and again.
Until the 1990's this cutting edge technology was literally a military secret.
Today it has been re-engineered into a water based solution which provides the antibacterial, antiviral, anti fungus and anti algae protection of a broad spectrum antimicrobial sanitizer that continuously kills for up to one month from each application.
How does Zoono Work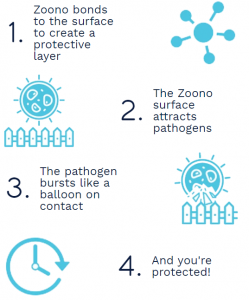 About Zoono
Zoono is a clear, colourless, anti bacterial solution containing a pure active in pure water
Available as:
Disinfectant solution – Zoonocide
Hand Sanitizer – GermFree24
Contains no chlorine and on microbial interaction will not produce halogenated by-products of disinfection such as carcinogenic trihalomathanes.
Application to surfaces produces an invisible, transparent and durable antimicrobial film that will not transfer on contact with other surfaces and  is no-leaching on contact with water or solvents.
Once applied, the bonded antimicrobial film is non-volatile, odourless, colourless and produces no chemical vapours.
Contains no thickeners, stabilizers, colorants, dyes, fragrances or additives.
Is non-toxic, non-mutagenic, non-teratogenic (will not harm a fetus) and non-allergenic.
Is safe for use with people, animals and plants.
Is non-oxidative
Safe for application to a wide variety of surfaces and materials including fabrics, carpet, upholstery, drapes, linens, wood, plastics, stone, porcelain and metals.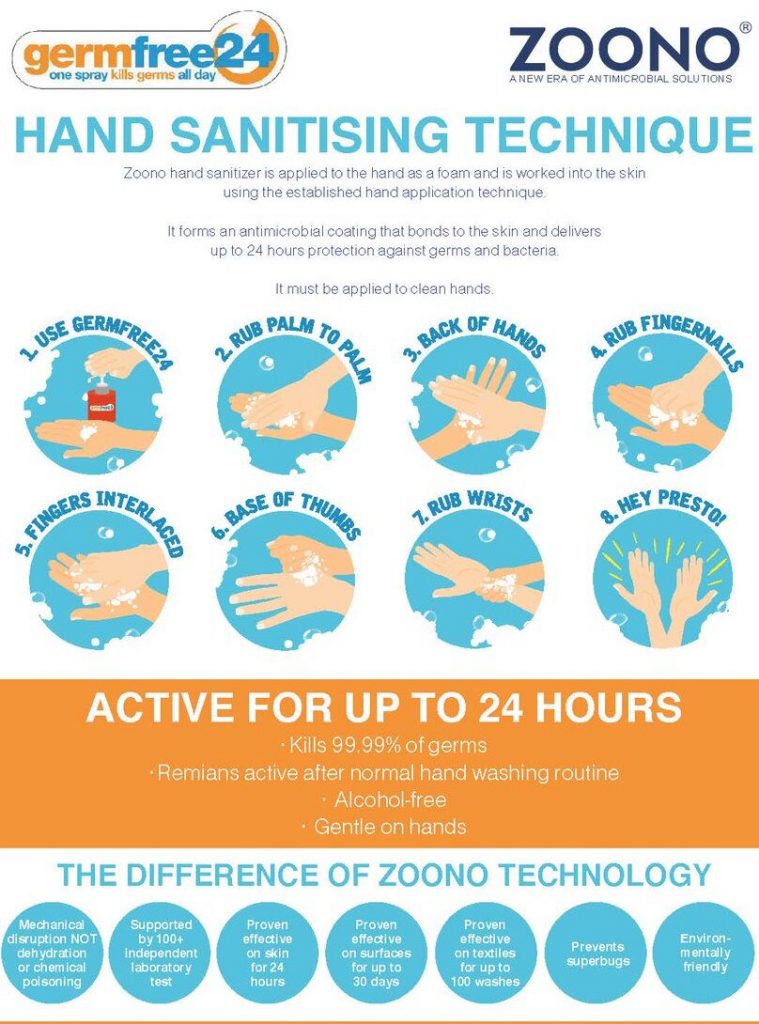 Latest IGT Challenge Tour News